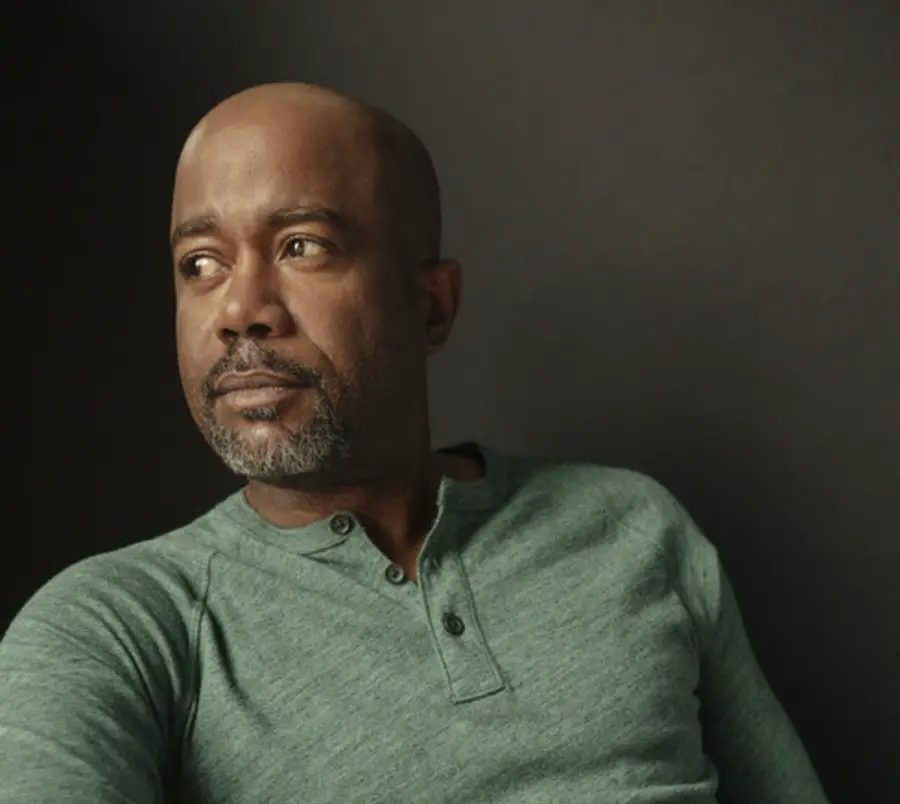 Happy birthday, Darius Rucker! The South Carolina native turns 55 on May 13. In honor of his birthday, we have 11 fun facts about the rock turned country star.
1. He was one of six children raised by his single mother, Carolyn.
Rucker has three sisters and two brothers, who were all raised by their single mother, Carolyn, while she also worked as a nurse. While that upbringing might seem to be challenging, Rucker has nothing but praise for how well his mother raised them all.
"She came home, and no matter how tired she was, if you wanted some time or attention, she was always there to give it to you," Rucker said on Southern Living's Biscuits and Jam podcast. "Compassion is something she really instilled in us — and empathy for other folks."
"My mom was a nurse my whole life," he added. "It was not just her job. She lived it; she loved it. Her compassion for people was something she taught all of us — telling us to care about other folks and try to help. When you're a nurse, that's what you do. And it wasn't something she just did at work. She did it at home, in our community, and at our church."
2. Hootie & the Blowfish began thanks to his singing in the shower.
Rucker was a freshman at the University of South Carolina, and was singing in the shower at their dorm, when his friend, Mark Bryan, heard him. The two formed a duo, the Wolf Brothers, and began playing cover songs. Eventually, they added two more people, and became Hootie & the Blowfish, with the band's name a nod to nicknames of two of their college friends.
"One day I was singing in the shower, because I thought everybody was gone," Rucker recalled on the Bolling with Favre podcast. "I thought everybody was in class. I guess I was singing really loud. This kid came up and said — I had met him before — he just asked me if that was me singing, and I said, 'Yeah' … The next thing you know, we were in a band."
3. He started playing golf as a teenager, and it is still one of his biggest passions.
Rucker was a young teen when he started playing golf, but once he started, he never stopped. Rucker plays both on the road and at home, all thanks to the father of one of his childhood friends.
"I was 14 years old," Rucker told USGA. "I spent a lot of time with my friend, Rick Johannes. His dad was a captain in the U.S. Navy, stationed at the base in North Charleston. That family was a huge part of my upbringing. I was at their house for dinner and they were talking about playing at Wrenwoods Golf Course on the base. They said, 'Darius, do you want to come with us?' His dad said, 'You are coordinated. Hit it hard and hit it far. Then do it again.' I was hooked right away. Rick is a doctor in Boston and we get together whenever we can. I talked to his dad recently; he taught me about many things. I especially owe him for getting me into the game."
4. He is close friends with Tiger Woods.
Rucker counts golf pro Tiger Woods among one of his closest friends. In fact, Rucker sang at Woods' wedding to his now-ex-wife, Elin Nordegren, and also sang at the funeral for Woods' father.
"When Hootie and the Blowfish was starting to have some success, we were still playing clubs … We'd play a show and then we'd go out to a bar called Rick's American Café," Rucker recounted to PGATour.com. "We were sitting at the bar and I look over the bar and I'm like, 'Isn't that that Tiger Woods kid that everybody's talking about?' He's 18. And he was going to Stanford and (our bass player Dean Felber) says 'Yeah.' So I went over and I said, 'Are you Tiger Woods?' and he says, 'Are you the guy from Hootie and the Blowfish?' and I sat down and we just hung out all night. But the thing that tops the story, I'm sitting there with this kid Tiger Woods, 18, and we're sitting there and then somebody (a former Michigan State hockey player) comes in with the Stanley Cup. It was his week. Here I am in the bar with Tiger Woods and sitting on the bar was the frigging Stanley Cup. That was a crazy night."
5. He told his now ex-wife, Beth Leonard, that he was going to marry her after their first date.
Rucker and Beth Leonard announced that they were splitting up in 2020, after 20 years of marriage. The two met when Leonard was working for VH1 in New York, and Rucker was in the city with Hootie & the Blowfish.
"I had been trying to get her to go out with me, and she wouldn't," Rucker told The Boot. "I was in New York [with Hootie & the Blowfish], and it was one of those rare nights off. I didn't have anything to do — we always had something to do when we were in New York! We had the night off, and I was just in my hotel room. She called me and said, 'Hey, do you want to go see this play?' I was like, 'Sure!'"
"She was walking up the stairs [to her apartment], and I said, 'Well, you know that I'm going to marry you, right?' She just laughed. Her roommate or her boyfriend was up there in their apartment, and I yelled, 'To whoever's up there in Beth Leonard's apartment, you can just leave because I just want you to know that I'm going to marry her!'"
6. He is passionate about St. Jude Children's Research Hospital
Rucker has raised millions of dollars for St. Jude Children's Research Hospital. Rucker, who was given the Randy Owen Angels Among Us Award in 2017 for his numerous fundraising efforts, still vividly recalls the first time he visited the hospital, unaware that it would the first of many, many visits for him.
"I was on tour with Brad [Paisley] and Dierks [Bentley]," Rucker told Southern Living of his inaugural visit to St. Jude. "We were in Memphis and went down to St. Jude and really hung out there that day. We walked around and met so many of the wonderful kids and talked to the doctors and the administrators, who told us how no parent ever gets a bill. That was so amazing to me, and I just wanted to be a part of it."
7. He was the first African-American to be inducted into the Grand Ole Opry since 1993.
1993 was the last time an African-American was inducted into the Grand Ole Opry, when Charley Pride was inducted, until Rucker. In 2012, Rucker was performing at the Grand Ole Opry, and had a time where he was to take questions from the audience. Brad Paisley had seated himself in the audience, and asked two questions: "One, are you still the worst poker player in the world? And two, would you like to become the newest member of the Grand Ole Opry?"
"It means I'm even a bigger part of country music than I was when I drove in this morning," Rucker told USA Today. "The Opry is the heart of country music, and I'm a member now. That means they've accepted me even more. It's huge for an artist to know that what they're trying to do, they're succeeding with it.
8. He still loves his hometown of Charleston.
Rucker was born and raised in Charleston, South Carolina. While he has traveled all over the world, Charleston is still his favorite place to be.
"Charleston has always been home," Rucker told Garden & Gun. "It's the people. The weather is great. We've got incredible beaches. There are all these great tourist attractions, but the people here are so nice and so real."
He's also a fan of the restaurant, FIG, which has his favorite food.
"My absolute favorite meal in Charleston is an appetizer there: the gnocchi bolognese," Rucker said. "I usually get it doubled as my entrée. It's the best thing I've ever put in my mouth, seriously. It's like eating clouds."
9. He launched his own whiskey.
Rucker is such a fan of whiskey that he launched his own brand, Backstage Southern Whiskey. Rucker even uses it when he has a toast with his band backstage before each show.
"That toast is a vital part of our nightly routine," Rucker says (via One Country). "It's really about celebrating the opportunity to make music together. And Backstage Southern Whiskey is now a part of that important ritual that we can share with fans."
10. He had a small part in Shallow Hal, and also played Jesus in Still the King.
Rucker had 30 seconds in the film, Shallow Hal, as a restaurant maitre'd. He also played Jesus in the CMT show, Still the King, starring Billy Ray Cyrus.
"I got a phone call out of the blue saying, 'They want you to play Jesus in this dream sequence," Rucker told Indy Star. "I'm not an actor or anything — the one thing I'd done was like 30 seconds in Shallow Hal, and it's so quick that when I say that people are like, You were in Shallow Hal?'  But I was like 'I'll do it. It sounds like fun.'"
11. He loves banana pudding.
A true Southerner at heart, Rucker has a soft spot for sweets, especially if those sweets come in the form of banana pudding.
"I love a good banana pudding," Rucker told Opry.com. "It's so good and cool. It's a perfect summer food."