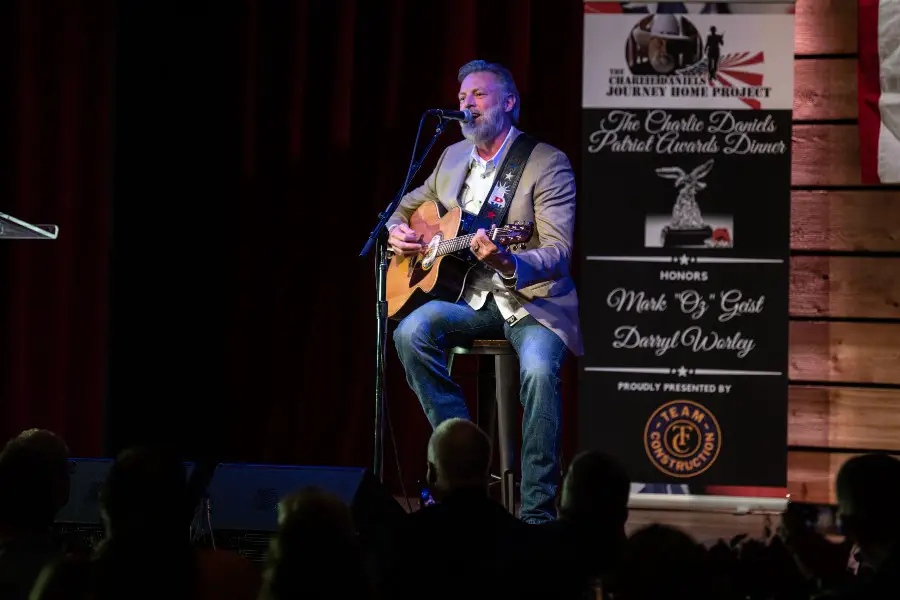 Darryl Worley received the Charlie Daniels Patriot Award on Wednesday, October 27. honoring his commitment to troops and veterans. The singer-songwriter was hand-picked by the late Charlie Daniels  to receive the honor before Daniels passed away, a final gift to Worley that he still has a hard time believing.
"It's just heart-wrenching to think that I was on the top of his list," an emotional Worley tells Everything Nash. "I really wouldn't want it to come any other way. I think the special part of that is that he had a very special place in my heart. And without saying it out loud, that kind of reciprocates that from him, and that's huge."
Worley's "Have You Forgotten" became the anthem the world needed after the devastating September 11 attack on the country, 20 years ago. Worley wrote the song as a way to deal with his own conflicted emotions, never predicting how much the song would change his entire life and career.
"None of us had a clue," Worley concedes. "We were so innocent in our efforts. As a label even, we didn't know how to handle it. It just had a life of its own, and it has been a huge blessing in my life. It's also been a curse. There's a downside to hits like that, whether people believe it or understand it, but I'm much more positive than negative. It has blessed me, and it's been unbelievable."
The song also opened the door for Worley to visit troops all over the world, including in war zones. Of all the highlights of his career, Worley holds those memories at the top of his list of favorites.
"What do you get to do as a civilian that compares to that? We're very blessed to have those opportunities," Worley says. "A lot of people would have no part of that, and I get it. I don't think it's for everyone, but it's funny to me because  think, 'Oh my God, are you kidding me?' This is the greatest way in the world to be able to give back to these men and women that have done so much for our life and our freedom and our American ways. That song has afforded me a great adventure."
Worley was honored with a Charlie Daniels Patriot Award along with Mark "Oz" Geist, The Daniels Center at MTSU, and firearms manufacturers Marty and Cindy Daniel of Daniel Defense. Proceeds from the evening benefited The Charlie Daniels Journey Home Project.
Photo Credit: Courtesy of Absolute Publicity / Robyn McIsaac