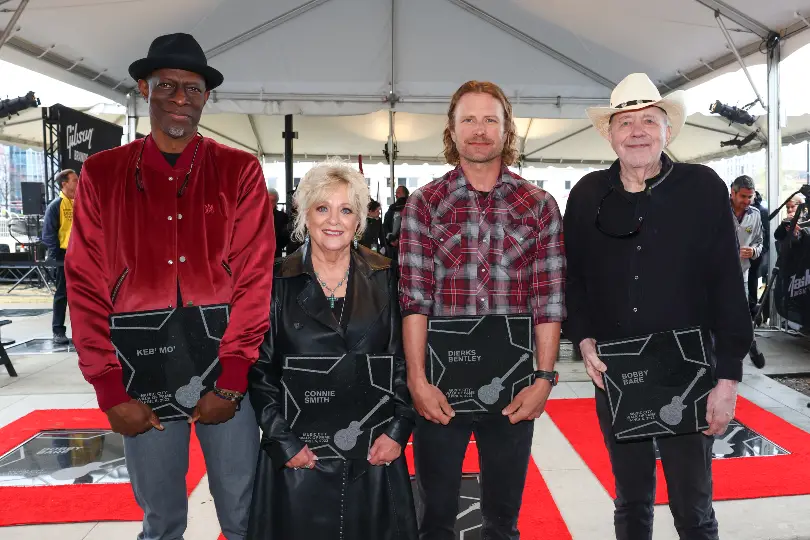 Dierks Bentley and Connie Smith are among the newest inductees into the Music City Walk of Fame. The two singers were inducted on Tuesday, April 5, alongside Keb' Mo' and Bobby Bare.
Marty Stuart, one of Bentley's biggest influences, praised Bentley during the ceremony.
"When I met Dierks and shook his hand, I knew he belonged. I knew that he was here for keeps and it was gonna be a matter of getting all the right things, which he has done," Stuart said (via Main Street Nashville). "First and foremost, I am so proud of you. One of the things you've done with your fame, your time and your talent is you have shared it and you have given back to this community things people will never know about."
Bentley, who became a member of the Grand Ole Opry in 2005, recalled how The Station Inn inspired him after moving to Nashville to pursue music.
"I realized I kind of found the source. I felt like I had found the holy grail of the whole deal in this one little bar," Bentley said. "The more I started digging into it and meeting all those folks, I realized Keith Whitley had been a bluegrasser, Ricky Skaggs, Marty Stuart was a bluegrasser. I went 'Oh my gosh.' I found this little side door where I thought maybe someone like me who just loved the music but didn't really have the look that was popular at the time could maybe sneak my way into the country music world."
Stuart also praised his wife, Connie Smith, ahead of her induction for how much her music has influenced others through the years.
"This is a Monday morning star-making town. We make stars here every Monday morning. They come and they go, and the charts tell us what to look at, what to listen to," Stuart said. "But there are some people that make all of those marks along the way and then they transcend all of that and become part of the heart and the soul of the culture, and the heart and soul of the city.
"This lady has sung her way into the hearts of millions, and not till she gets to heaven will she realize how many lives she's touched. … If there ever is a Mount Rushmore of lady singers, her face will definitely be there, and that's how it is," he added.
Smith was humble and gracious when accepting her place on the Music City Walk of Fame.
"The one thing I can honestly say from the bottom of my heart is I don't feel I deserve any of this, so it's all a blessing in God's favor," Smith said. "I love Nashville. I was trying to think this morning, I don't know if there's anybody here who loves Nashville more than I do. I had four of my kids here. … I feel like it's my hometown. I was born in Elkhart, Indiana, but Nashville is my hometown."
Other artists who have been inducted into the Music City Walk of Fame include Kenny Rogers, Reba McEntire, Faith Hill, Tim McGraw, Trace Adkins, Alan Jackson, Little Richard, Keith Urban and more. The Music City Walk of Fame is located in the heart of Music City, on Demonbreun Street between 4th and 5th Avenues South. The Music City Walk of Fame is free and open to the public, except during special events.
Photo Credit: Courtesy of Nashville CVC