Dollywood has long been hailed as one of the must-see tourist attractions in the South, and with good reason. The expansive park, spanning 160 acres in Pigeon Forge, Tennessee, has everything from thrilling rides to shops, numerous food options, activities for children and more.
Everything Nash was fortunate enough to visit Dollywood recently Keep reading for our experience inside the magical theme park.
Arrival:
We arrived shortly before the park's 10:00 AM opening, and paid $25 to park, waiting just a couple of minutes for the tram to take us to the park. From there, it was a short wait in line to get our tickets, and we were ready to explore.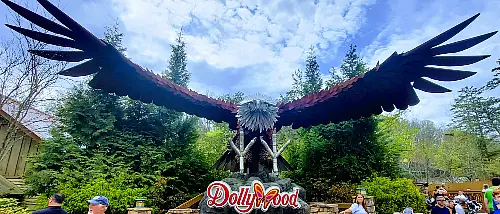 The rides:
When we say there is truly something for everyone at Dollywood, we mean that there is truly something for everyone at Dollywood. Whether it's exhilarating rides or something for a small child, there are more than enough options at Dollywood to keep everyone happy.
We divided our day between the rides for those who seek the adrenaline rush, and tamer rides for a child. Although the wait times were over 20 minutes per ride, with the longest wait being almost an hour, it was definitely worth the wait, every time.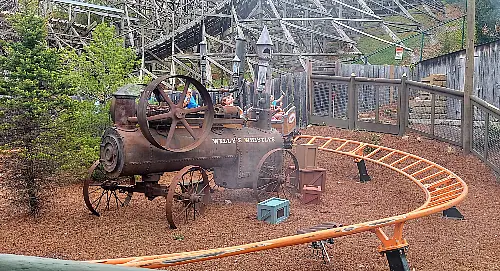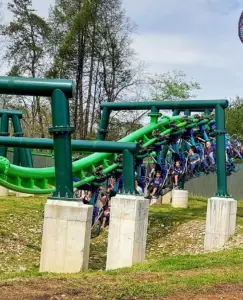 We started our day with the Thunderhead, a wooden roller coaster, followed by Mystery Mine, Tennessee Tornado, Wild Eagle, and the especially thrilling Barnstormer. For those not quite at the height needed to enjoy all of the rides, there was still plenty to do, including the Dragonflier, Blazing Fury, Sky Rider, Rockin' Roadway and more.
Dollywood is broken up into different sections, which makes it easier when choosing what rides to go on, especially if the group is splitting up, which we did for part of the day. We reunited at the end in the Country Fair area, where we were pleasantly surprised to find no lines, and enough amusement to keep everyone happy, including multiple trips on the Demolition Derby and The Amazing Flying Elephants.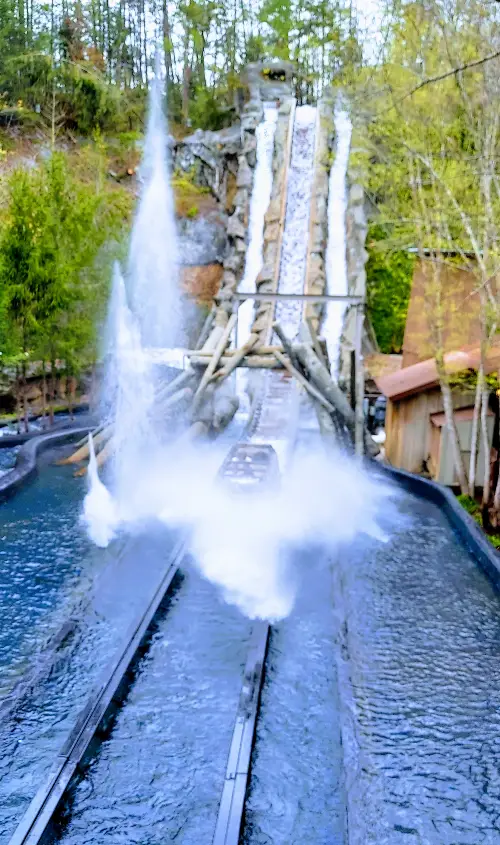 While we did not get to enjoy the water rides in Splash County, which officially open on May 14, we did get to ride Daredevil Falls, providing just the right amount of water to cool us off after walking for several hours.
See a list of all of the rides and attractions here.
History:
In addition to the rides, there are also opportunities to celebrate founder Dolly Parton's rich history, including a replica of the humble, two-room cabin where her parents, Robert Lee and Avie Lee, raised their 12 children. Dollywood also features a replica of the one-room schoolhouse as well as the Robert F. Thomas chapel, named in memory of the country doctor who delivered Parton. Services are held in the chapel on Sundays at 11:30 AM and 4:00 PM.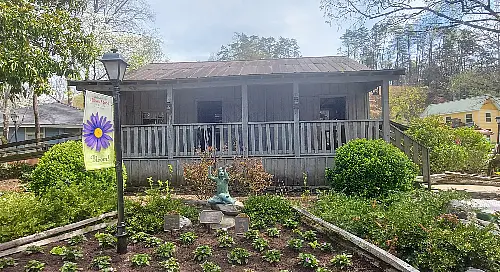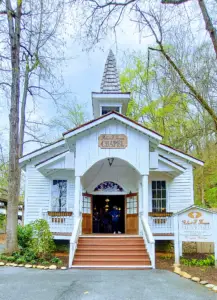 Food:
Dollywood has so many food options, that it's hard to pick where to eat! While we settled for the Dogs N Taters — a foot-long hot dog that is also available as a corn dog and/or topped with chili and cheese, there are so many other options as well. The Food Truck Park alone has everything including pitas, macaroni and cheese and doughnuts. Other options include ice cream, funnel cake, BBQ, and even vegetarian and vegan options for the health-conscious.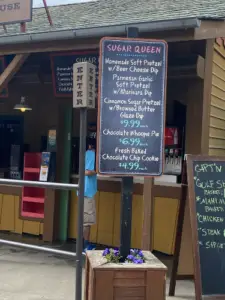 Lodging: 
We stayed about 15 minutes away from Dollywood, but there are numerous choices for those who want to stay close, including the luxurious DreamMore Resort, and nearby cabins with package options, including free parking and early entry.
We arrived at Dollywood when it opened, and stayed until it closed, and still could have used more time. The lines of course took up some of the time (which a TimeSaver pass would have eliminated), but if possible, it's definitely doable to spend more than one day at Dollywood. Still, if a day is all you have, it's more than worth it to go. We got to ride on almost every ride we wanted to, as well as appreciated some of the other attractions.
While we did not get to enjoy them on our trip, Dollywood also boasts several shows as well. Known for where Carly Pearce got her start, there are dinner shows, a comedy barn and more. See the list and schedule here.
For more information, including a daily schedule, visit Dollywood.com.