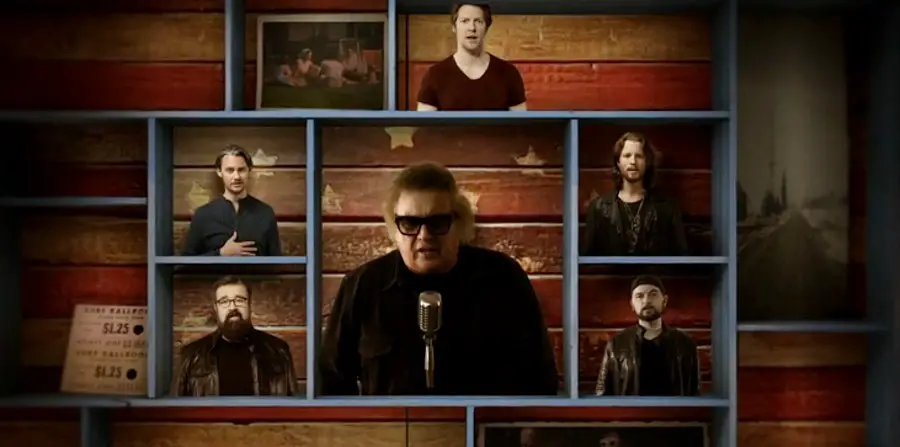 It's out! Home Free and Don McLean just released their collaborative video for "American Pie." The song was first released 50 years ago, in 1971, but according to Home Free, the 75-year-old is still just as excited about performing the iconic tune as he was when it was first released.
"You could just tell that he's performed this song for years and that it's truly grown and changed, even for him, over the decades," Home Free's Austin Brown tells The Tennessean. "He had an almost narrative quality to his style of singing this now, and to me, even after knowing this song and hearing it my entire life, 'American Pie' felt more like a story than it ever had before."
McLean might have sung "American Pie" for most of his life, but adding Home Free to the song made McLean fall in love with it all over again.
"Any song which has a legitimate melody lends itself to an a cappella rendition," he said. "The guys in Home Free just did their thing and did a tremendous job at it, too."
Home Free wanted to honor the story of "American Pie," which was inspired by the tragic loss of Buddy Holly in a plane crash, exactly 50 years ago today (February 3).
"It starts in a way that's just very introspective, very true to the words and to the moment 'The Day the Music Died,' and just how powerful that can be," Brown shared. "But also the hope that can come from the movement associated with an event like that. … It really changed so much musically. While it was 'The Day the Music Died,' in a lot of ways, it was also the day that music was reborn."
Home Free was thrilled to record "American Pie" with McLean, honoring a song they grew up listening to, never imagining they would one day get to sing it with the song's creator.
"It's just one of the songs that we grew up with," Home Free's Austin Brown said in a behind-the scenes video of the recording of "American Pie." "This is one of those songs that I heard a million times as a kid. I swear I knew every word to it."
Home Free is hoping that the release of "American Pie" also known as "The Day the Music Died," will help draw attention to a cause they are passionate about: supporting the National Independent Venue Association. Home Free is raising money for the important cause, to offer emergency grants for independent music venues and promoters, who have suffered massive financial losses because of the coronavirus pandemic. To make a donation, visit NivAssoc.org.