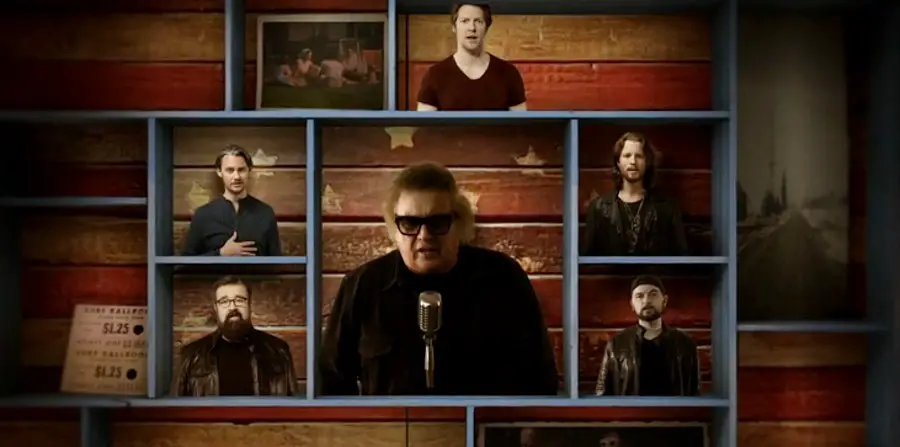 Home Free just dropped a new collaboration, this one going way back in time. The five-man group released "American Pie" with the song's writer and performer, Don McLean, to celebrate the 50th anniversary of the iconic tune.
"It's just one of the songs that we grew up with," Home Free's Austin Brown said in a behind-the scenes video of the recording of "American Pie." "This is one of those songs that I heard a million times as a kid. I swear I knew every word to it. My mom, one of her favorite artists is Don McLean. I feel like I haven't even told her we're doing this yet, so I need to call her right now, and actually talk to her, and let her know where I am."
When McLean was asked if he got tired of people asking the meaning behind the song, which he has previously said was inspired by the death of Buddy Holly, his response was both gracious and humble.
"When I met Johnny Cash, I asked him, 'Why do you were black?'" McLean recalled. "And he had been asked that so many times. Well, he said, 'Someday I'm gonna write a song about, why do you wear black.' He started to name all the cliches that people ask him. He told me I shouldn't have asked him.
"People love the song, and they never meet me," he continued. "It's the first time they ever met me, and they've had these burning questions, and so they ask them to me, ask me these questions, and I treat them with respect. I realize that they don't mean any harm. I'm here to entertain people, to make them feel good. They're not there to make me feel good. People deserve respect. They're not trying to torture me. They think I've never been asked that before."
With 50 years since "American Pie" was released, McLean feels nothing but gratitude for the success of the song.
"It's become an illusion," the 75-year-old reflected. "It's been so long, and I'm old now. I'm a pretty old guy; I'm in my 70s. What I think happened a lot of times didn't … I only wrote the first part in one shot. 'A long, long time ago' right through 'The day the music died.' And then I had that for about a month, and I knew it was something. I wanted a rock 'n' roll song. It's an invention.
"My song's are inventions; I'm not a commercial songwriter," he added. "I've written songs that are very off the walls. Sometimes I score, most of the time I don't, commercially. But from an artistic point of view, everything I've ever done has been successful, because I've gotten what I was after."
Earlier in the behind-the-scenes video, Home Free revealed that they were also honored with a Gold Play Button by YouTube, celebrating Home Free's official YouTube channel exceeding one million subscribers.
Download or stream "American Pie" with Don McLean, at HomeFreeMusic.com.