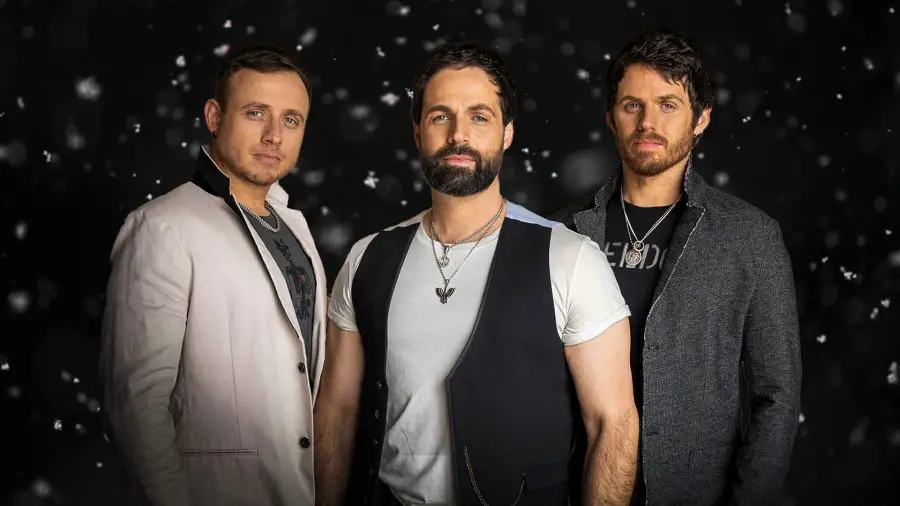 Essex County just released a cover of the classic holiday tune, "Last Christmas." The song, written by George Michael and first released by Wham! in 1984, has been covered by numerous artists over the years, including Hillary Duff, Ariana Grande, Carly Rae Jepsen, Gwen Stefani, Meghan Trainor and more, making it an unlikely choice for the rising act to release it as their own.
Fortunately, Essex County — the British sibling trio made up of Nate, Mark and Kieran Bass — has never hesitated to take a chance, especially when it comes to making music. The threesome teamed up with Ron Fair, whose many credits include Fergie, Mary J. Blige, Lady Gaga and more, to produce the innovative track, showing already that Essex County isn't afraid to color outside the lines, especially when it comes to making music that they love.
"We've been working with Ron. Ron's been recording all the songs that we've been doing," Nate tells Everything Nash. "It was probably about September, and he went, 'Why don't you do a Christmas song? Just pick a Christmas song. If you were to do what one, what would you do?' And Mark, my middle brother, for a laugh, he said, 'Wham! Last Christmas.' And I was like, 'Oh no, no. Not that.' It's one of those songs. Ron said, 'That's brilliant. What a brilliant idea. But you've got to change it up.'"
Essex County immediately got to work, listening to covers of the different artists who had already recorded "Last Christmas,"
"We went back to the house we were staying in Nashville, and listened to all of the covers by different people," Nate recalls. "I heard Taylor Swift's one and I was like, 'She just kind of copied the original, within reason.' And then I heard a couple more, and they all copied the original. And I thought, 'Well, we can't do that because otherwise, it's boring. So me being a drummer, I started to drum on the table and I turned it into 6/8. I turned it into a waltz and I thought, 'Oh, this would be quite pretty, if we could pull it off.'
"And then they had to sing the phrasing to the timing, which was 6/8. It messed it up completely," he continues with a laugh. "It really did. It was ruined. And I was like, 'Oh my God, this is going to take me hours to work out.' So I worked out the phrasing, and then I got the boys to come and play the chords for me quickly. So we worked it out, and then we did a little voice recording for Ron. We sent it to him and he went, 'This is going to be brilliant!' We went in basically and just started tracking it down in that timing. And he said, 'This is one of the best records I've ever made.' I'm going 'Really?'"
Essex County released their debut EP, So Good, earlier this year. Their music has already garnered more than three million streams. Download or stream the single at EssexCountyBand.com.