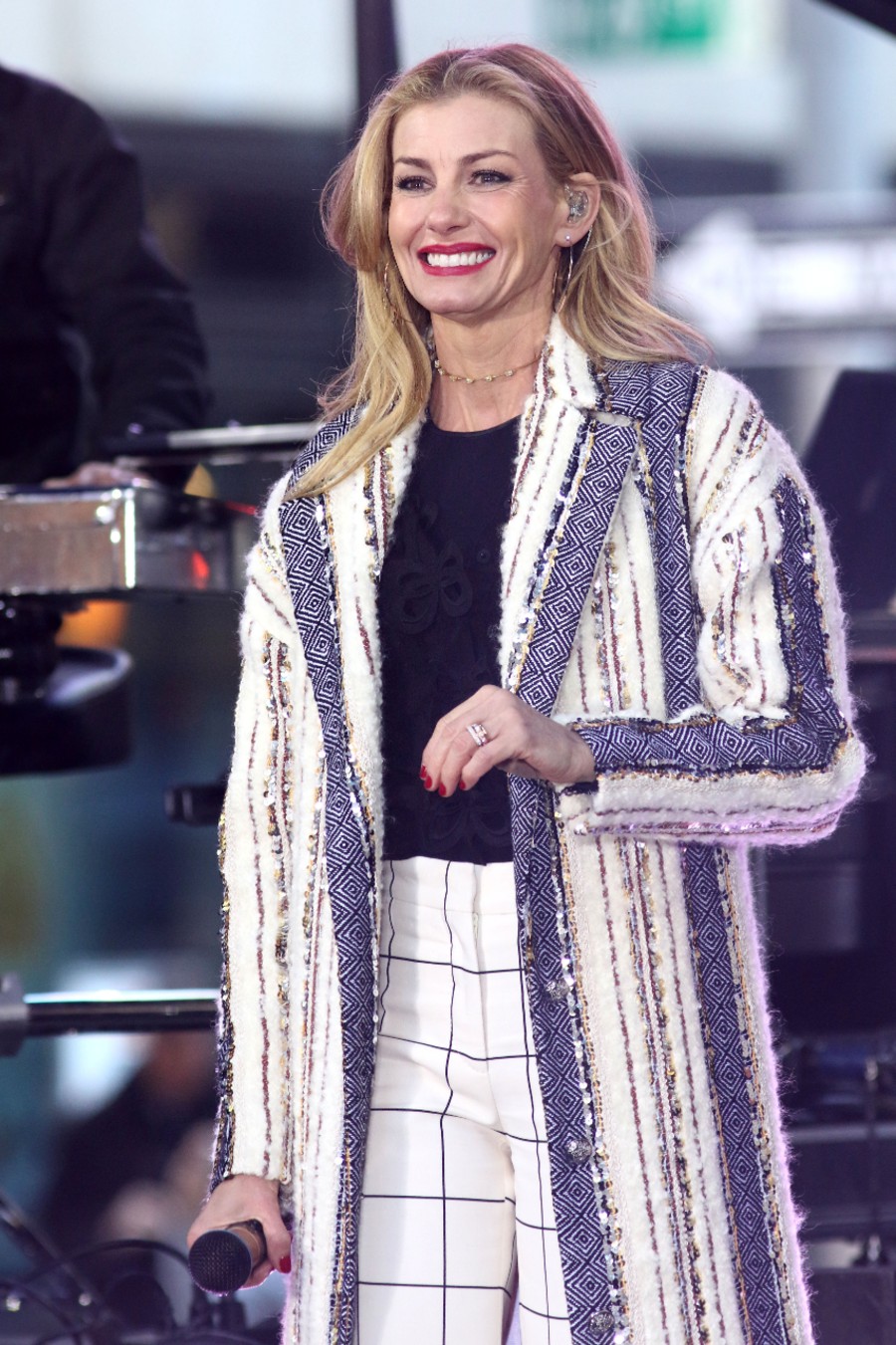 Happy birthday, Faith Hill! The singer turns 54 on September 24. To celebrate, we found 11 things to know about the singer, actress, mother and wife.
1. Faith is actually her middle name.
Hill was adopted at birth, and given the name Audrey Faith Perry. She was born and raised in Mississippi, as the daughter of Edna and Ted Perry. As a young adult, Hill found out who her birth parents were. Although her biological father passed away, she was able to meet her birth mother.
"The first time I met her I just stared at her," Hill told People in 2000. "I'd never seen anybody that looked anything like me. It was the awe of seeing someone you came from. It fills something."
2. She worked a lot of odd jobs while she pursued her country music dreams, including at McDonald's.
Hill worked two whole weeks at McDonald's, before determining that she didn't have a future in the fast food indsutry.
"Fries, burgers, cash register — I did it all," Hill said (via Taste of Country). "I hated it. God bless the people that work there."
3. Reba McEntire turned her down for a job — and saved her life in the process.
Hill auditioned to sing background vocals for Reba McEntire early in her career, but failed to get the job. Only a few years later, the woman who got the position Hill wanted was among the members of McEntire's band who were tragically killed in a plane crash in 1991.
"The first thing I thought when that happened obviously is I thought about the families of those that were lost and I thought about Reba and Narvel [Blackstock]," Hill later told Larry King on CNN. "I mean she's an amazing woman who is very, very close to everyone around her and I knew that that was something that it was going to be a difficult thing for her to deal with for sure. But she's a classy lady and she handled it brilliantly."
4. Hill ultimately got her record deal thanks to a performance at the Bluebird Cafe.
Hill was making money singing for songwriter Gary Burr, which is why she was performing at the Bluebird Cafe the same night Warner Bros. executive Martha Sharp was in the audience.
"She came up to me afterwards and asked if I wanted to make a record, if that's what I was striving to do, what my ambitions were," Hill recalled to King. "Did I have a tape? I said, 'I don't have a tape but I can get you one really fast.' So that's basically where it started."
5. She got her last name from her first husband.
Before Hill was the wife of Tim McGraw, she was Daniel Hill's wife. The two were married almost five years when they split up, after Hill's encounter with her birth mother had a profound impact on her personal life.
"I was going through so much," Hill recalled to Good Housekeeping. "I was like a flower trying to bud. Marriage wasn't what I needed. It was a disguise. That's not to say anything bad about the person I married. But what I needed was to deal with the issues of my own life."
6. She agreed to McGraw's marriage proposal with a Sharpie and lipstick.
Hill and McGraw met when she was serving as the opening act for him on his Spontaneous Combustion Tour in 1996. By then, Hill had moved on, and was engaged to music producer Scott Hendricks, but it didn't take long for Hill to realize her real feelings were for McGraw.
Hill ended the relationship with Hendricks, and while in a trailer at a country music festival, McGraw told Hill he wanted them to get married. When he returned he found a note on the mirror, written with a Sharpie and lipstick, that said, "Yes! I'm gonna be your wife."
7. Their youngest daughter, Audrey, was born very premature.
Hill and McGraw's youngest of their three daughters, Audrey, was born on December 6, almost eight weeks early, which meant she spent a few weeks in the NICU. Audrey was released on Christmas Eve, which makes each holiday extra special for the family.
"It's a little bit of a challenge, keeping a live tree fresh for the entire month of December," Hill said (via Hello!). "But there's no other way we'd do it. We decorate on the sixth, and it has to be a live tree."
8. She was instrumental in getting her husband to quit drinking.
McGraw has been sober since 2008, but might still be imbibing if not for some tough love from Hill. It was Hill who gave him an ultimatum about his reckless ways, a gamble that thankfully paid off.
"Getting real like only she can do, Faith told me, 'Partying or family, take your pick.'" McGraw recalled (via The Fix).
9. She's a neat freak.
Hill likes everything in its place in their home, which her husband tries to accommodate, even if it doesn't come as easily for him.
"I spent 30 years in hotel rooms going in and out, so I've never even thought about cleaning up, but she's a neat freak, so she likes everything pretty clean," McGraw previously said. "So I always get on her nerves about that"
10. She loves to act.
Hill loves to sing on stage, but she also loves to act. She made her film debut in the film, The Stepford Wives, and will also star in the upcoming TV series, 1883, opposite her husband.
Finally the day has come when I get to share some exciting news with you! I will be playing Margaret Dutton, the original matriarch of the Dutton family in the Yellowstone prequel 1883. Just wait, you have never seen anything like this! @paramountplus pic.twitter.com/iVfFybU2p3

— Faith Hill (@FaithHill) August 4, 2021
11. Her favorite food is Mexican.
Both McGraw and Hill love Southern food, but if she had to pick one favorite dish, it's Mexican.
"We both grew up with really great Southern cuisine, so we share the love of that," Hill told Glamour. "Tim is part Italian, so his favorite type of food is Italian. Mine would be Mexican—especially chile rellenos!"