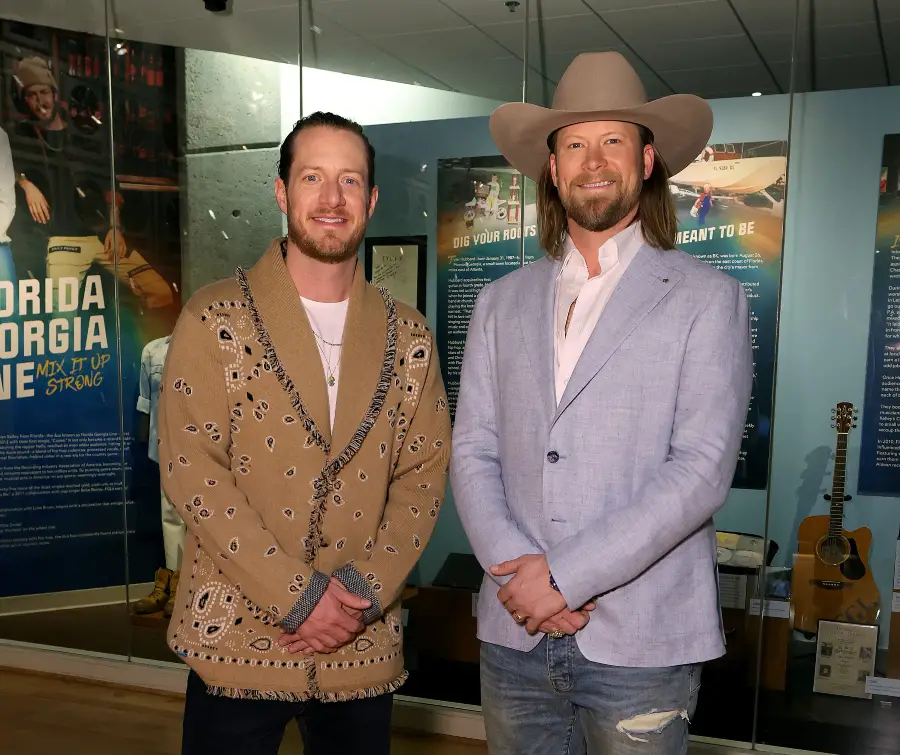 Florida Georgia Line's new exhibit at the Country Music Hall of Fame and Museum is now open. The exhibit, Florida Georgia Line: Mix It Up Strong, celebrates the career of the award-winning duo, made up of Tyler Hubbard and Brian Kelley, sharing memorabilia of highlights and memorable moments since they introduced themselves to country music with their record-breaking single, "Cruise," in 2012.
Items featured in Florida Georgia Line: Mix It Up Strong include a saxophone Hubbard played as a child; a ball cap Kelley wore on his high school baseball team, Seabreeze Fighting Sandcrabs; a box of Wheates with Florida Georgia Line as the "Wheaties Champions" on the front; a hand-written note from Hubbard's high school classmates wishing him luck with his music career, and more.
Our new "Mix It Up Strong" @countrymusichof exhibit is now open through January 1, 2023. It's been such an honor seeing our story go up behind glass, and we can't wait for y'all to see it! ♥️https://t.co/2liL9itglS pic.twitter.com/H4c8XNgbR7

— Florida Georgia Line (@FLAGALine) February 6, 2022
Hubbard and Kelley spoke out at a celebration of the opening of the exhibit, sharing what the honor from the Country Music Hall of Fame meant to them.
"We're super excited to be here," Hubbard said. "It's really surreal. I remember BK and I, we've walked around these halls multiple times, looked at different exhibits and kind of dreamed of this day, so it's really special, and a huge honor to be here. It's just really exciting."
"We're just super humbled," added Kelley. "This is the cherry on top of this pie, the cake. We're just beyond blown away and very thankful."
When announcing the exhibit, Country Music Hall of Fame CEO Kyle Young praised Florida Georgia Line for broadening the boundary lines of country music as a genre.
"Florida Georgia Line expanded the country music audience and created some of the most popular recordings in the genre's history by embracing hip-hop and rock influences," said Young. "In less than a decade, Brian Kelley and Tyler Hubbard have had 25 singles reach gold, platinum or multi-platinum status, with two of those singles – 'Cruise' and 'Meant to Be' – reaching the elite plateau of diamond sales certification. Very few artists in any genre accomplish that feat even once. The museum looks forward to exploring the duo's distinctive music and career in this special exhibit."
Hubbard and Kelly discussed their career during an in-depth conversation to celebrate the exhibit's opening. That conversation will premiere on March 1 as part of the museum's Live at the Hall digital programs series, which is available to stream on the museum's YouTube channel, Facebook page and website.
Florida Georgia Line: Mix It Up Strong will be open until January 1, 2023.
Photo Credit: John Shearer / Getty Images for the Country Music Hall of Fame and Museum