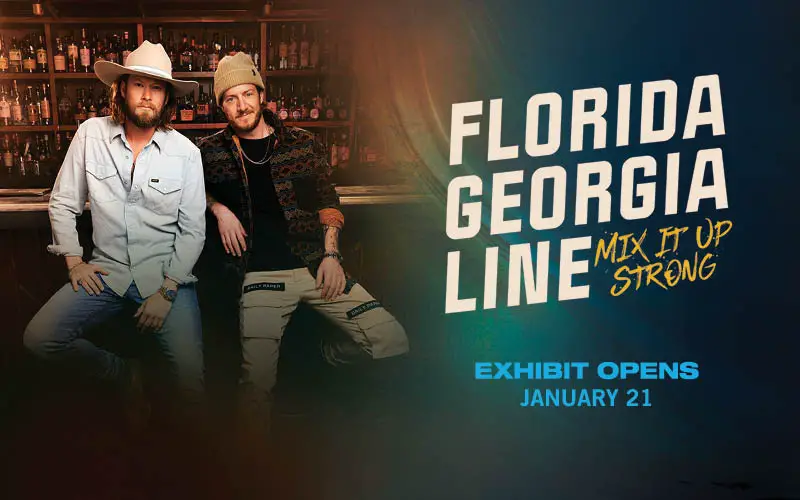 Florida Georgia Line's record-breaking career will soon be honored with an exhibit at the Country Music Hall of Fame and Museum. The duo, made up of Brian Kelley and Tyler Hubbard, will have their own exhibit, Florida Georgia Line: Mix It Up Strong, opening on January 21. The exhibit will remain open through January 1, 2023.
"Florida Georgia Line expanded the country music audience and created some of the most popular recordings in the genre's history by embracing hip-hop and rock influences," Country Music Hall of Fame CEO Kyle Young says. "In less than a decade, Brian Kelley and Tyler Hubbard have had 25 singles reach gold, platinum or multi-platinum status, with two of those singles – 'Cruise' and 'Meant to Be' – reaching the elite plateau of diamond sales certification. Very few artists in any genre accomplish that feat even once. The museum looks forward to exploring the duo's distinctive music and career in this special exhibit."
Florida Georgia Line spoke out about the honor on social media.
Our @countrymusichof 'Mix It Up Strong' exhibit opens 1/21. We're so honored and we can't wait for y'all to see it!

Learn more: https://t.co/7ntiPQj4TJ pic.twitter.com/shJGBCv9wS

— Florida Georgia Line (@FLAGALine) December 7, 2021
The news comes after Florida Georgia Line had a challenging year, which included canceling their I Love My Country Tour, due to the pandemic.
"There is nothing better than seeing all of your faces from the stage, feeling your good energy, and making memories together,"  Hubbard said when the disappointing news was announced. "We were hopeful we could get back on the road this fall, and are so bummed to have to cancel this tour, but we know in our hearts that we still have to make sure we're keeping our fans and crew safe. It's unfortunate that we have to cancel but we hope y'all understand. We love our fans and can't wait to be back out when the time is right."
"Although we've been able to see some of y'all at shows recently, everyone's continued safety has been weighing heavy on us," added Kelley. "To our fans, band, crew, and all of the venues around the country, thank you for your love and support! We couldn't do what we do without you, and we hope we can all do our part to bring live music back soon."
Items in the Florida Georgia Line: Mix It Up Strong exhibit include the Selmer Bundy II saxophone Hubbard played as a child; a note from Hubbard's high school classmates and teachers wishing him luck with his music career in Nashville; a ball cap Kelley wore when playing on his high school baseball team, the Seabreeze Fighting Sandcrabs; racing suits and helmets Hubbard and Kelley wore in the 2016 music video for their "May We All" collaboration with Tim McGraw, and more.
More information on the Florida Georgia Line: Mix It Up Strong exhibit can be found here.