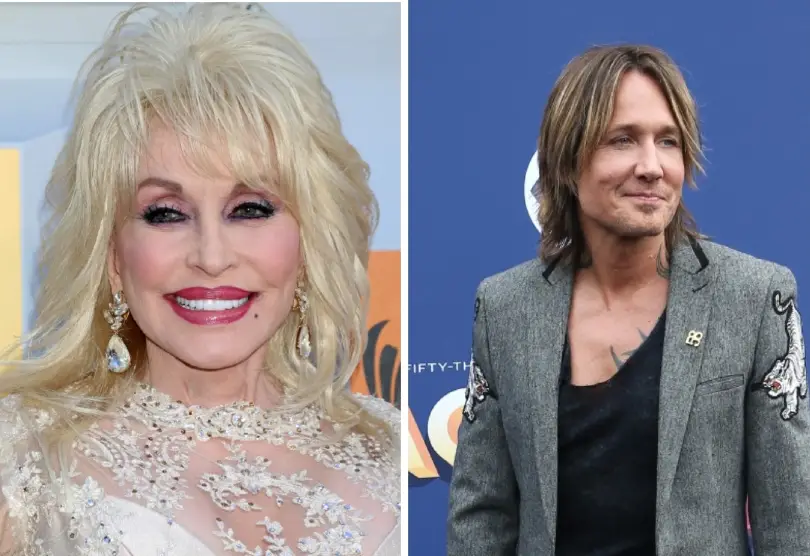 Keith Urban is ready to eat, and sing, with Dolly Parton. After Parton revealed in an interview that she wanted to have cake and sing with Urban, the Australian singer told Parton, via Twitter, that he was ready to combine their talents.
It all began when Parton, in an interview with Good Morning America, said she wanted to someday collaborate with Urban.
"I love Keith Urban,' Parton praised. "I've always thought that he was one of the most talented and cutest guys in the world — I'm not trying to hit on him, cause he's got Nicole [Kidman], and who could beat that; she's Jolene. I love his writing and I just think he's dear. I'd be happy to make a big ole cake for him and spend all afternoon singing songs."
Urban replied by playing a clip of Parton's song, "Applejack," before addressing the Country Music Hall of Fame member.
Name the time and place @DollyParton…we'll be there ❤️ pic.twitter.com/2HT5ziCEAD

— Keith Urban (@KeithUrban) February 4, 2022
"Ms. Dolly, I am so honored of the things you said. Thank you. I definitely will have a cake with you," Urban said, before his Nicole interjected, saying, "I'll bake the cake for you, but don't take my man."
"Thank you so much," Urban continued. "We love you, Dolly. I would love to have cake with you. We all would. And I would love to do a song with you sometime. Let's do that."
Urban grew up a fan of Parton. In fact, he performed "Applejack" at a talent show, Pot of Gold, as a child, and was strongly advised to do anything but pursue a career in country music, especially one like Parton's.
"I desperately encourage you to escape the mediocrity, get out of country and western music, and get into some real music otherwise you'll end up sounding like Dolly Parton and absolutely useless." one of the judges told Urban at the time (via Smooth Radio). "He said, 'Kindly learn to sing in tune, because you're intrinsically a good musician ' and I remember saying to mom and dad, 'What's 'intrinsically' mean?'"
Fortunately, Urban didn't listen to the judges, and ultimately moved to Nashville to pursue a career in country music anyway, with his lengthy career earning plenty of respect from Parton.
"I love his writing and I just think he's dear," Parton said when during her GMA interview. "He reminds me so much of my brothers and my own family from back home. He's from Australia, but he has that feel of our mountain southern people — he'd fit right in."
While Kidman offered to bake the cake to be shared, Parton can likely supply that herself. She just announced the launch of a new line of cakes with Duncan Hines.