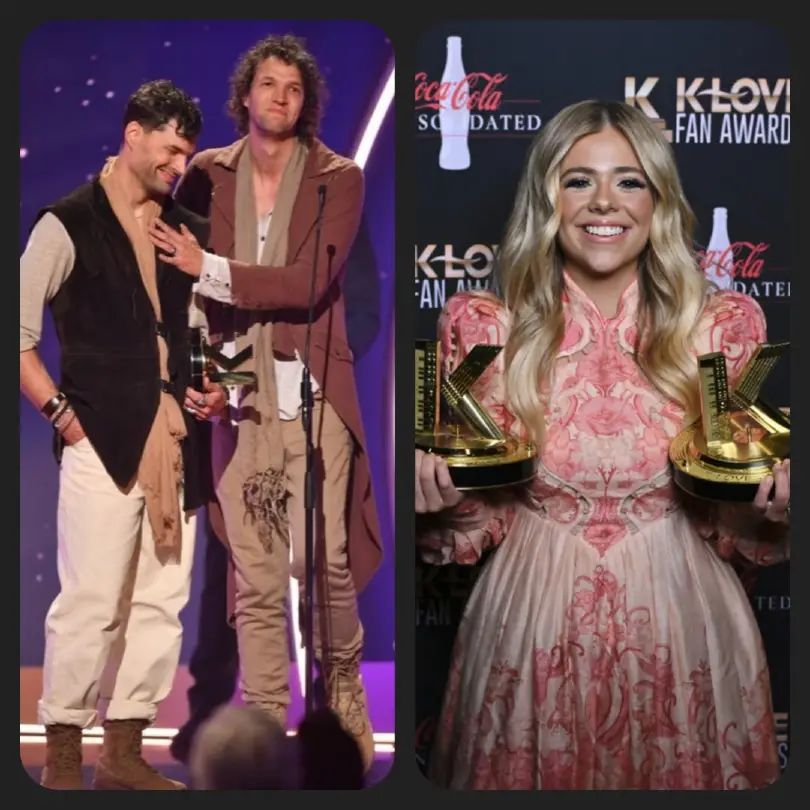 The winners have been announced for the fan-voted K-LOVE Fan Awards, with for KING & COUNTRY, Anne Wilson and Matthew West among those walking away with trophies. For KING & COUNTRY won in three categories, for Artist of the Year, Group/Duo of the Year, and Song of the Year, for "For God Is With Us."
Wilson claimed the trophies for Female Artist of the Year and Breakout Single of the Year, with "My Jesus."  West, who hosted the ceremony with Tauren Wells, won Male Artist of the Year.
For KING & COUNTRY, made up of brothers Joel and Luke Smallbone, honored their grandmother in their acceptance speech, who passed away only a couple of days before the ceremony was held, at the age of 95.
"She was a prayer warrior and we're so grateful that she is now united with [her husband] on the other side," Joel said. "But if the for KING & COUNTRY vehicle tanks, it's because she's gone, and her prayers are no longer with us."
"We're all faced with a lot, with what's going on in Eastern Europe, and I think the question we will continue to ask ourselves, the rightful question, is 'What are we going to do?' … We should get out, we should do something," he continued. "But I want to quote the great late saint, Mother Teresa as maybe the paramount priority as what we can do as we step forward as a family and humanity. She said this, simply, 'If you want to change the world, go home and love your family.'"
Wilson began her music career, after originally planning on becoming an astronaut, following the tragic loss of her brother in a car accident.
"I wanted to prove to myself that I can survive the tragedy of losing my brother," Wilson said from stage (via The Tennessean). "And so 'My Jesus' came through that tragedy, and released a year ago. And just to see what God has done has been so amazing."
West later admitted that he never anticipated that he would be crowned the Male Artist of the Year, a category he shared with Crowder, Danny Gokey, TobyMac, Zach Williams and Wells.
"I honestly didn't expect this," West said on social media. "Thank you guys for voting, listening, and allowing me to share His glory with the world. I'm forever grateful."
See a complete list of winners below.
Full List of 2022 K-LOVE Fan Awards Winners:
Male Artist Of The Year – Matthew West
Female Artist Of The Year – Anne Wilson
Group/Duo Of The Year – for King & Country
Artist Of The Year – for King & Country
Breakout Single – Anne Wilson – "My Jesus"
Worship Song Of The Year – Katy Nichole – "In Jesus Name (God Of Possible)"
Song Of The Year – for King & Country – "For God Is With Us"
Film Impact – American Underdog
Book Impact – Michael W. Smith – "The Way Of The Father"
Sports Impact – Tim Tebow
Podcast Of The Year – Sadie Robertson Huff – "Whoa That's Good"