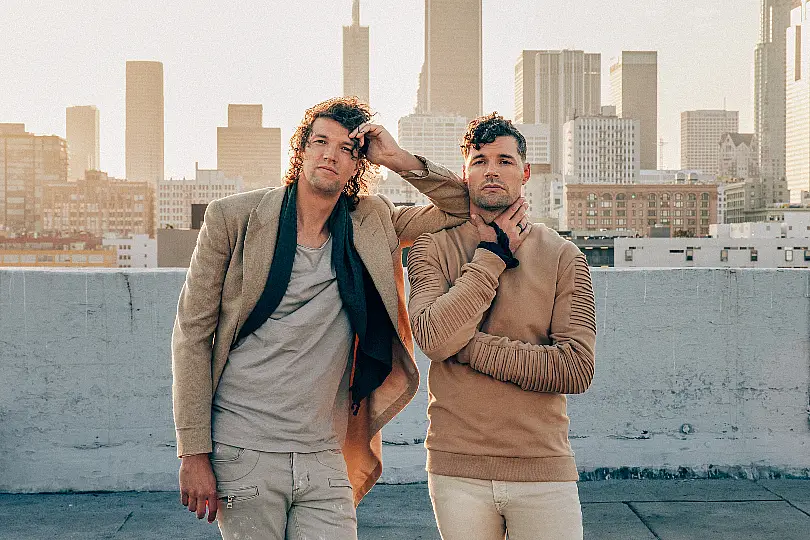 For KING & COUNTRY will celebrate the holidays on the road! The duo, made up of Joel and Luke Smallbone, just announced that they will embark on their A Drummer Boy Christmas Tour, kicking off on November 26, in Kansas City, Missouri, performing in 14 cities across the country. Much like their previous What Are We Waiting For? Tour, For KING & COUNTRY will once again wrap up with a hometown show, this one at the Grand Ole Opry on December 18.
"Hard to believe the most wonderful time of the year will soon be upon us…. And we want to celebrate it with YOU!" For KING & COUNTRY announced on social media. "Giving you our best Christmas tour experience yet, complete with many of your beloved holiday classics (and some of our own), as well as some of your year-round favorites, performed on a freshly designed stage and more. Tickets are available for presale now. Text CHRISTMAS to 615-257-9555 to receive the password before anyone else! Looking forward to ringing in the season with you."
For KING & COUNTRY recently released a new version of their song "For God Is With Us," this one with Lady A's Hillary Scott. The song was originally intended to be a Christmas song, before they realized it had a message that went far beyond the holiday season.
"We originally penned 'For God Is With Us' as we were working on our Christmas record," Joel shares (via JubileeCast). "We started writing this song from the perspective of a baby boy, and then into adulthood and the great sacrifice of Jesus and then how it impacted humanity. And somewhere along the way, we looked back and Luke and I called one another and said, 'Hey, maybe this is not just devoted to Christmas.
"Maybe this is a thought, an idea, that could carry with us through the whole year, through Christmas, and Easter, and beyond,'" he continues. "Maybe this is a good reminder after so much loss, and so many questions about where God is in the midst of a pandemic, and where God is in the midst of racism or political division.'"
Find all of For KING & COUNTRY's music and tour dates by visiting For KING & COUNTRY's website.
A Drummer Boy Christmas Tour Dates:
11.26, Kansas City, MO
11.27, Dallas, TX
12.01, Lowell, MA
12.02, Baltimore, MD
12.03, Hershey, PA
12.04, Cleveland, OH
12.08, Fort Myers, FL
12.09, Tampa, FL
12.10, Orlando, FL
12.11, Greensboro, NC
12.15, Indianapolis, IN
12.16, Fort Wayne, IN
12.17, Grand Rapids, MI
12.18, Nashville, TN