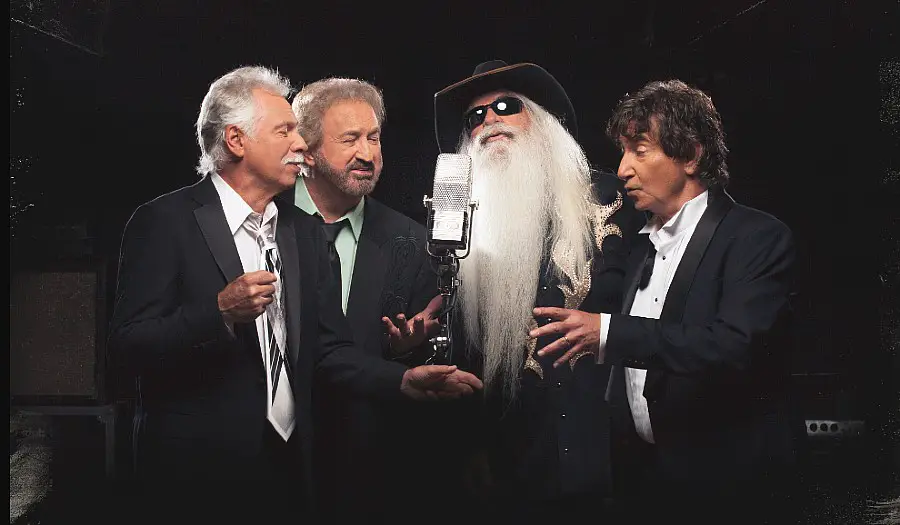 It's hard to believe it's been almost 50 years since Richard Sterban joined The Oak Ridge Boys. The 79-year-old joined the legendary group in 1972, leaving his role as part of Elvis Presley's band to be part of The Oak Ridge Boys.
"That is hard to believe," Sterban tells Everything Nash. "This October, it will be 50 years for me. And it is amazing. Sometimes you wonder; you look back over your life and you wonder where has all the time gone. But, it was kind of an interesting thing in 1972. I was singing in a group called J.D. Sumner and the Stamps Quartet. And I was actually singing with the King of Rock and Roll, the biggest star in the world back then, Elvis, and that was a very special time. It really was. I have some great memories of the times I spent with Elvis. I got to know him just a little bit. And now that many years have passed and I look back on that. I'm so glad I was able to experience that."
Sterban never imagined that he would leave his role with Presley for another job, but when the invitation came to join The Oak Ridge Boys, Sterban was faced with a difficult career choice.
"While I was with Elvis, apparently on top of the world, one day I got a phone call from William Lee Golden of the Oak Ridge Boys," Sterban recalls. "He's the guy in our group, as you probably know, with the long beard. He's probably the most recognizable member of the Oak Ridge Boys back then. He did not have that long beard. He was Mr. GQ back then, but he called me and he said that the bass singer in the Oak Ridge Boys was leaving, and the Oak Ridge Boys wanted to know if I would be interested in taking the job.
"So here I was apparently on top of the world singing with Elvis, but I had to make a decision," he continues. "And I had to admit, at the same time, I was a big fan of the Oak Ridge Boys. I loved the music that they were making, and I collected their records. I felt like the group had a great deal of potential and I really wanted to be a part of it."
While the choice to leave Presley for The Oak Ridge Boys might have seemed risky at the time, Sterban never wavered in his decision, and now feels immense gratitude for his lengthy career, even though leaving Presley seemed daring at the time.
"My career would not have been as long, that's for sure," Sterban says. "I think my timing was pretty good because unfortunately for all of us, we lost the greatest enter entertainer of all time in Elvis just a few years after I left. So I think my timing was pretty good. I followed my heart on that decision. I really believed I was doing the right thing. A lot of people questioned that decision. 'How could you leave Elvis and join The Oak Ridge Boys?' But I really believed I was doing the right thing. And now that I look back on the last 50 years, I think I made a very, very good decision back then."
Even though it's been almost five decades, Sterban still vividly recalls how he felt when he decided to leave the biggest musical act at the time to join The Oak Ridge Boys instead.
"It's hard to believe that 50 years have passed," Sterban concedes. "Over the last 50 years, so many great things have not just happened to me personally, but all four of The Oak Ridge Boys. We've been very fortunate. We've been very blessed. We've had such a great career. And the good thing about it is it's not over yet. We still have plans for the future. And we plan to go in the studio next year and work on a new project with Dave Cobb. So we're excited about that as well."
The Oak Ridge Boys will be part of the 2023 Country Music Cruise, which departs Ft. Lauderdale on the Nieuw Amsterdam on Sunday, January 22, and will make stops in St. Maarten and San Juan before returning to Florida on January 29.
Find all of The Oak Ridge Boys' music, as well as their upcoming shows, by visiting their website.
An exclusive discount for cabins for the Country Music Cruise, available only for Everything Nash readers, is available here.