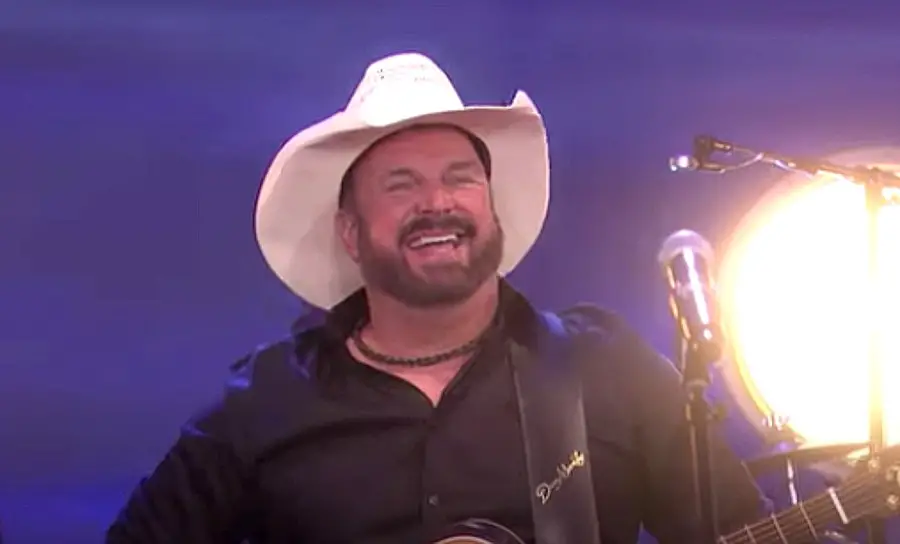 Garth Brooks will receive the Kris Kristofferson Lifetime Achievement Award later this year, even if the award's namesake, Kris Kristofferson, is slightly embarrassed about Brooks receiving the honor.
"It's pretty damn embarrassing to give a man of Garth's stature an award with my name on it,"  Kristofferson says in a statement. "When Willie [Nelson] got one, he said he could take care of that. Congratulations Garth; I am truly humbled and honored that you have accepted this! You belong on Mount Rushmore. See you there."
Brooks also spoke about receiving the prestigious accolade.
"When they name awards after artists, that award takes on an even greater meaning," Brooks says. "Kristofferson is known as the songwriter's songwriter … and he should be. The honor is the name on the award and the names who have received it. My hope is that through time, the Garth Brooks name is worthy of such an honor. This is going to be a cool night."
The Kris Kristofferson Lifetime Achievement Award goes to "an individual whose works have made a significant contribution to the American songbook, and one who has inspired the careers of others." In addition to Nelson, other previous recipients include Bill Anderson in 2018, and Loretta Lynn in 2019.
In addition to staying busy with his music career, which includes his current Stadium Tour, Brooks is also busy with another venture: his upcoming downtown Nashville bar. The two-time Grammy winner announced earlier this year that he would open his Friends in Low Places Bar & Honky Tonk, an idea he says began from a fan.
"I think it was also somebody's idea on here…to open a bar in Nashville," Brooks said on his weekly Inside Studio G Facebook series. "And so now here it comes. We got the first look at what the Friends in Low Places logo looks like. But I can't wait to see merchandise with this on it."
You made the song what it is… now let's make the BAR what it can be! Follow Friends in Low Places Bar & Honky-Tonk and join us!!!! love, g

Posted by Garth Brooks on Tuesday, June 7, 2022
While Brooks will obviously play his own music at his own bar, the 60-year-old says he will play other artist's music as well.
"[Friends In Low Places] will be a classic honky-tonk, because country music has been so good to me," Brooks explains. "King George [Strait], Merle Haggard, Trisha Yearwood, Reba McEntire and Dolly Parton should be played on Lower Broadway in 2022. I don't think that's too much to ask."
Friends in Low Places is located at 411 Broadway. An opening date has yet to be announced.
Brooks will be given the Kris Kristofferson Lifetime Achievement Award at the annual Nashville Songwriters Awards ceremony, held on September 20th at the Ryman Auditorium.