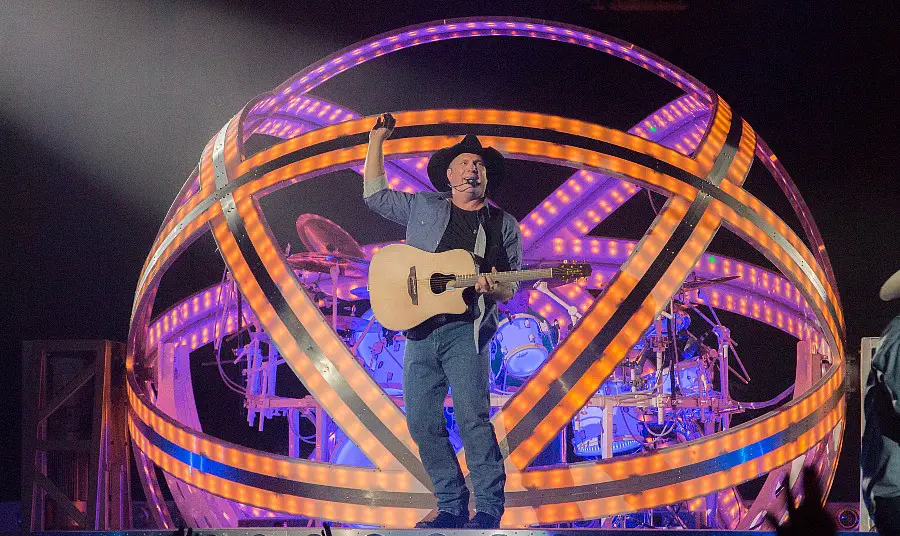 We now know what the name of Garth Brooks' Nashville bar will be, along with a few other details. The venue, located at 411 Broadway, will be named Friends in Low Places, after the title of one of his early hits.
The Oklahoma native will be joining the ranks of several artists who already own bars in downtown Music City, including Dierks Bentley, John Rich, Luke Bryan, Jason Aldean and more, but he hints Friends in Low Places will be a cut above the rest.
"Friends In Low Places will be the Chick-Fil-A of honky-tonks," Brooks says (via The Tennessean). "I want a thumping, crazy place where people feel good — but they're also safe, loved, comfortable, and are treated well with good manners."
Brooks is happy to put his own mark on Lower Broad, but he insists his first goal is to celebrate the rich musical heritage in Nashville.
"[Friends In Low Places] will be a classic honky-tonk, because country music has been so good to me," Brooks explains. "King George [Strait], Merle Haggard, Trisha Yearwood, Reba McEntire and Dolly Parton should be played on Lower Broadway in 2022. I don't think that's too much to ask."
"We'll also play Luke Bryan, Kenny Chesney and artists like Ashley McBryde, too," he adds. "It'll sound like a Garth Brooks concert in there: undeniably all country music."
The Country Music Hall of Fame member says he is honored to join the ranks of other artists who have helped make Nashville's downtown so vibrant.
"We feel very lucky to have the chance to be part of Lower Broad, which is arguably THE hottest spot in the country," Brooks previously said, when announcing his new venture.  "The goal is a classic honky-tonk that welcomes all and encourages love and kindness while playing the greatest music in the world in the home of country music!"
Brooks recently performed two back-to-back shows at Nashville's Nissan Stadium. on April 15 and 16, after his original show last year was canceled due to severe weather.
Thought nothing could be louder than Friday night
I was wrong!!!!
Holy Cow Music City!!!!!
THAT'S how you do it!!!!
I'm a FAN!!!!
love, g #GARTHinNASHVILLE pic.twitter.com/l7OqrDZXel

— Garth Brooks (@garthbrooks) April 17, 2022
It's fitting that Brooks is planning on focusing on plenty of live music at his own Friends in Low Places venue, since he hints that those are the kind of places he wants to play in the future.
"Dive bar performances are hot, sweaty and crazy, but they're fun," Brooks says. "Let's line up 75 of them."
Brooks will continue his Stadium Tour with a return to Notre Dame in May, among other shows. See all of Brooks' upcoming concerts here.