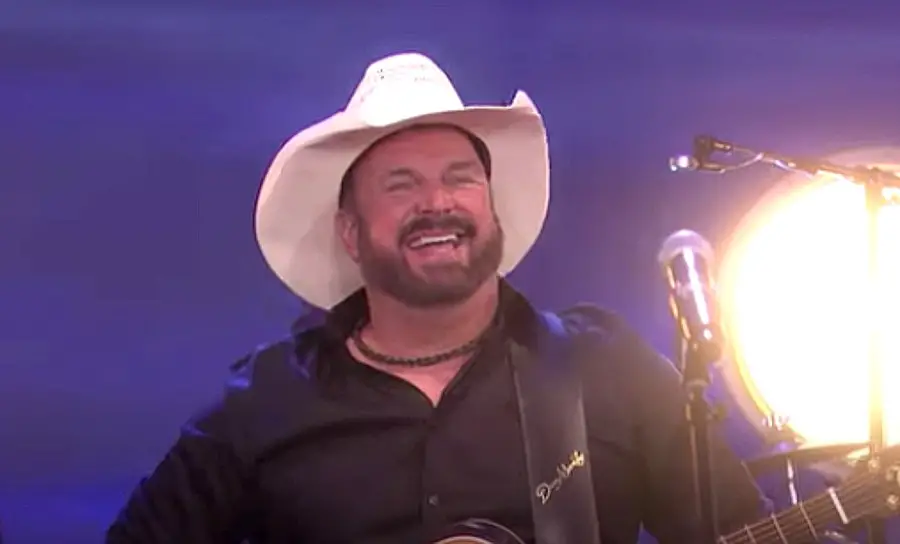 Garth Brooks is the latest country artist to receive the prestigious Kennedy Center Honors. Brooks was honored along with Dick Van Dyke, Joan Baez, Debbie Allen and violin virtuoso Midori.
"I have to say that an award is only as good as the names that are on it," Brooks reflected of the honor. "So when you walk in that door, and you see the list of names, and then you sit in this group, and you get to be a part of this … For the first time in my life, I don't mind being the weak link in the chain. I'm in the chain. That's it. This is a cool thing. I just feel very, very lucky to be among people that look at life this way."
"I think just getting to be among this level of character is good for me," he added. "I feel very lucky."
Brooks was asked to sum up what the evening meant to him in a song title, and he didn't hesitate with his answer.
"'All the Good Things.' I really do. I'm looking at character and discipline here," he said, referring to Baez.. "You can't see this woman without looking at courage. Cool is a passing thing. You can't be cool for decade after decade after decade. You're cool always. It kills me."
Brooks was also asked, during a Q&A, what he learned about his fans after being forced to connect with them solely online, via his Facebook series, Inside Studio G, amid the pandemic.
"Forgive me for this answer: Nothing," Brooks said. "It's funny; you don't have to have a big stage. You can show up in jeans and a ball cap and they treat you the same way as if you're life on stage from a stadium. So I think what I've learned is, they've always allowed me to be who I am. Fat, skinny, old, young. On-pitch, off-pitch, good night, bad night.
"You're talking to a woman who, we met a year after she moved to Nashville, and a year after I moved, so since '87, we've known each other, before we had record deals together," he continued, referencing his wife, Trisha Yearwood, who was in the audience. "I think she can vouch for this … that the people who have always treated Garth Brooks the same on good days and bad days. You talk about a sweet gift."
Brooks also spoke out about the career milestone on social media.
To loosely quote Maya Angelou
I stand here as one but I stand here for the people who have carried me to this point. Grateful! love, g #KCHonors pic.twitter.com/jMpy0Ay8zn

— Garth Brooks (@garthbrooks) May 22, 2021
"To loosely quote Maya Angelou," Brooks tweeted. "I stand here as one but I stand here for the people who have carried me to this point. Grateful! love, g."
Guests were limited during the ceremony, because of the pandemic. A two-hour TV special airing the ceremony will take place on June 6 at 8:00 PM ET.
Brooks is continuing his Stadium Tour this summer, kicking off with a show in Las Vegas on July 10. All current dates are sold out. Keep track of updates at GarthBrooks.com.