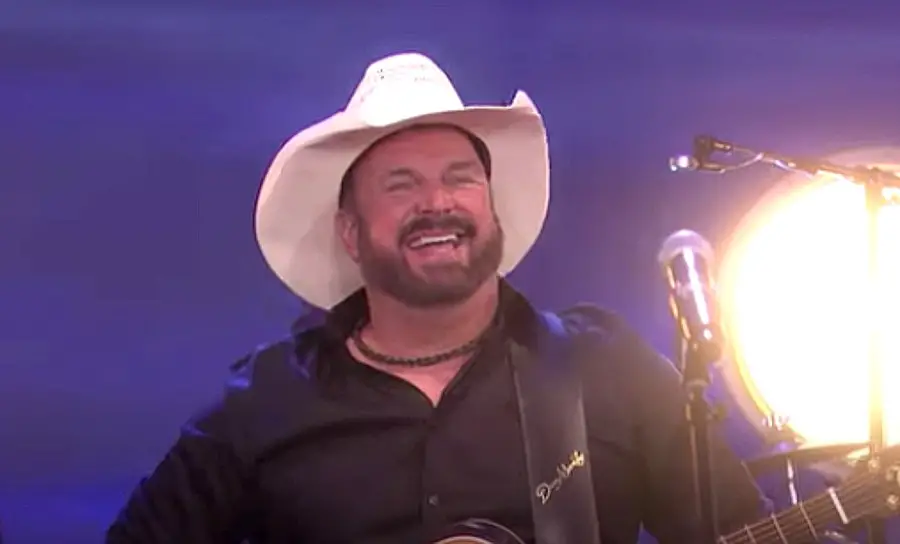 Garth Brooks is continuing his record-breaking streak with his Stadium Tour, this time at Nashville's own Nissan Stadium. The 59-year-old set the record for the most tickets sold at Nissan Stadium, with more than 56.000 tickets sold, in only 75 minutes.
While Brooks is happy to continue setting new records, he is most interested in just playing for his fans.
Garth Brooks (@garthbrooks) breaks entertainment event record at Nissan Stadium! 56k+ tickets sold with more great seats still available.

Come be a part of history🎟: https://t.co/V1XEiT4DNa pic.twitter.com/ebgu43OzQA

— Nissan Stadium (@NissanStadium) June 25, 2021
"What I like about where Nashville is falling on the schedule is, hopefully you're getting some runs of the show before you bring it home," Brooks tells WSMV. "It's going to be a train wreck no matter what, just because every Garth show is, but how much of a controlled train wreck it is, is kind of what the difference is between a concert and a party."
Brooks wasn't at all concerned with how many tickets he sold at any of his stops on his massive tour, but rather the kind of show he puts on each night.
"It could be one, it could be 100,000, it doesn't matter to me," Brooks says. "It's still all about connection. That one-on-one thing so you never know. You don't play for the numbers. You go out there and play for the music and whatever happens, happens. We're just inviting anybody that wants to come, that feels safe in this part, coming out of the pandemic, [to] come to the show and have a great time."
Brooks is one of several artists choosing to tour this year, joining the ranks of artists like Eric Church, Lady A and Thomas Rhett, among others, who felt it was safe to hit the road this year, on the heels of the global coronavirus pandemic.
"The responsibility comes with all of the artists," Brooks says. "So all of us artists are going out with a huge responsibility to do this thing right. So state rules, stadium rules, you have your own internal rules. What you want is the safest, best experience they can have.  Of course, the main goal, as always, is they leave that stadium loving each other more than they came."
Brooks will likely be joined by his wife, Trisha Yearwood, as well as a few other artists, who seem most eager just to watch Brooks perform.
"The special guests, I'm amazed how many people have asked to come to the show," Brooks reveals. "It's so sweet, and artists themselves. So this might be fun, just to get to play — look out in the crowd and get to see people you love, and your fellow musicians are out there. So I'm excited."
Brooks' Nissan Stadium show will mark the first time the Oklahoma native performs in the massive venue, which serves as the home to the Tennessee Titans.
"What better way to kick off the return of concerts to Nissan Stadium than with the No. 1-selling solo artist in U.S. history? We're thrilled to host Garth Brooks and the Stadium Tour on July 31," Titans President and CEO Burke Nihill said (via Fox 17). "The atmosphere of his high-energy concert in front of a Nashville home crowd is going to be absolutely electric, especially mid-field at Nissan Stadium. We can't wait to see everyone take in this very special performance on Nashville's biggest stage."
Brooks' Nissan Stadium show will take place on July 31. A limited number of tickets remain. Find more details at GarthBrooks.com.