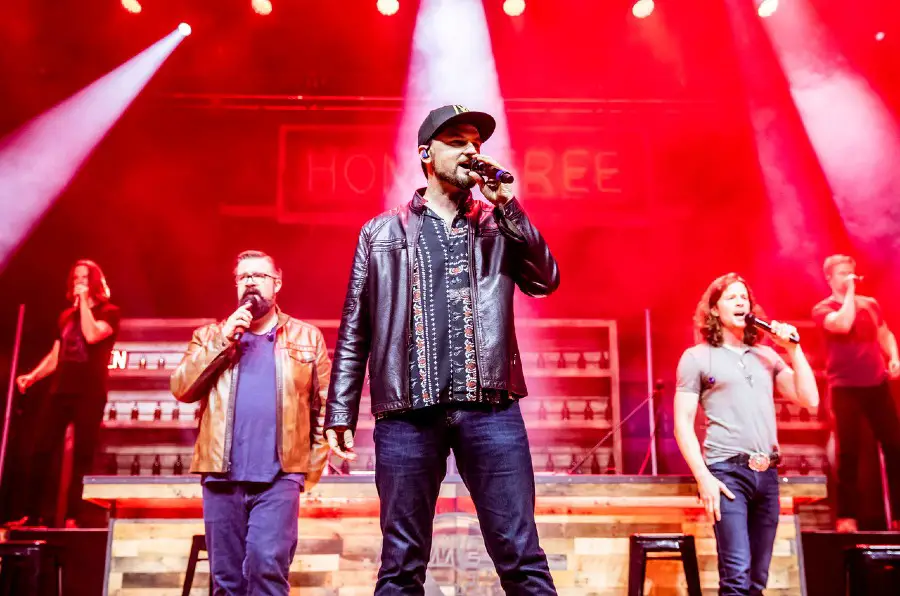 Home Free's Adam Chance, who provides the rich and beautiful baritone notes in the vocal group, is the newest member of Home Free, although he is hardly a newcomer. Joining in 2016, the Alabama native had a long history of being part of music before he joined Home Free. Read on to know more about the powerful singer.
1. Did you set any New Year's resolutions this year, and if so, what are they?
I don't usually do resolutions. I'm not really someone who waits to get things done for myself. If I want something, I go for it right then.
2. Aside from performing, what have you missed the most about life during the pandemic?
I've never been a big fan of crowded rooms, so I can't believe I'm saying this, but I really do miss being in busy places – restaurants, bars, going to the movie theater or a packed sporting event.
3. When you visit Nashville, where is one place you HAVE to visit?
I just know I'm going to eat A LOT, and I absolutely have to get hot chicken every time I'm there, regardless. Pepperfire has always had a place in my heart… and now that I'm reading this, it sounds like I'm writing the world's first hot chicken-inspired, country love song.
4. How is planning a wedding [to fiancée Sami Matarante] during a pandemic going?
It's been slow so far, given the fact that nobody really knows when things will start feeling somewhat normal again. We do have an idea that we're excited about that will make it easy to involve all our family and friends around the country, though. We aren't traditionalists, so we've been trying our best to think outside the box.
5. How did you meet your future wife, and did you know right away she was "the one"?
Sami has worked for the band on video content for years, so we actually became good friends before we ever caught feelings for one another. When that finally happened though, it was like opening the flood gates. We had known each other for two years before that, so our relationship progressed really fast at that point.
6. If you had one last meal, what would it be?
If anyone follows me at all, they could probably guess the answer to this – tacos. And I mean tacos of every kind. I don't discriminate. Traditional style, street tacos, Tex-mex, Americanized. Just give me a huge platter of them!
7. What's your favorite Home Free memory, at least so far?
Wow. That's tough. There have been so many incredible moments. I still can't believe we have so many fans in different countries. I will never forget talking to a new fan in Austria about how our band name literally could translate to "without a home." He was so confused as to why we would call ourselves "Homeless." I guess I could have explained the idiom, but I just left it. It's more fun that way, you know. Of course, something else that will always be surreal to me is taking a final bow at a sold-out Ryman show – those moments get me every time.
8. If you weren't a singer, what would you be?
I studied journalism and creative writing in college, so something in that field, I imagine. Ideally I would love to be an author, but I could see myself being a media critic of some kind… Just keep me away from politics, please. Ha!
9. I know in a typical year, you're always on the road, traveling to new places, but when you actually get some real downtime, what is your go-to vacation spot?
I grew up on the Gulf and will always have saltwater in my veins, so give me somewhere close to a coast, and I'm happy. I actually love spending time at the beaches down in Lower Alabama whenever I get the opportunity.
10. Which artists might we be surprised to find on your playlist?
Nothing is off-limits for me when it comes to my listening habits, and I don't believe in "guilty pleasures." My wheelhouse is outlaw country, folk and Americana, but I can name a few that might be surprises outside of that – Run the Jewels, Tool, Carly Rae Jepson, Sigur Rós. To be honest, I could probably name an artist in every genre that I enjoy. I listen to a lot of chill-hop and retrowave… Rob, Home Free's tenor, has always gotten a kick out of my love for sea shanties, even before they were a trend on TikTok.
11. What is one thing the Home Fries might not know about you?
I'm a pretty open book about my life and my hobbies, so this one is tough… But here's one – I was a volunteer fireman in my hometown for several years. That's something I don't think I've ever talked about before. That being said – Home Fries, don't go expecting any fireman outfits in the Home Free calendar any time soon. (Although, now that I think about it, Rob would look great with an axe…)
Want to know more about Home Free? Read our 11 Questions with Austin Brown, Tim Foust and Rob Lundquist here.