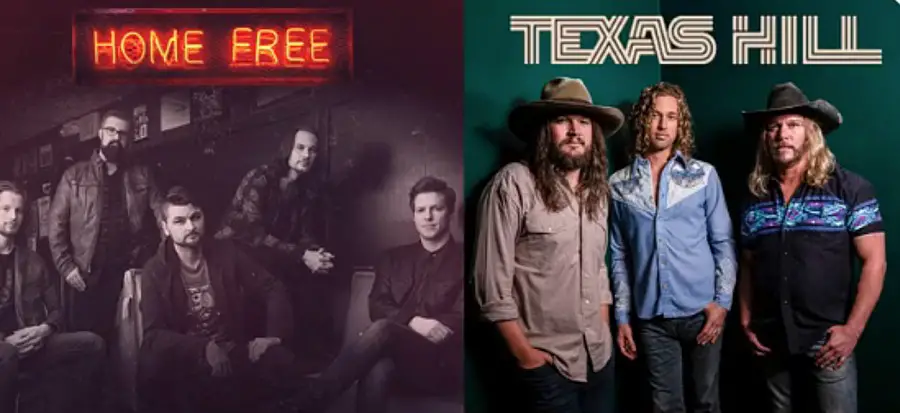 Texas Hill will cross a big item off their bucket list when they make their Grand Ole Opry debut this weekend as a trio. The group, made up of The Voice contestants Adam Wakefield and Craig Wayne Boyd, and American Idol finalist, Casey James, will take the stage for the first time together, on January 22.
Home Free 's Austin Brown, who has performed on the hallowed stage with the all-vocal group plenty of times, had some wise words of advice before their inaugural performance.
"Soak it up. It's so fantastic," Brown said in a joint interview with Everything Nash, joking that he planned on crashing their dressing room ahead of their performance. "It's just awesome. And apparently, knock on wood. It'll still be that way. I have been told that the Opry is normal again now, which is awesome.
"Not that it wouldn't have been great to do it during the pandemic," he continues, "but being able to go to the Opry, and do the Opry with all the people, backstage people, touring backstage and with all the different acts there, and actually being able to go and hang out the whole time … I would get there early and I would stay the whole time and sit on the stage on the fuse, 'cause you can do that. There's nothing like it."
Texas Hill has already gotten to do plenty of exciting things, including performing with Home Free on some of their Warmest Winter Tour dates, but nothing comes close to performing on the Grand Ole Opry stage.
"I can't wait," Boyd says. "It's very surreal. We got to be on the Ryman stage, but not any part of the Opry yet, so far as with Texas Hill, so I'm really pumped. I was the one that was crying when it got announced,"
James echoes Boyd's sentiment that performing together for the first time as Texas Hill is an honor that is hard to articulate.
"We've all been to the Opry," James says. "We've all played the Opry. But for me personally, I mean, I'm certain that this moment that we're going to have is going to eclipse any of the things that I've done there personally, simply because of the harmonies and the music and the moment, and doing it now, as opposed to when I had this big giant machine behind me, so to speak. Maybe I'm speaking out of turn, but I feel like we've really earned it.
"We've been putting in the time and the effort and the work, and if there was ever a time that I deserved to go play at the Opry, this would be the one," he adds. "It's a whole different vibe for me. It's a whole different expectation. It's a whole different achievement, if you will. I'm just excited to be back and I'm excited to be there with my boys and making killer music."
Texas Hill's Opry performance takes place on Saturday, January 22. They will be joined for the evening by Kelsea Ballerini, Deana Carter, Ricky Skaggs, Jeannie Seely and more. A limited number of tickets are available at Opry.com.
Heaven Down Here is available for purchase here.