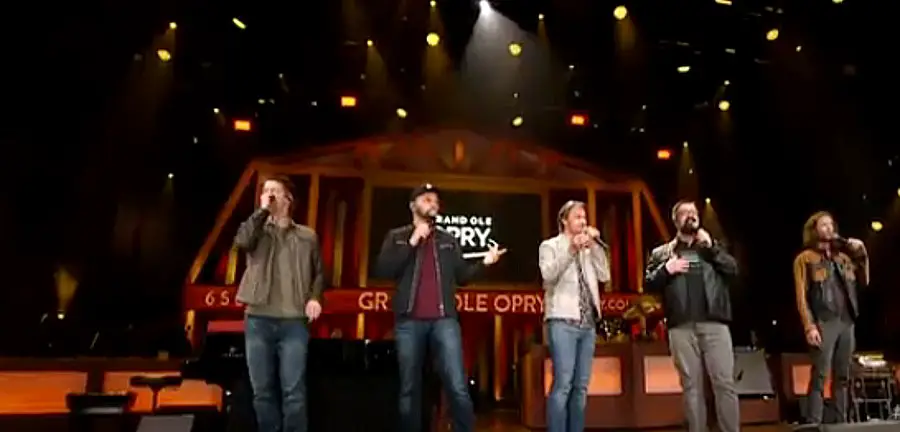 Home Free returned to live performances, for the first time in over a year, by taking the stage at the Grand Ole Opry. The all-vocal group, which performed two songs, was part of an all-star line-up that included Ronnie Milsap, Dylan Scott and Priscilla Block.
"This is our very first live performance in 14 months, ladies and gentleman," Tim Foust said from stage. "So I sure hope we remember how this goes."
Home Free kicked off their set with "Leave This Town," from their Dive Bar Saints album.
"Maybe we ought to quit while we're ahead," Foust quipped after their first song. "Nothing like shaking off the rust at the Grand Ole Opry, in front of live television cameras … It's really nice to see live human faces looking back at us, I gotta say."
Foust acknowledged the struggles everyone faced, not just musicians, because of the pandemic.
"Pretty weird year we're coming out of, ain't it?" Foust said. "That was something. I don't know about you, but for us, it was like the first couple of months of the pandemic, each felt like a year long. And then it was sort of like, 'Okay, I guess this is the new normal.' And then the next ten months felt like one month. It was a very strange thing. But one thing I noticed that most of us seem to have in common is that, the guys anyway, we're waiting for the green light to cease any sort of grooming or personal hygiene.
"As soon as it was like, 'Hey, you don't have to go to work anymore,' we just stopped bathing," he continued with a laugh. "It was ridiculous. My bandmates, we were FaceTiming. Rob was clean-shaven at the start of the pandemic. Anybody else go from never being able to find a mask, to looking like you were selling masks out of your car? So if anyone needs extras, follow me behind the Opry after the show, I've got a few for you."
Foust also took time to highlight the incredible skills of beatboxer Adam Rupp, who provides all of the percussion sounds in the group, and gave an amazing demonstration of his skills during their set.
"We are the world's first, and as far as I know only, all-vocal country band," Foust acknowledged. "Everything you just heard, everything you're gonna hear from Home Free is live and vocally-produced. And that includes all those drum sounds coming out of Adam Rupp."
Foust brought up the group's upcoming rescheduled Dive Bar Saints Tour, before launching into their last song, expressing their eagerness to get back on the road again.
"We too will be going back on tour very soon," Foust said. "As I'm sure all of you can testify to, live music is healing. It's healing for you as well as us, so thank you so much of being a part of our return to live music tonight. We hope you will check out our tour dates at HomeFreeMusic.com and come see us back home real soon."
Home Free ended their set with a cover of Sawyer Brown's "Some Girls Do." Their entire performance begins at about the 29:00 mark in the video above.
Home Free will head out on their rescheduled Dive Bar Saints Tour later his year, as well as their Warmest Winter Holiday Tour. Find all of their tour dates here.