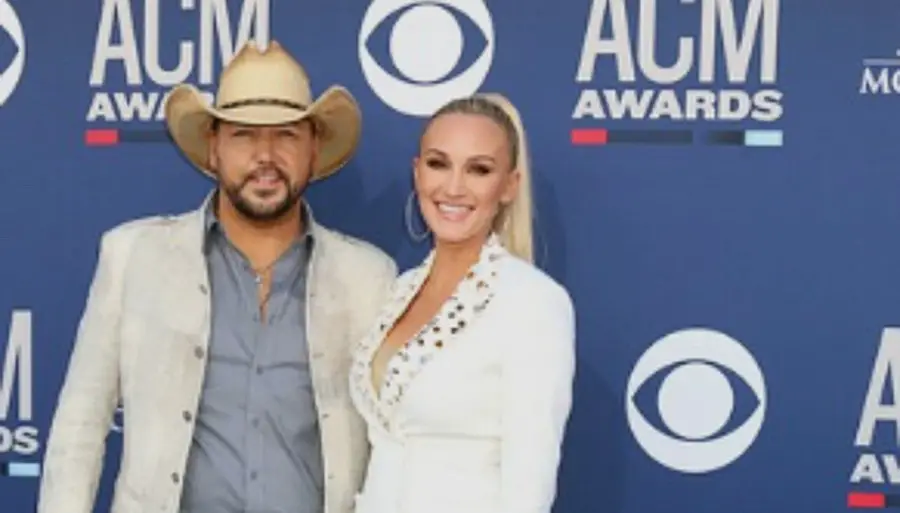 Jason Aldean's wife Brittany isn't backing down from being vocal about their family's political views. The mother of two and her sister-in-law Kasi Wicks, who is Aldean's sibling, recently launched a clothing line promoting their conservative beliefs, and although Brittany admits not everyone is a supporter of their beliefs, that isn't about to silence her.
"I think I saw the vision of everything is going horribly right now, and it has been for a while," Brittany siad during an appearance at Americafest (via Country Now). "It's so much bigger than us; it's so much bigger than our generation. We have children and I think when I had children and realized, 'Oh, this is so much bigger than all of us. We have to do what's right, what's important for our future children and our future generations.' So, that's really the main focus for me. It's like, be strong, don't back down and do it for your children."
Brittany, who said they launched the clothing line to offer "a way to speak out without having to speak necessarily, just by wearing the clothing and letting people know where they stand," isn't bothered by those who criticize her political stance.
"We did get backlash," Brittany concedes, "I think there are a lot of keyboard warriors out there, right? There's a lot of people that are very vocal on Instagram and other social media platforms, however, the support that we received… It was unbelievable,"
"From people within the music industry to people that came out of the woodwork saying 'Thank you for speaking up. We wish we could. We support you guys and wish we could do the same, and we're proud of you,'" she continued. "So, backlash, but it also came with such support, honestly."
Brittany's superstar husband strongly agrees with her views, and is willing to be outspoken for what he believes as well.
"There's times where I feel like I don't have a choice but to speak up or say something because I feel nobody else in the industry, or not a lot of people in our industry do that for fear," Aldean tells Audacy's Rob + Holly.. "I just feel like somebody's got to be that guy and if it's me, then it's fine."