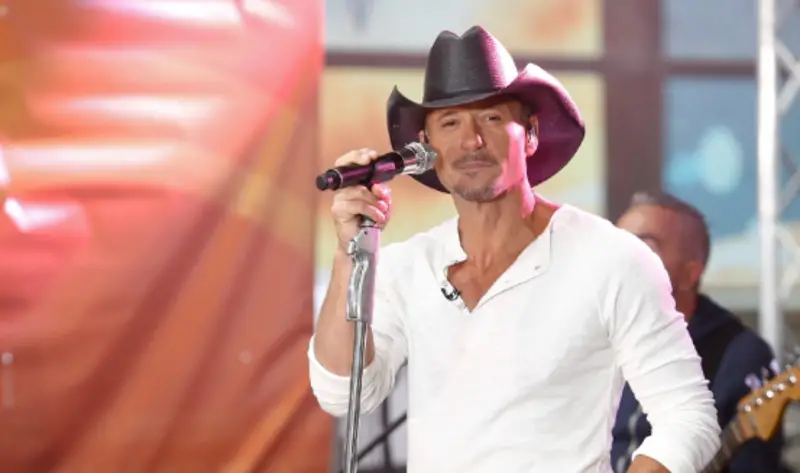 Tim McGraw has been a reigning hitmaker in country music for 30 years, but in many ways he still feels like a student of the genre. The 54-year-old has been an inspiration and role model to plenty of rising stars, but he insists he is learning just as much from them as well.
"I don't know that I'm schooling anybody," McGraw tells BMLG. "I mean look, I learn from everybody new that comes out. I get schooled all the time and learn things paying attention to new artists. I think if you stop learning then you're gonna stop progressing."
Although McGraw admits he is learning from the next generation of stars, he isn't ready to relinquish his top spot anytime soon, to anyone.
"I think competitiveness is in my blood," says the singer. "There's always a hard streak of that in me. I think that's not gonna go away. But when I get to a point where I feel like that I'm not as excited about getting better at what I do, then that's probably gonna be the time that I probably should hang it up. But right now I feel like I've got more to learn than I have learned."
McGraw recently opened up about his ongoing struggle with alcoholism. The Louisiana native, who got got sober in 2008, acknowledges not drinking is something he still battles, but thankfully not alone.
"It's always a struggle. It's never not a struggle," McGraw tells People. "Those demons always come back. But you always have a partner that's willing to fight them with you. We made a commitment to each other a long time ago that we're not going to give up. It's too easy to give up."
McGraw is hitting the road in 2022 on his McGraw Tour 2022, with Russell Dickerson serving as his opening act, along with newcomers Alexandra Kay and Brandon Davis. He is currently starring in the series, 1883, alongside his wife, Faith Hill. The show streams on Paramount+.