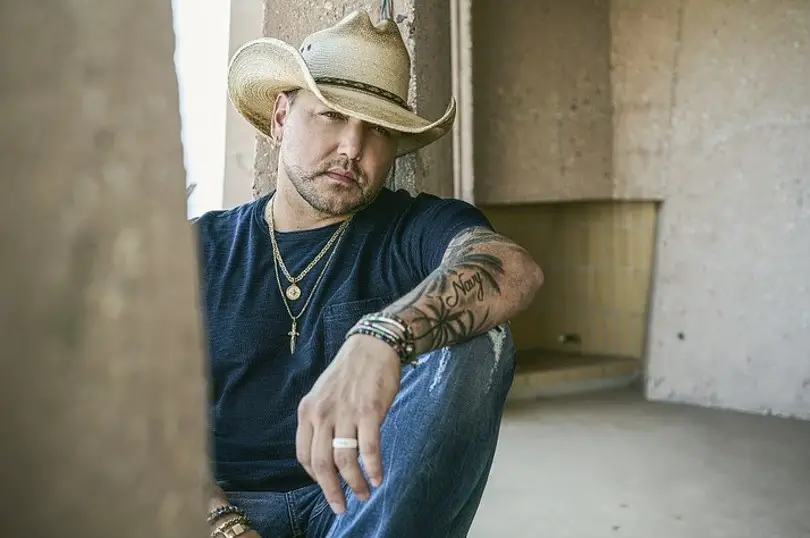 Jason Aldean is not willing to keep quiet about his political beliefs, at least not anymore. The Georgia native feels emboldened to speak about his conservative stance, more than ever before, in spite of the potential backlash.
"To me, it's hard for [me] to go lay my head down at night with a clear conscience, feeling like I'm a coward for not saying the things that I want to say or I feel like need to be said," Aldean told Audacy's Rob + Holly.
Aldean recently defended his wife, Brittany Aldean, after she posted photos of her and their children, Memphis and Navy, wearing anti-Biden shirts. More recently, Brittany and Kasi Wicks, Aldean's sister, launched a clothing line embracing their political views. After one commenter, who appeared to work for a radio station, threatened to stop playing Aldean's music, he had harsh words for her comment.
"Watch [your] mouth lady!" Aldean wrote. "We will teach our kids what we think is right and what we think is best for their future. If you think what is happening right now is 'great' for the future of our kids and grandkids, [you] are delusional!"
Aldean concedes that, while he doesn't want to cause strife, he does believe it is his right to share his own views.
"I think people know where I stand politically. I'm not a guy that's just going to go out there and start trying to stir the pot just to stir the pot," Aldean says. "At some point, it's gotten to where if you're a conservative and you're in this business, you're not allowed to speak."
Especially now, the Georgia native feels the need to share his own beliefs, even if he knows he is in the minority.
"There's times where I feel like I don't have a choice but to speak up or say something because I feel nobody else in the industry, or not a lot of people in our industry do that for fear," Aldean explains. "I just feel like somebody's got to be that guy and if it's me, then it's fine."
Aldean would rather be honest about what he believes than stay quiet, even if he knows some of his fans will disagree.
"People are going to have their opinion about whatever I say or think or whatever and that's completely fine," says the singer. "You don't have to agree with me, I don't expect everybody to agree with me, but I also have a voice and opinion just like everybody else."
Aldean just released the first part of his double Macon, Georgia album. The record includes his No. 1 "If I Didn't Love You" single, featuring Carrie Underwood. Find all of Aldean's music at JasonAldean.com.
Photo Credit: Joseph Llanes