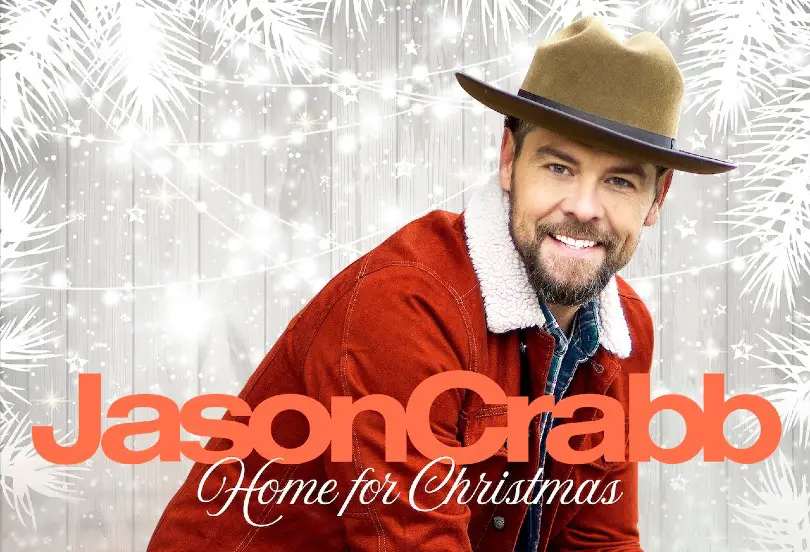 Jason Crabb is ushering in the holidays with his new EP, Home for Christmas, but the celebration is bittersweet. The singer began working on the record with the late Tim Akers, a producer, musician, songwriter and more, who unexpectedly passed away in August, due to complications from leukemia.
"It was the saddest thing," Crabb tells Everything Nash. "Tim Akers is a friend. He was an incredible musician. I loved him so very much. We were right in the middle of this record. He and I were just, it's almost like it was in sync. It was in rhythm. Our hearts were wrapped around exactly what needed to be for this record. This is what I said to him. I said, 'This is the record of a lifetime. This is my dream record.' Full orchestration, full horn section, a full band. I'm talking about choir and singing. I'm talking big stuff, like records that outlive you. This is the one that your grandkids grab ahold of and go, 'Hey, listen to grandpa. This is what music he did.'"
Crabb and Akers were in the middle of working on what became Home for Christmas, when Akers' health took a turn for the worse.
"We had just cut the basic tracks, the rhythm tracks, and Tim said, 'I'm going in for a check-up to make sure everything's good,'" Crabb recalls. "He went in and didn't come out of the hospital. His leukemia was back, full force. I've got a picture of him, two days before he went into ICU in a hospital room, sitting with a keyboard up on his hospital bed, working on arrangements for this record. His dad told him, 'You gotta just let it go.' And he said, 'Dad, if I can just get up back home, I'm going to be fine. I've got deadlines I've got to get to.' And that was two days before he went into ICU, and he dn't come out. So it was a very, very, very sad moment. I love his family."
Akers may not have been able to hear the fruits of his labor on Home for Christmas, but his imprint is felt in all three tracks on the EP. It was Crabb's Red Street Records label head, Jay DeMarcus, along with a few others who stepped in to finish the work Akers started on the record.
"He actually worked on a song called 'Mary, Did You Know,' that we cut with a full orchestra and horns, and he did the programming on it," Crabb shares. "It really broke all of our hearts, Jay DeMarcus, he was a great friend. Tim was out on the road with the Flatts for a little bit. The crazy thing about it is, Nashville came together just like Nashville does. I love Nashville. You're talking about some good-hearted, amazing people, industry people, especially the musicians. The musicians in this town, that's where your heartbeat is in this town, writers and musicians.
"The musicians came in and said, 'We want to finish up what Tim started,'" he adds. "They all jumped in and made this happen, and you can feel it. Jay finished up the vocals, and led the orchestration and other stuff, but there were a lot of people that jumped in to make it work."
Although Crabb misses his collaborator and friend, the Kentucky native is grateful that Home for Christmas turned out exactly as he had hoped, and maybe even better.
"It has a timelessness to it," Crabb says. "I don't know how to describe it, but you know when you hear Nat King Cole, it's timeless. When you hear Ray, Charles … that sound we got it on this record. Especially the song called being 'Being Home for Christmas.' All the music that I've done through the years. I don't know when I've ever said 'We hit it.' And we have on a lot of things, but I've never put something out and said, 'Okay, this is it. This is it' … I feel as confident in this record as anything I've ever done in my whole life."
Find Home for Christmas, and all of Crabb's music and tour dates, at JasonCrabb.com.