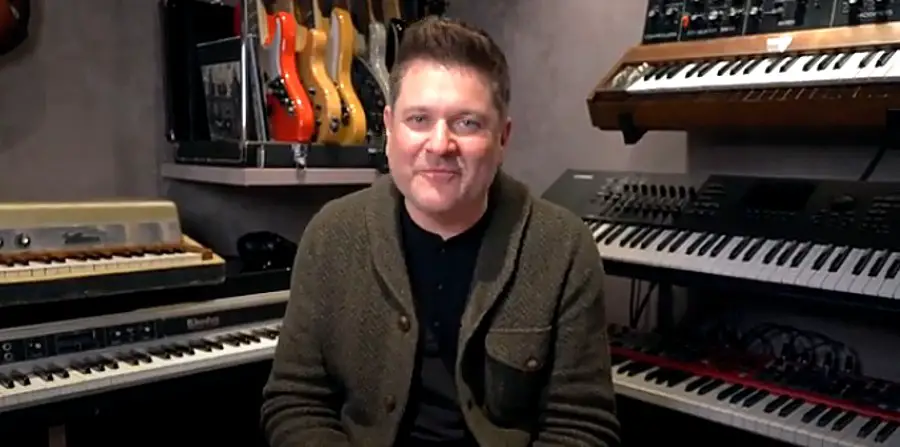 Jay DeMarcus just released the song, "Music Man," inspired by his own father, Stanley "Wayno" DeMarcus, who passed away in October. DeMarcus is opening up about the powerful song, which marks his first solo release, after more than 20 years with Rascal Flatts.
"My dad actually quit school when he was 13 years old to play on a radio show," DeMarcus shared in a video sharing the story behind the song (via Taste of Country). "He never finished high school. All he knew was playing music. My dad was so talented. He could play guitar, drums, keyboards, and he sang like an angel. He had a beautiful tenor voice."
DeMarcus credits his father with instilling in him his own love of music from an early age, as well as the desire to play well.
"My dad really was my music man," DeMarcus boasts. "My earliest memories of him growing up was of him playing music. My dad was a hippie. He had really, really long hair, and I remember, I would sit in my rocking chair beside our piano, and listen to him for hours. It was one of my favorite things to do. I started to develop an interest in music, and the more I was around him, and the more I soaked up the music that he was making and putting out, the more my desire and my motivation to want to know what music was all about grew."
While DeMarcus' father could have taught him everything he knew, he made sure his son learned on his own as well — a gift in hindsight the 49-year-old is grateful to have received.
"The roots started to take very strong hold in my life, and I became consumed with music," DeMarcus says. "I must have bugged him to death to show me scales on a piano, and chords on a guitar — the basics of bass. He really became like a hero to me. He was larger than life. I looked up to him. I wanted to be just like him. I aspired to play music the way he did. He was kind enough and patient enough to sit down and show me the very basics. I have to say, one of the best things my dad ever did for me, was force me to play by ear. He would show me just enough to keep the fire alive in me to keep pursuing music, but he wouldn't show me exactly how to play something.
"He would make me figure it out on my own by listening over and over and over again and training my ears," he adds. "I realize now, many many many years later, that was one of the most valuable tools he could have ever given."
Although miles separated them after DeMarcus left for college, it was music that always kept them close, even until the end.
"My dad and I had a wonderful relationship," DeMarcus says. "Music was a bond that was impenetrable, and I'm forever grateful that we shared that, because it kept us close. Even through the years that we missed with each other, when I eventually moved away and went to college in Tennessee, and moved to Nashville to raise a family. I'll miss him forever. I'm so thankful that I have the memories that I have. Being able to play music with him, being able to record with him and make a record for him and his old band in 2007 was one of the highlights of my entire life."
DeMarcus is thrilled to be able to honor his father's legacy with "Music Man," as a gift to the man who instilled so much in him.
"This song, needless to say, means a whole bunch to me, because it's completely in honor of him and what he meant to my life," DeMarcus notes. "He truly was my musical hero and my Music Man."