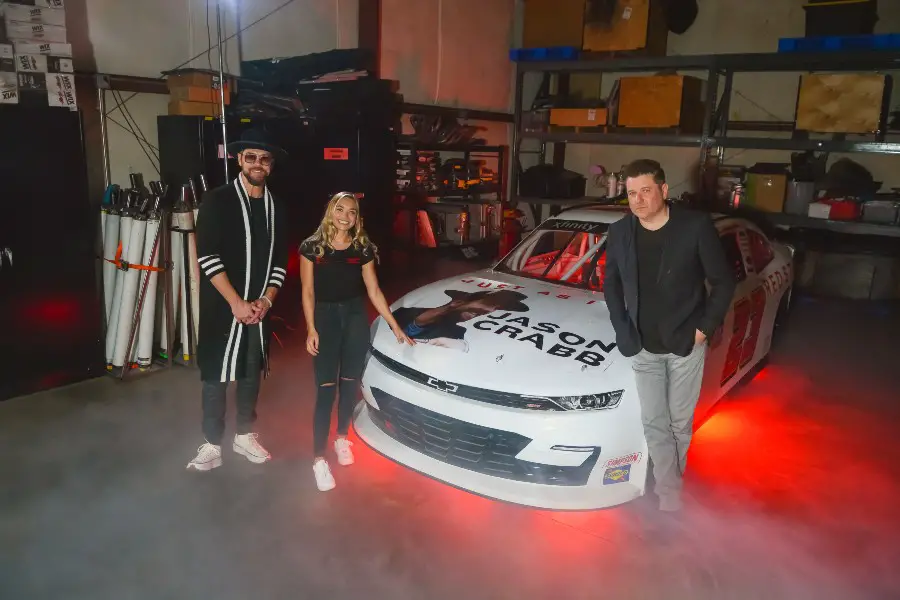 Jay DeMarcus helped make sports history over the weekend, when his own Red Street Records, a Christian music label, sponsored a NASCAR car. The car, driven by Natalie Decker, features Red Street Records' own artist, Jason Crabb, on the cover of the car, along with the title of Crabb's current single, "Just As I Am." In honor of the historic partnership, DeMarcus was also named the Grand Marshall for the SuperStart 188 At DAYTONA, held on Saturday, February 20, presented by O'Reilly Auto Parts, for the Xfinity Series.
"It's an honor to serve as Grand Marshal for today's Xfinity Series Race at DAYTONA," DeMarcus said. "It's an even more exciting day for us at Red Street Records as we sponsor Natalie Decker in car #23!"
DeMarcus also spoke out about the race on social media, sharing a few photos of the race, which he attended with his son Dylan.
Dylan & I had a blast yesterday at @DAYTONA watching the @redstreetmusic car driven by the incredible @NatalieRacing!! It was great to get out of the snow-pocalypse if even for just a day!! Can't wait to get to our next @NASCAR race!! #lifeisahighway #racing #xfinityseries pic.twitter.com/ZsJks5pm96

— Jay DeMarcus (@JayDeMarcus) February 22, 2021
DeMarcus instantly agreed to sponsor Decker's car after he met her and saw how passionate she was about the sport.
"Immediately I was just taken with Natalie," DeMarcus tells Everything Nash. "Her energy just jumped through the screen. It was unbelievable. We got to speak with her mother and father, and you could tell immediately that it was just a wonderful family, and her roots were really strong. I saw the drive and the passion in her. It reminded me a lot of myself and the work ethic that I appreciate in other people when they go after something they believe in, and achieving their dreams. So we talked about it, we worked it out and immediately pulled the trigger and became a partner with her."
"Natalie is a light and she is a wonderful role model for young ladies out there," he added, "and a great example of what you can do and what you can achieve. You set your sights on something and go after it."
Crabb was equally eager to partner with Decker for the historic sponsorship.
"It's awesome to be with a record label that sees outside the box. I'm so thankful that they believe in me enough to even be willing to do that," Crabb shares. "I am thankful that they will be promoting the new single, 'Just As I Am' … When they unveiled the car, honestly, I teared up. I just got off the phone with my wife and I told her, 'I really could cry.' Moments like this, you don't expect. It's just a stamp of approval from the label, and for Natalie as well, and her team."