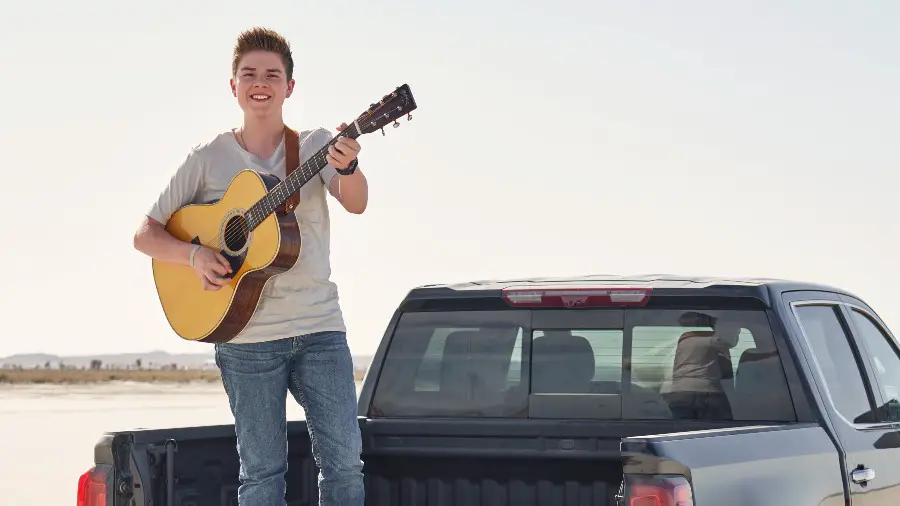 Jet Jurgensmeyer has already done more than most, and he's only 16 years old! The actor and singer just released "Fast Forward," a fun new single that he wrote, along with Bridgette Tatum and Jessie G, one of several tracks Jurgensmeyer has released in recent years.
"The whole idea behind the song was thinking about things that you wish you could do as a teenager or kid, but not being able to because of your age," Jurgensmeyer tells Everything Nash. "It's basically about wanting to 'Fast Forward' in life. That's probably what every teenager wants to do at some point."
"Fast Forward" is part of a new album that Jurgensmeyer is working on, which he is eager to complete. But in addition to music for himself, Jurgensmeyer also hopes to write songs for other artists as well.
"I plan to keep writing and finish up the album," the Tennessee native shares. "One thing I love about songwriting is that I can do it for other people, so I hope to get a few cuts from some other artists. I would also like to work on my music production skills to try and get better at that. A big inspiration for me is Ryan Tedder, so I would love to be able to write and produce for people like he does. I have some acting things in the works and I hope to be able to get back on a set very soon."
Jurgensmeyer was just three years old when he began performing, taking the stage at the famed Nashville Palace, which was owned by his parents at the time.
"It's honestly pretty interesting seeing as I started so young," the teenager reflects. "It helps me in the sense of having experience. I've always been on stage and in front of people and I feel more myself when I'm up there talking and entertaining."
Jurgensmeyer has not only sung all over the country, but has already had a successful acting career as well, appearing in movies like American Sniper and Ferdinand, as well as TV shows like Last Man Standing, Ozark and more. The multi-talented star works hard to combine both of his passions, leaving him little time for rest — not that he minds. While it may seem that Jurgensmeyer is constantly juggling both of his talents, he says it actually isn't that hard to do both, at least for him.
"They are both pretty similar as far as constantly having to work at them as well as having to travel for both," he says. "I wouldn't say it's hard to merge them or do both, they're all I've ever known and so it's not too difficult for me. I would love to do a musical, because I think that is the best way to bring them together."
Jurgensmeyer already works harder than most adults, but he doesn't plan on slowing down anytime soon.
"I'm really thankful for every project I've been able to be a part of for both acting and music," Jurgensmeyer says. "I realize how fortunate I've been, but I have a lot farther to go. I have worked with some very talented people along the way as well as having the absolute best fans anyone could ask for. I wouldn't be where I am in my career if it wasn't for everyone who has helped and supported me."
Find all of Jurgensmeyer's music, including "Fast Forward," by visiting his website.