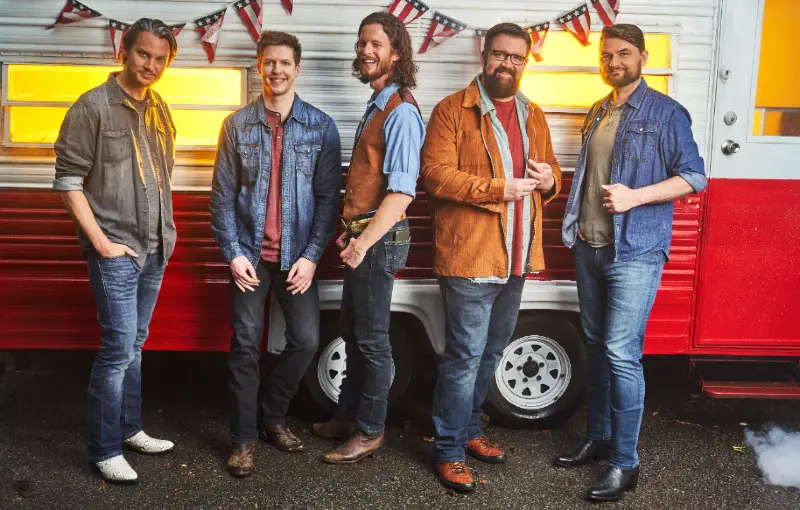 Home Free just released the video for "Only in America," a song included on their recent Land of the Free record. A cover of the 2001 Brooks & Dunn hit, Home Free's twist on the video features a few immigrant-owned businesses, including Nashville's Subculture Cafe, owned by Pablo Bonacic and his brother, Javier, both from Chile. For Bonacic, the timing of the "Only in America" video couldn't have come at a better, or more fortuitous, time.
"Participating in the recording of Home Free's music video 'Only in America' was like getting to the rainbow at the end of a very long road in the immigration and citizenship process here in the US.," Bonacic's wife, Christina, tells Everything Nash. "It's not for the faint of heart. Literally, a week before the recording, Pablo had obtained his citizenship."
Bonacic was invited to participate thanks to Jared Rauso, a longtime friend of the Bonacics, who knew Pablo when he was still learning English, attending Overton High School in Nashville. Rauso runs Bolo Brother's Creative, who did the "Only in America" video for Home Free, and coincidentally ran into Bonacic the same day he had obtained his American citizenship, while at a bar in East Nashville called No Quarter.
"They came up with the idea to have the whole family at the recording," Christina recalls. "Which is just so very typical of Nashville's style, working over details of a country music video at the end of a beloved bar … Seeing the video when it was released was a flood of emotion for the whole family. Home Free's harmonies are absolutely amazing in the song, and its playing in accordance with the visuals of hard working, successful immigrants shows the value of American diversity, patriotism and community."
Home Free's Land of the Free album also includes covers of The Chicks' "Travelin' Soldier," Bruce Springsteen's "Born in the U.S.A.," a collaboration with Lee Greenwood and The United States Air Force Band on "God Bless the U.S.A.," as well as one original song, the title track, written by Home Free's own Tim Foust.
"I had recorded a solo version with instruments way back in the day, but it got a limited release," Foust tells Everything Nash. "I was just sort of sitting on it for a decade. Luckily for me, Austin [Brown] is the one that said, 'You guys, we should do this song of Tim's.' And so we handed it over to our producer, Darren Rust, to craft an all-vocal version of it. I'm thrilled with the way it turned out."
Purchase Land of the Free at HomeFreeMusic.com.
Want more exclusive artist videos? Subscribe to our YouTube channel!