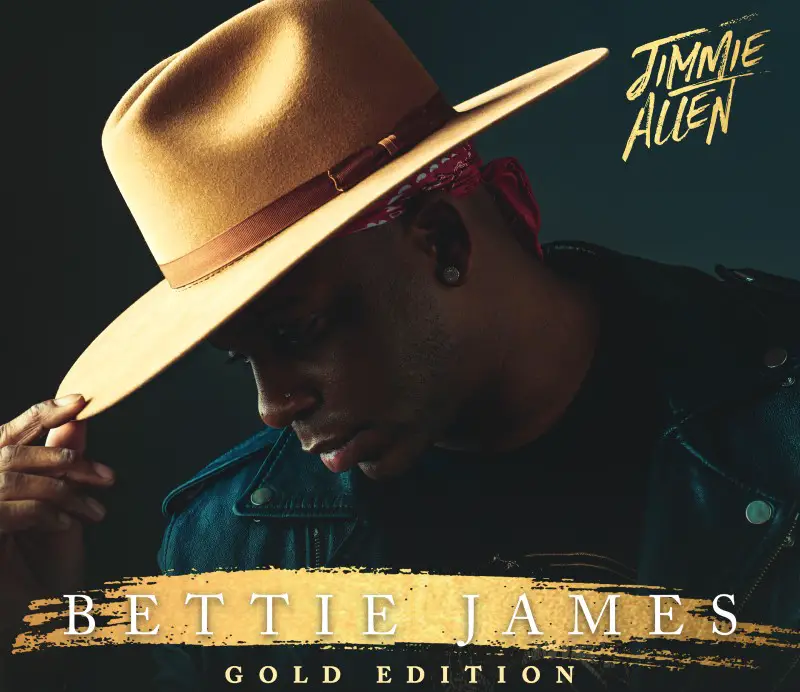 Talk about a star-studded record! Jimmie Allen just announced the release of Bettie James Gold Edition, a 16-track record that includes collaborations with Keith Urban, Little Big Town, BRELAND, Pitbull, Babyface, Lindsay Ell, LANCO and more.
"When it comes to music I love, I don't really get wrapped up in boundaries or genres," Allen says of the ambitious new project." I thought we were gonna stop with the collaborations with Bettie James, and then I was like, man, there's so much music out there that I love, so many artists that I love, and I just wasn't done.There's some pop, there's some rock, there's some country, there's some r&b.
"I got a chance to work with legends," he continues. "When I was writing some of the songs, I was trying to picture each moment. I went to each artist to work with them so they could be who they are on the song and bring their greatness to the song – I feel like that's what makes the songs better. I'm super proud of the body of work of this album and can't wait for people to hear it."
Allen previously hinted that there would be more songs coming from his original Bettie James album, which was released last July.
"I love collaborations," Allen told Everything Nash. "I think it's fun. Someone at a different label asked me, 'Jimmy, do you think you're doing too many collaborations?' I said, 'No.' In every other genre, they collaborate all the time. And if you look at the creation process of a song, the whole thing is a collaboration until the performance of it. The songwriting, there's a collaboration of productions, a collaboration in the mixing and the mastering, the marketing plan around it. Everything else is a collaboration except for the performance most of the time.
"I love working with other artists," he continues. "They bring energies too. They bring energy to the song. Somebody was like, 'Do you think that'll hurt your career?' I said, 'I'm confident in who I am. I don't mind sharing a song with someone else.' Especially when it goes both ways. Somebody else can bring energy to the song that you couldn't bring. And also, you get a chance to introduce each other to each other's listeners — one of the best marketing things out there, in my opinion,"
Bettie James Gold Edition will be available on June 25. It is currently available for pre-order here.
Bettie James Gold Edition Track List:
1. "Get Country" – Jimmie Allen, LOCASH
2. "Home Sweet Hometown" – Jimmie Allen, LANCO
3. "Flavor (feat. Vikina)" – Jimmie Allen, Pitbull, teamwork.
4. "Somebody" – Jimmie Allen, BRELAND, Lathan Warlick
5. "Pray (feat. Vikina)" – Jimmie Allen, Monica, Little Big Town
6. "Boy Gets A Truck" – Jimmie Allen, Keith Urban
7. "Livin' Man" – Jimmie Allen, Neon Union
8. "Tequila Talkin'" – Jimmie Allen, Lindsay Ell, teamwork.
9. "Forever" – Jimmie Allen, Babyface
10. "Good Times Roll" – Jimmie Allen, Nelly
11. "Drunk & I Miss You" – Jimmie Allen, Mickey Guyton
12. "Made For These" – Jimmie Allen, Tim McGraw
13. "Freedom Was A Highway" – Jimmie Allen, Brad Paisley
14. "Why Things Happen" – Jimmie Allen, Darius Rucker, Charley Pride
15. "When This Is Over (feat. The Oak Ridge Boys)" – Jimmie Allen, Tauren Wells, Rita Wilson
16. "This Is Us" – Jimmie Allen, Noah Cyrus