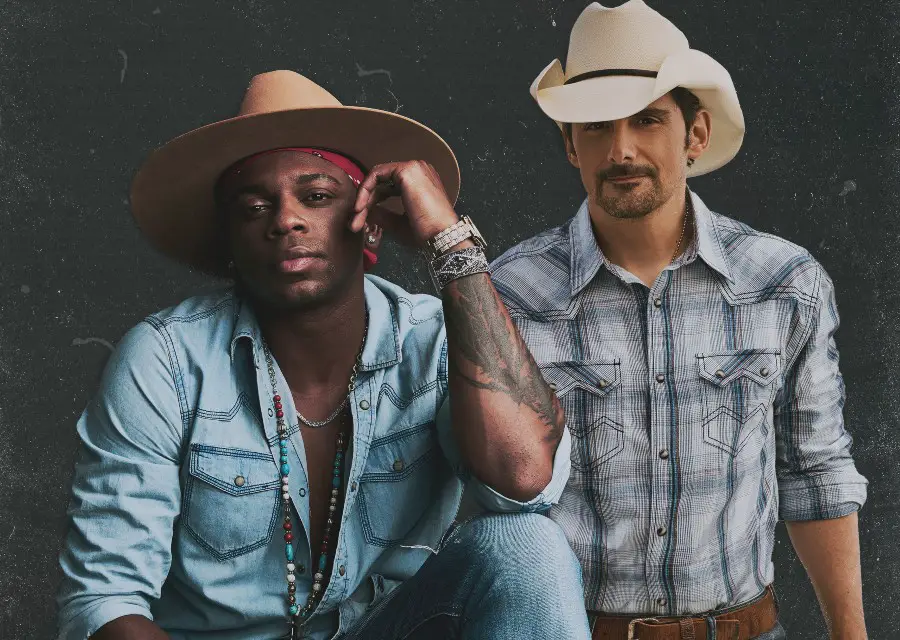 New music is here from Jimmie Allen! The 34-year-old just dropped "Freedom Was a Highway," a duet with Brad Paisley. The song is from Allen's 2020 Bettie James  EP.
"When I was writing this song with my co-writers, I imagined myself driving down my favorite roads in Delaware," Allen said of the song, which he wrote with Ash Bowers and Matt Rogers. "This song takes me back to simpler moments such as an innocent, childhood crush on the next-door neighbor or feeling freedom in the wind as you drive with the windows down. I've loved this song from the creation.
"I'm a huge admirer of Brad Paisley," he adds. "I love what he brings to music and I had to have him bring that same magic to this song. I'm humbled to have him join me on this song – he brought the Freedom to the Highway."
When Paisley was asked by Allen to join him on the track, he immediately agreed.
"I'm a fan of Jimmie, not only as a musician but also as a person, and I was honored when he asked me to join him on the song," Paisley says. "It's a magical combination – it doesn't sound like a typical record for me at all and when I come in, I try my best not to ruin Jimmie's song."
"I use my guitar to make a record sort of sound like I'm on it even before you hear me sing, and I love this guitar solo," he continued. "I'm really proud to be a part of 'Freedom Was A Highway,' and I'm excited for people to hear it.'"
Bettie James also includes collaborations with Darius Rucker and the late Charley Pride, two artists who had a big impact on Allen's own career. Both Rucker and Pride joined Allen on the powerful "Why Things Happen."
"It means that I've done something right," Allen told Music Row, speaking of having both artists on Bettie James. "It's a stamp of approval on my music that I was looking for. Two guys that really helped pave the way for my career and helped me to move limitations that sometimes people might want to place on me because of the way I look. Those two guys showed that there are no limits.
"So to be able to do a song with the first black country star and the guy who is the black lead singer of one of the biggest rock bands of all time and for them to agree to do a song with me means they respect me and my music and that's the biggest compliment I can get," he added.
Other artists who appear on Bettie James include Tim McGraw, Mickey Guyton, the Oak Ridge Boys, Noah Cyrus and Nelly. Purchase Bettie James here
.*
*Everything Nash has an affiliate relationship with Amazon Music, which means we may receive a small commission from purchases via links on this page, at no additional cost to the consumer or artist.