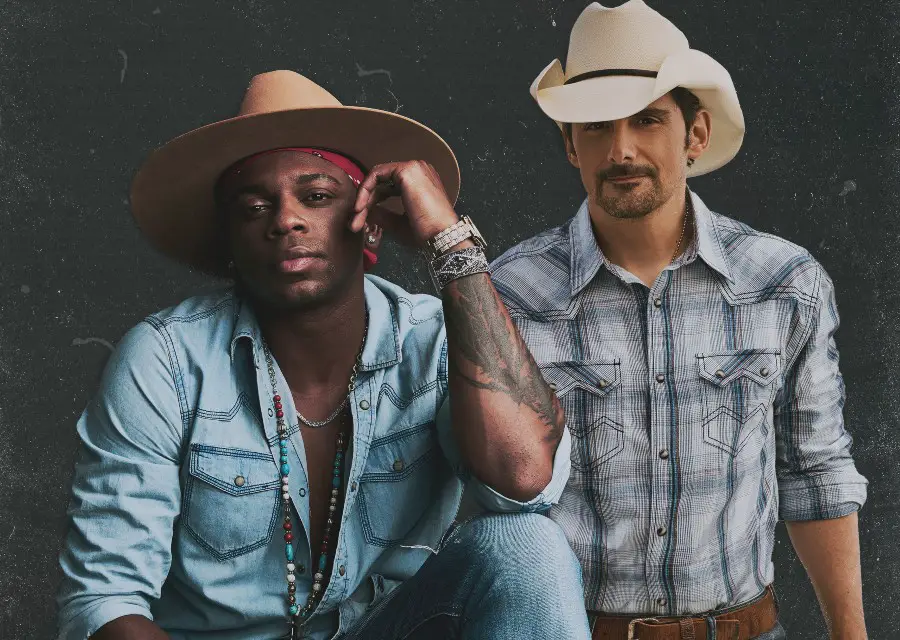 Jimmie Allen is reliving simpler times of his life with his current single, "Freedom Was a Highway," Allen wrote the song, which is a duet with Brad Paisley, with Ash Bowers and Matt Rogers, recalling the freedom that he enjoyed in his younger years.
"I am super sentimental," the Delaware native admits to CMT's Cody Alan. "I love my small town, where I am from. I love the people there. Life is simple."
Allen now has a busy — and successful — career, and is the father of two, but he loves to reminisce about how easy life was when he was younger.
"The highlight of our day, once I got older, was just hopping in a truck, going fishing during the day, cruising down our favorite roads and going to the Moose Lodge and getting a pitcher of beer for $1.25," Allen recalls. "It's simple. Riding past my family's farm, seeing my friends' potato farm, and chicken plants. Everyone that I have talked to said that when they hear it, they think about their first crush. They think about their favorite road to just drive down. Like that line, 'When the town was the whole world / And love was the girl next door,' that was about my first crush on my neighbor's sister."
Allen has been a big fan of Paisley for years, which is why he was thrilled to have the Grand Ole Opry member join him on the inspiring track.
"I'm a huge admirer of Brad Paisley," Allen said. "I love what he brings to music and I had to have him bring that same magic to this song. I'm humbled to have him join me on this song – he brought the Freedom to the Highway."
Bettie James also includes a collaboration with Darius Rucker and the late Charley Pride, both artists who had a huge influence on Allen's own career. Rucker and Pride joined Allen on "Why Things Happen."
"It means that I've done something right," Allen told Music Row, speaking about having both Rucker and Pride on Bettie James. "It's a stamp of approval on my music that I was looking for. Two guys that really helped pave the way for my career and helped me to move limitations that sometimes people might want to place on me because of the way I look. Those two guys showed that there are no limits.
"So to be able to do a song with the first black country star and the guy who is the black lead singer of one of the biggest rock bands of all time and for them to agree to do a song with me means they respect me and my music and that's the biggest compliment I can get."
Purchase Bettie James here
.*
*Everything Nash has an affiliate relationship with Amazon Music, which means we may receive a small commission from purchases via links on this page, at no additional cost to the consumer or artist.