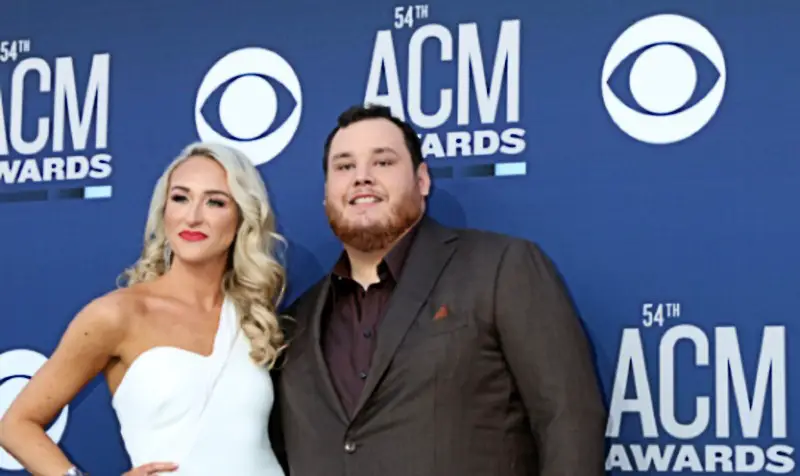 Luke Combs and his wife, Nicole, have been together since 2016, after meeting while at a songwriter festival in Florida, but it didn't take long for either of them to realize that they wanted to spend the rest of their lives together.
"I could tell she was different than anybody I had ever met," Combs, who married Nicole in August, recalls to Nashville Lifestyles.
"I realized we could hang out and just be ourselves in front of each other," Nicole adds. "I could wear no makeup and be my weird self — because we're all weird, but we get to choose who to share that side of us with. We could be each other's weird in front of each other. That's when it was like, 'You know what? This guy's a keeper.'"
Combs wrote the 2019 CMA Song of the Year, "Beautiful Crazy," about Nicole, although she wasn't initially sure if it was inspired by her.
"He came over one night and was like, 'I wrote this song today. Do you want to hear it?' I always want to hear his new stuff, so I said of course," she says. "I was sitting there with a glass of wine and I was like, 'Umm, this sounds really familiar.' I don't think he told me it was about me that night. I obviously didn't want to ask, 'Is this about me?' It made me a little bit shy, but it was awesome. Everyone wants to have a song written about them!"
Combs actually was in the beginning stages of "Beautiful Crazy" when he began dating Nicole.
"My buddy Wyatt Durrette had sent me this little poem thing and said, 'Is this something?' and it was 'Crazy Beautiful' or something," Combs recounts. "The next time we wrote together I had just started hanging out with Nicole and had this overflow of feelings about her, so when I started writing, the lines just came out of the things that we did.
"Like the 'Her day starts with a coffee and ends with a wine' part, that wasn't a corny thing I made up," he continues. "I just made her coffee every morning when we woke up and then I would pour her a wine every night. It just kind of fell together pretty quickly. I always felt like it was a really great song, and it was neat to be able to play it for her."
Combs and Nicole had to drastically alter their wedding plans due to COVID-19, ultimately having to tell most of the people that were invited that they would be unable to attend, due to new restrictions put into place by the state of Florida, where they tied the knot. Although disappointed, they both say there was a silver lining to not having the big wedding they planned.
"The small thing made it cool because we literally got to talk to everyone that was there and spend time with each of them," Combs says. "If there would have been 175 people there, we wouldn't even have seen half of them. And it was outside in the sunshine. We had the backdrop of the water, so it was still everything we wanted."
"I couldn't have imagined it any better," added Nicole.
With Combs off the road, the newlyweds have had plenty of time together, which they are soaking up before Combs returns to life on the road.
"In the beginning of our relationship we really didn't get to do that," Combs says. "I worked a full-time job, and he was on the road full-time. I'd see him maybe twice a week. The year before we got married and then of course, this year, we got to spend basically every day together. It's solidified that, obviously we're great together. And we can make it through a lot."
"I'm so thankful for that," added Combs. "To have the time—and not sacrifice the momentum of the music stuff—is really great. I've really enjoyed being home and getting to spend all this time with her. It's been awesome."