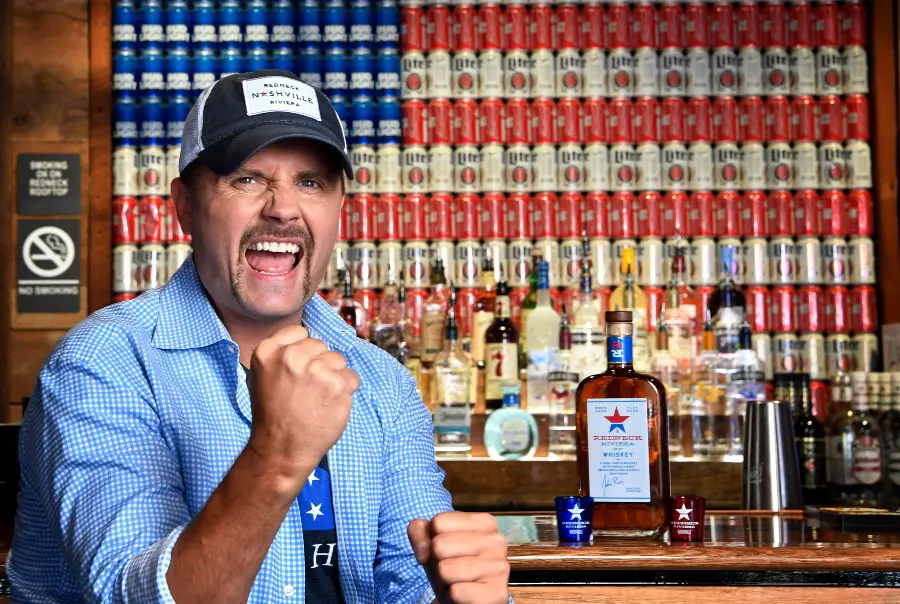 John Rich is expanding his Redneck Riviera business, this time with BBQ sauce! The singer-songwriter, who already has his own line of whiskey, has been asked to launch other business ventures over the years, but never felt the time, or product, was right, until now. Rich just released Redneck Riviera 1776 BBQ Sauce, in partnership with Red Gold Tomatoes, a collaboration that he says made sense, in every way.
"You know, they've all got things that they think that my brand would really match up with," Rich tells Everything Nash. "Most of the time I say, 'Yeah, that's a good idea, but I'm not really ready to do that.' But this barbecue sauce idea, it came from a company called Red Gold … It just so happened that they saw me on television, talking about Redneck Riviera Whiskey, and how we support Folds of Honor with every purchase."
Folds of Honor, among other things, helps put children who lost a parent in combat while serving in the military through college.
"It's a pretty incredible organization," Rich boasts. "And the whiskey has now funded over 100 college grants in the past two years for kids who lost a parent in combat. So Red Gold saw me talking about that, and out of nowhere, they called us. They said, 'Hey, we're Red Gold. What do you know about us?' I said, 'Alll I know is I buy your tomatoes when I go to the grocery store to make chili. I don't know anything really past that.'
When Rich found out that Red Gold also supported Folds of Honor, he was immediately interested, especially since the company also lined up with his core values.
"They said, 'Listen, we're based in Indiana. We're a fourth generation American family business. And we source all of our ingredients all the way down to the plastic bottle in the United States of America. What if we did a barbecue sauce together?'" Rich recalls. "And I said, 'I've always thought this would be a perfect brand for that, because I don't really have an element of cooking outside, and everybody hanging out.' That's kind of the vibe of Redneck Riviera is people hanging out, having a good time, listening to music, have a cocktail, grill something outside. That's the vibe. And I said, 'I think that's great. Let's see if we can come up with something really good.'"
Much like with his Redneck Riviera whiskey, Rich wasn't willing to attach his name to the barbecue sauce until he was completely satisfied with the end result.
"We worked on it for four or five months on this recipe, and I finally said, 'Bingo, that's it,'" he says. "I said, 'That's better than any barbecue sauce I bought in a grocery store by a long stretch. Let's go.' And so we started having phone calls at the end of December. And as of today, I think we just went past the 2000-store mark. Right now it's all in the Northeast. We haven't even talked to the Southeast yet much less the Midwest or the West. People are receiving it very well. And I think it's going to be a successful launch."
Redneck Riviera 1776 BBQ Sauce is available for purchase at RedneckRiviera.com.