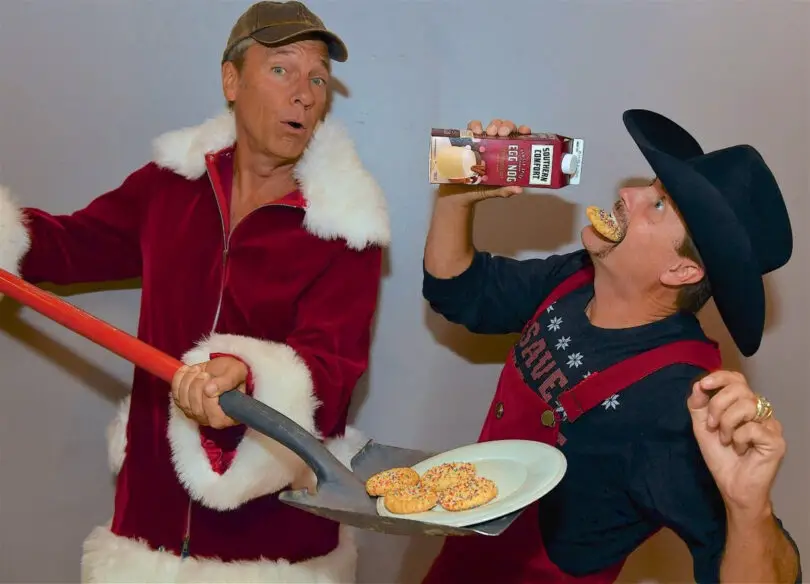 John Rich and Mike Rowe just dropped a new Christmas song, featuring the Oak Ridge Boys. The song, written by Rich, was inspired by their shared desire to help those struggling in America right now. Proceeds from the song will benefit Folds of Honor and Rowe's mikeroweWORKS Foundation.
"A couple of weeks ago, under circumstances too weird to explain, Mike Rowe and I decided to record a song for Christmas," Rich shares. "America's not having a great time right now, and we thought a song like this might help put a smile on our collective face. It's called 'Santa's Gotta Dirty Job,' and I'll warn you right now – the chorus is an earworm that's gonna be tough to shake.
"It's a fun little ditty that you can download for $1.29, and I hope you will, because 100 percent of the net proceeds are divided equally between mikeroweWORKS and Folds of Honor, two great charities that are making a difference in the lives of skilled tradespeople and families of veterans," he continues. "The music video is just plain fun. Rock on, Santa!"
The song might be new, but Rowe teases that "Santa's Gotta Dirty Job" might become a Christmas classic.
"A good Christmas song is one that sounds like it's been around for years," Rowe says. "Even when you hear it for the first time. I don't want to overstate it but 'Santa's Gotta Dirty Job' just might be the next 'Silent Night'."
Rich and Rowe debuted the song on Fox & Friends, where Rowe explained why the two decided to release "Santa's Got a Dirty Job," together.
"John's charity is doing amazing work with families of vets who didn't make it back," Rowe said. "We're doing what we can at mikeroweWORKS, but putting this song out here on this show like this, I know I speak for John, we're both super grateful."
"America's not having a great time right now and maybe a song like this… can help put a smile on her collective face," he added.
Rich was interviewing Rowe, a former opera singer, on his The Pursuit! With John Rich, when the idea for "Santa's Got a Dirty Job" was born.
"I told Mike, 'There's somebody that's got a dirty job, who I bet you never considered," Rich recalled. "He said, 'Who's that?' I said, 'Santa Claus.' He started laughing. He said, 'You know what? You're right. He does have a really dirty job.'"
"Santa's Gotta Dirty Job" is available for download here.