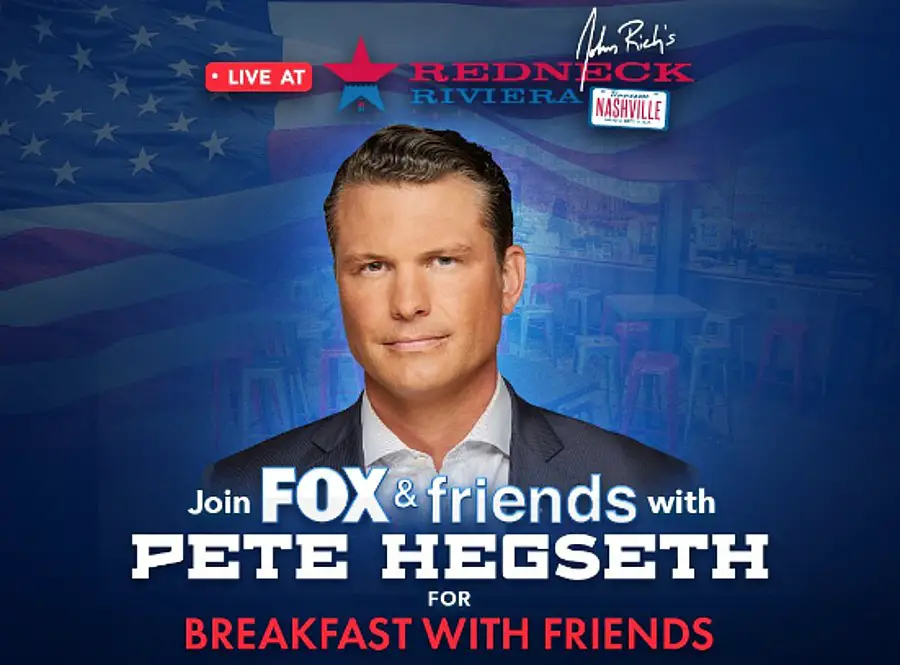 One day after the final Presidential debate of 2020 was held at Nashville's Belmont University, John Rich's Redneck Riviera Bar & BBQ is serving as host of Fox & Friends' "Breakfast With Friends" segment with Pete Hegseth. A live, socially-distanced audience will be in place, getting their reactions to the highly-publicized debate.
The "Breakfast With Friends" segment follows live coverage of the presidential debate, which aired on Fox Nation, with political commentator Tomi Lahren, along with both John and Pete.
The Big & Rich singer is the host of his own show, The Pursuit! With John Rich, which airs on Fox Nation.
"The show is based on something I've said for a long time which is, 'Our country doesn't guarantee us happiness, it guarantees us the right to pursue happiness,'" John acknowledged to PopCulture.com. "We're the only country in the history of the world that guarantees its citizens the right to pursue happiness, the right to chase your dream. Not necessarily the right that you're gonna catch it. But in there lies the joy of life, pursuing great things and knowing you can do that."
Guests on The Pursuit! With John Rich have included Wynonna Judd, Scott Hamilton, Chef Maneet Chauhan, the late Charlie Daniels, and more.
"Most of the people on The Pursuit are either friends of mine or people that I have been around before or people I am a fan of personally," John explained. "I don't care what your politics are on this show, I care about you and I care about your story and I wanna hear what makes you tick and what have you been through, inspire me, tell me about how you did it.
"Really across the map of different backgrounds of Americans but all with this common thread of, they love our country and they have a very strong work ethic and they pursue happiness with everything they've got," he added.
John's latest single, "Earth to God," was his own response to the current events in the world, including political unrest, racial protests, COVID-19 and more.
"I've written a lot of songs in my life — over 2000, somewhere in that range — and I never had one come to me like this," John admitted to Mike Huckabee on his Huckabee TV show. "I was not in the mood to write a song; I was not setting out to write a song or thinking like that. I was just watching the TV and looking at that chaos, and looking out my own window, and it seemed that things are out of our control.
"By our control, I mean mankind's control," he continued. "This thought came into my mind: I wonder when the last time the whole world had the same problem at the same time [was]. Maybe COVID-19. The whole world's got that problem. Probably Noah's flood was the last time. And I thought, 'That's an astounding thing to think about.'"
Fox & Friends airs weekday mornings from 6:00 AM to 9:00 AM ET on FOX.