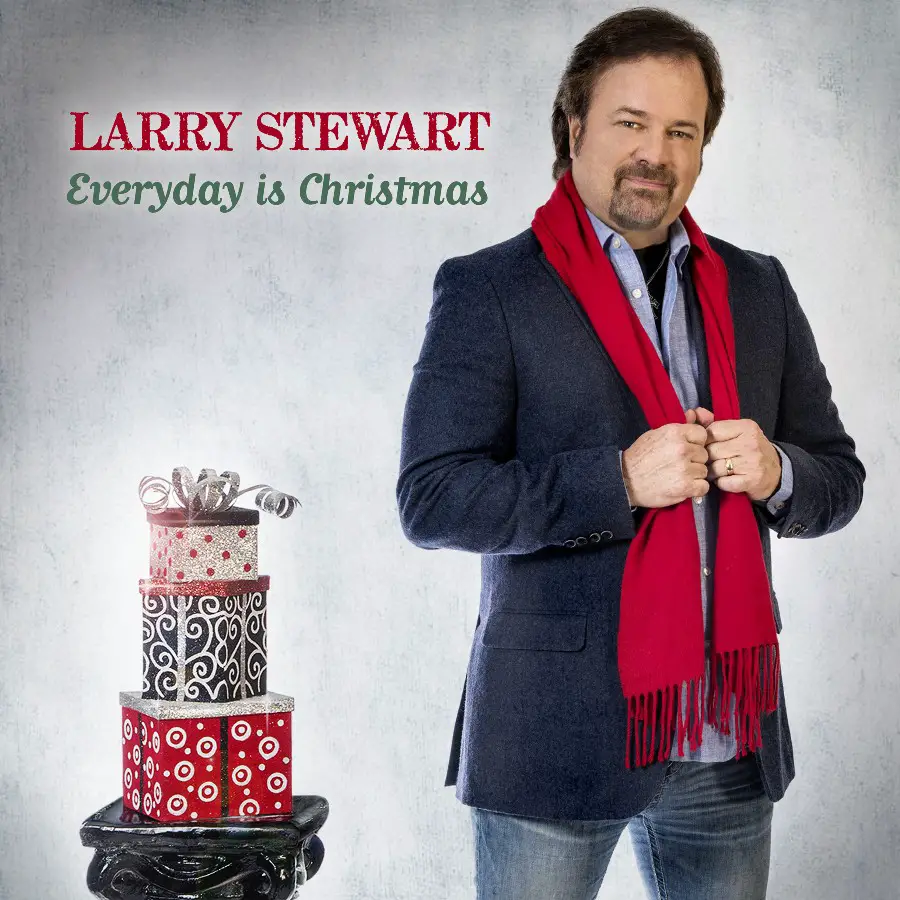 Restless Heart's lead singer Larry Stewart's first holiday album, Everyday is Christmas, is out! The 10-track record features both classic Christmas songs, such as "All I Want For Christmas Is You," "Don't Save It All For Christmas Day" and more, along with a couple of originals, including the title track.
"We just found some songs, and Christmas love songs that I could sink my teeth into, and some songs that scared me to death," Larry told Everything Nash. "Because I mean, how do you sing a song after Celine Dion and Mariah Carey did it, and try to make it your own? And so, we really worked hard doing that. I don't know what happened, but we somehow fell into this album that is one of my favorite albums I've ever been a part of."
Brent Rader produced Everyday Is Christmas, as well as penned both the title track and another original, "Meet Me Under the Mistletoe," on the new project. He also pushed Larry to take his voice to a place it has never been in the process of recording the record.
"I don't know if you've heard the originals, but those girls sing all over the place," Larry said, referring to Celine and Mariah. "I mean, they can sing five notes on one syllable. And so, they write these songs and write this magic into the melody, and I went, 'Really? You want me to sing that?' So we dove into it and made it my own and I couldn't be prouder of it."
Larry co-wrote "Everyday is Christmas" with both Brent and Lisa Matassa,
"I tried to write Christmas songs for a long, long time and none of them were any good," Larry said with a laugh. "So we dove in again. I said, 'Hey guys, let's try to write a Christmas song. Let's get together and write a Christmas song.' Lisa brought the idea in, and we just tried to expound on what every day being Christmas would be. And then we pulled this thing together.
"And for the next two days I was going to bed singing, 'Everyday is Christmas,'" he added. "I was waking up at 2:00 in the morning. So I thought, 'There's something in this song, but let me take it for a few days, and try to to make it my own. And that's what I did. And they loved it."
It's surprising that the 61-year-old waited so long to release his own Christmas album, since he unapologetically admits he is a bit fanatical about the holiday season.
"When it comes November, we start putting it up," Larry admitted. "We have 50 Santa Clauses, we have a Christmas village. We've got three threes. We do all the windows. We have five manger scenes. It's sick. And then we do a lot of different stuff in other places. I even do the back patio. Christmas is my favorite time of year. Christmas music is my favorite kind of music. It really is. It's just the magic of the music, the magic of the melody — the memories that the old traditional Christmas songs bring to me and my family, because my family was the same way, growing up with my dad and mom in Kentucky.
"We all sang carols. My dad sang and we all loved Christmas," he continued. "I never outgrew it, so to get the opportunity to do a few of my favorites and find some nuggets, like 'Don't Save It All For Christmas Day.' Like, 'Miss You Most at Christmas Time.' I had never heard of 'Cold December Night' by Michael Bublé. I just tried to put together the whole love vibe, whether it was missing somebody or 'All I Want For Christmas Is You,' and I'm putting it together in a package. And that's why we did it."
Pam Tillis joins Larry on "All I Want For Christmas Is You." See a complete track list for Everyday Is Christmas below. The record is available for purchase at LarryStewartMusic.com.
Everyday Is Christmas Track List:
1. Don't Save It All For Christmas Day
2. This Christmas
3. All I Want For Christmas Is You – with Pam Tillis
4. Miss You Most At Christmas Time
5. Everyday Is Christmas
6. Merry Christmas Darling
7. Meet Me Under The Mistletoe
8. Cold December Night
9. What Are You Doing (New Years Eve)
10. What Child Is This