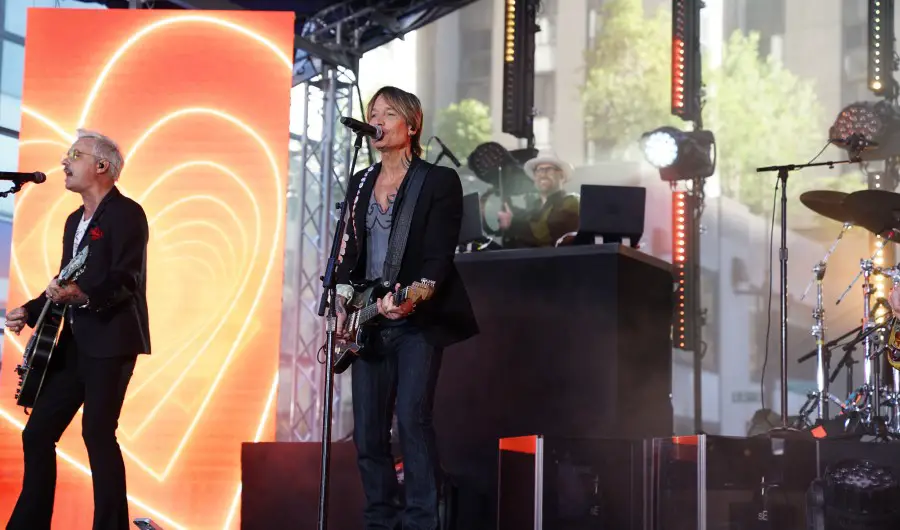 Keith Urban won't let a little eye injury get in the way of performing on national television, even if it was a bit gruesome. The Grand Ole Opry member revealed on social media that he had a subconjunctival hemorrhage, which made his eye appear extremely bloodshot, but that it wasn't about to keep him from performing on the Today Show.
"I wake up this morning, doing the Today Show, a big television moment and I've got this going on," Urban said in a video he posted on social media. "What do they call it? A subconjunctival hemorrhage. I don't know what I did, but that's what's going on. So I'm owning this today."
trying out a new Halloween contact lens on the @TODAYshow … just the one ? pic.twitter.com/bJ73H0566L

— Keith Urban (@KeithUrban) September 3, 2021
After not being able to perform in front of a live audience for over a year, the father of two wasn't going to let anything stand in his way of getting on stage.
"[It's] like a breath of fresh air," Urban said after his performance. "It's just nice to be back. The energy of real people … I love the Zoom, but playing a show on Zoom is like standing outside the window of a night club, really."
"The great thing about music is we all come together," he added. "With sports, everyone's going for two different sides already. Music, everybody's always on the same team."
Urban performed his new single, "Wild Hearts" while on the Today. The song, written by Urban along with  Eric Paslay, Old Dominion's Brad Tursi and Runaway June's Jennifer Wayne, is one of the more personal songs Urban has ever released.
'Wild Hearts' is a brand-new song of mine, and it's fairly autobiographical," Urban says (via The Country Daily). "I'd say it's mostly about following your heart, following your dreams and going for it no matter what anybody says. It's about believing in yourself and shooting for the stars."
Urban will resume his residency at The Colosseum at Caesars Palace in Las Vegas later this month. See a list of all of Urban's upcoming shows by visiting his website.
Photo Credit: NBC News / Today