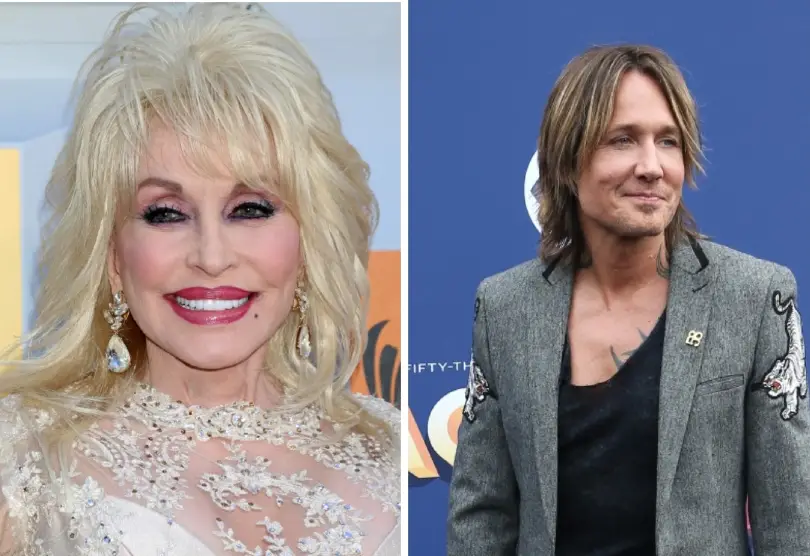 Keith Urban paid his final visit to Ellen DeGeners, on her last season of her The Ellen Show. Before Urban began his intimate performance of "Blue Ain't Your Color," the New Zealand native spoke about Dolly Parton, after she revealed on  Good Morning America that she wants to duet with him, and how he feels forever connected to the Country Music Hall of Fame member.
"It was so sweet," he said. "I think she just meant⁠ — I come from working-class parents and a rural kind of background in Australia, The first time I met Dolly, she's sung with me a few times and the first time I met her, it was surreal because I grew up singing her songs. Matter of fact, I sang her songs because I was nine years old and my voice hadn't broken yet, and I sounded like her. I could sing in her key. At that age, I was singing some of her songs."
While Parton could certainly have her choice of duet partners, it was Urban who she first thought of if she was going to sing with another artist.
"I love Keith Urban,' Parton praised, when sharing on GMA that she wanted to both sing and eat cake with Urban. "I've always thought that he was one of the most talented and cutest guys in the world — I'm not trying to hit on him, cause he's got Nicole [Kidman], and who could beat that; she's Jolene. I love his writing and I just think he's dear. I'd be happy to make a big ol' cake for him and spend all afternoon singing songs."
Following Urban's performance of "Blue Ain't Your Color," the singer gifted DeGeneres the guitar he played, signed by his wife, Nicole Kidman, with a personal letter by Urban to the talk show host written on the front.
"Dearest darling Ellen, you've been a believer in me and my music since 2004 when I first came on your show," Urban wrote. "Today is the 20tth time you've invited me to be here. I'm deeply grateful for all of the years of laughs and conversations, weird-ass cologne commercials, and your passionate support. Thank you from the bottom of my heart. I wish you love and light on your journey ahead. Your friend always, Keith Urban.
Watch Urban's final performance on The Ellen Show here.