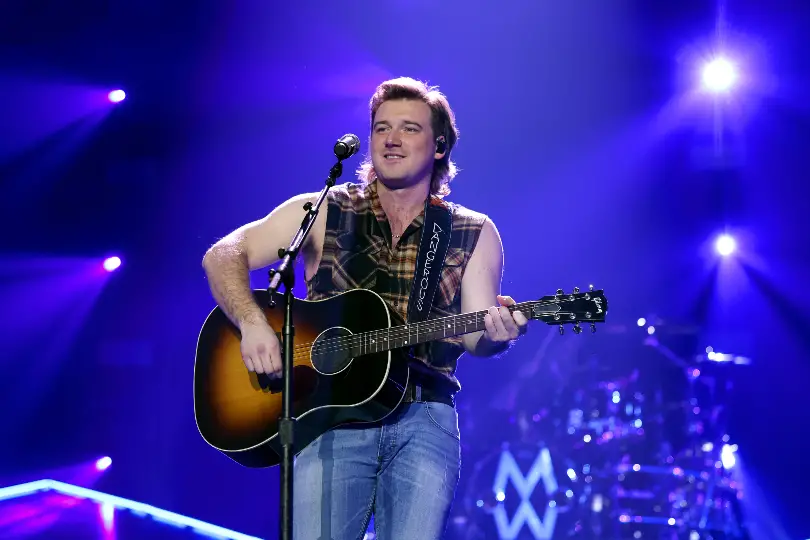 In the beginning of 2021, Morgan Wallen thought his career might be over. Largely shunned by the country music industry, after a video surfaced of him uttering a racial slur, Wallen was immediately banned from radio, eliminated from awards shows, and had his recording contract put on hold.
As it seemed his professional career might be at a standstill, and with his personal life in shambles, Wallen had little to cling to, except for his son, Indigo, who will turn two in July. It was Indigo who gave Wallen hope, when he thought he might have lost everything else.
"I think mostly I can attribute it to being a dad," Wallen tells Entertainment Tonight, when asked what sustained him during the difficult season. "Just seeing that I have another life that I'm responsible for, kind of put things in perspective for me."
It was Indigo who inspired Wallen when everything else was falling apart, but he also had several country music artists who reached out to him as well, when it seemed the whole world was against him.
"Everybody tells you that they're your friend when everything's good," Wallen shares. "So it's really nice to have people who really mean that."
Wallen shares Indigo with his ex-girlfriend, KT Smith. Although no longer romantically involved, the 29-year-old says they share their parenting duties well.
"It's good. I got no complaints," Wallen boasts. "I was worried about it at first, but I feel very comfortable with it, and I'm very proud of the way me and his mom handled it."
Wallen is currently headlining his The Dangerous Tour, but he remains active in his son's life when he's home, soaking up all of the good, and challenging, moments.
"I think just seeing him get a personality … he's starting to get to where I tell him no, and he just kind of looks at me," the singer says with a laugh. "I know it's about to get worse, but I like it."
Wallen, who just won the Billboard Music Award for Top Country Male Artist, credits his son, and those in his inner circle, with keeping him moving forward when he might have been tempted to give up, and who have been continuing to support him as he looks ahead.
"My family. My friends. A really good team, and my kid," Wallen says when asked what helped him through the dark season. "I've had a lot of really positive things going on behind the scenes, that maybe weren't necessarily brought to light, but I've been able to be in a good place."
Wallen currently has a Top 10 hit, with "Wasted On You." Find music and tour dates at MorganWallen.com.