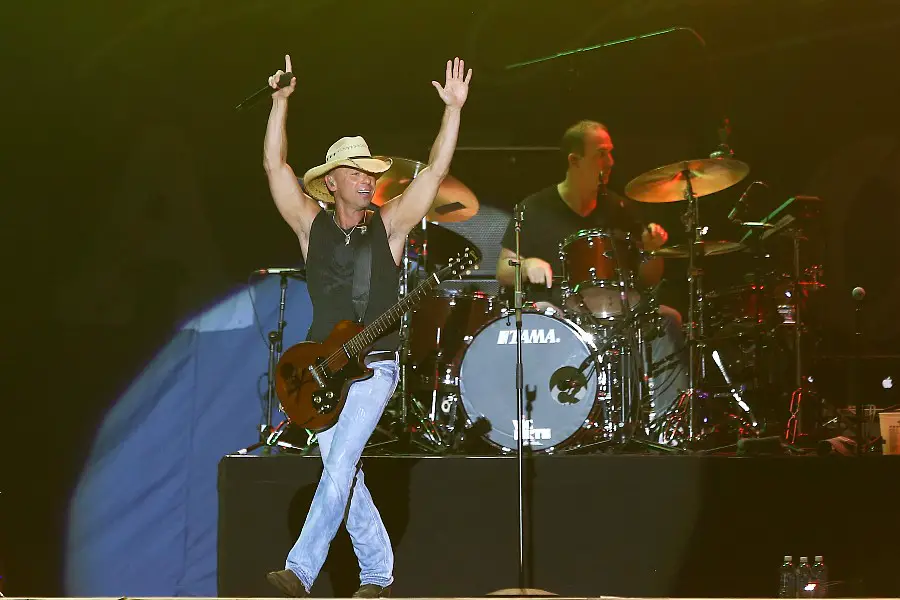 Kenny Chesney is bringing his massive Here and Now Tour to Nashville this weekend. The country music superstar will perform at Nissan Stadium on Saturday, May 28, giving his hometown fans the chance to see how hard he has worked to put his electrifying show together.
"Playing Nashville is one of those places where it's really easy to [open our hearts] because the relationship has been built for years," Chesney tells The Tennessean. "The love is already there."
The Tennessee native vows to give fans an unforgettable night, just like he does every time he takes the stage, but not with the usual pyrotechnics and impressive stage setups that most artists utilize.
"For the most part, what people are used to, especially with me — we're not a big believer in smoke and mirrors," Chesney notes. "All they're going to see and feel is raw energy and that's it. That is our pyro."
The Here and Now Tour is especially sweet to Chesney, who was unable to tour for two years because of the pandemic.
"I felt like I was swimming upstream because I hadn't done that in so long," Chesney says of returning to life on the road. "Luckily, we've hit a real groove as a band and it feels incredible right now."
"At all these shows, we try to give them everything we possibly can," he adds. "Honestly, it's just opening our hearts and saying, 'Come on in.'
Chesney has often referred to his tours as a circus. It's a title he offers lovingly, and not just because of the many moving parts it takes to put a tour of his magnitude in place.
"It's beautiful chaos," Chesney boasts. "You're gonna see things that you don't normally see in every day life. It's a lot of fun," he said. "When you're a bunch of people like us traveling down the highway, we get to live under the circus tents all summer. It's beautiful."
Chesney kicked off his Here and Now Tour in Tampa, Florida in April, receiving an unforgettable welcome from his fans who have patiently waited to see him return to performing again.
"The love that we felt from the audience was so wonderful," the "Everyone She Knows" singer remembers. "It was 60,000 people telling us they were so happy to be there."
While Chesney's fans, lovingly dubbed No Shoes Nation, were eager to see the hitmaker return to touring again, no one was more ready to resume life on the road than Chesney.
"If you decide on your own to take a year off, that's one thing," Chesney says. "But if you're ready to go and told you can't because of life circumstances, it's really scary. We didn't know if it was ever gonna come back. … I had a lot of anxiety about it. It's everything that I've done in my adult life and what've built. So it feels really, really great to be up there and be in that zone again."
Chesney's Here and Now Tour is currently scheduled to wrap up, as is his custom, with two back-to-back shows at Gillette Stadium in Massachusetts on August 26 and 27. Until then, the 54-year-old is going to soak up every minute of his time with his fans.
"It's the sentiment that we all are here and breathing air and trying to love everybody and living in the here and now, that's a gift," Chesney says. "That's a real gift these days and I think about that when I'm on stage. I really do."
Chesney is joined on his Here and Now Tour by Dan + Shay, Old Dominion and Carly Pearce . A limited number of tickets are still available for the Nissan Stadium show. Find more information on all of Chesney's upcoming concerts here.