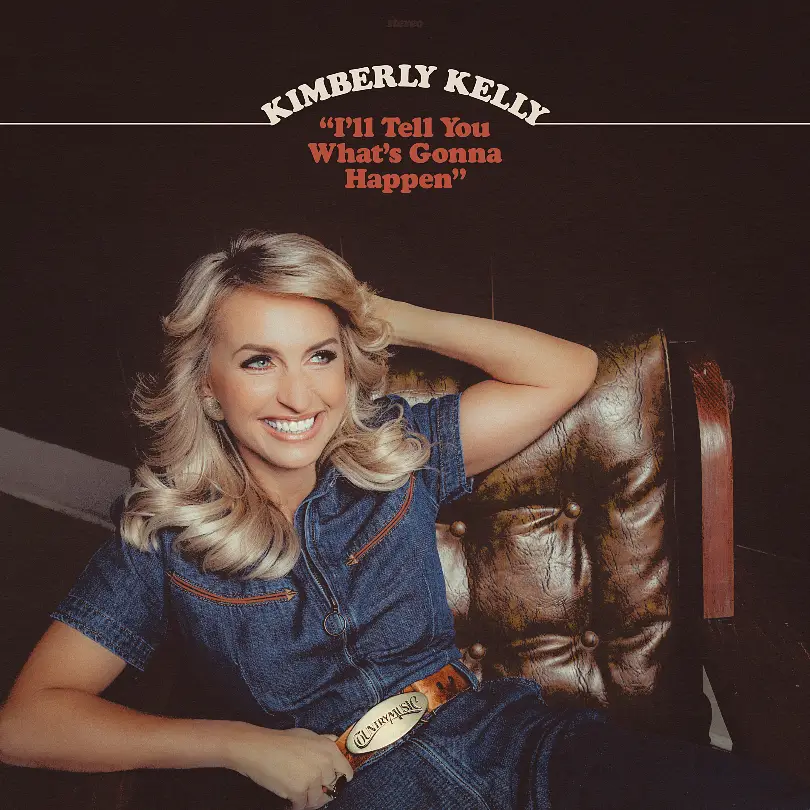 Kimberly Kelly's new album, I'll Tell You What's Gonna Happen, is out now. The 12-track record, which was released on Show Dog Nashville in partnership with Thirty Tigers, includes a collaboration with Steve Wariner, and songs written by Bob DiPiero, Kent Blazy, Byron Hill, Lori McKenna and more.
"I'm gonna be honest with you, I feel like I will no longer have an ace up my sleeve," Kelly admits to Everything Nash. "I told David [Macias] at Thirty Tigers that I have this fear that I'm done. It's over, once my record comes out. He was like, 'No. It's just starting.' But it's having lived with something for so long, there's this thing you have held over everybody, like, 'Wait for this, wait for this.' And then it's about to come out and you're like, 'I have nothing else for you.' But I'm learning that it's new to everyone else."
The timing of I'll Tell You What's Gonna Happen is especially ironic to Kelly. After years of making a name for herself, both in Nashville and Texas, the singer-songwriter had given up her plans of a full-time career in country music, when the opportunity to record what became I'll Tell You What's Gonna Happen presented itself.
"I was trying to quit," Kelly says with a laugh. "I moved to Nashville and focused on writing because everyone was like, 'You get a publishing deal and then it gets you a record deal.' And I never got signed to a publishing deal. I was like, 'Well, this ain't working and I can't keep doing this without a team.' I mean, I could, but I was just getting tired. And so I set out to make that EP [Don't Blame It on Me, released in 2018]. I made it as a last-ditch effort for something to happen. And I thought, 'This is it. I'm making it as if it's the last thing I'm ever gonna do.'"
It might have been the last thing Kelly did, if not for Macias, President of Thirty Tigers, who broached the idea of a joint venture between his label and Show Dog Nashville.
"He said he felt like there was a place for me at country radio," Kelly recalls. "So he pitched me to Show Dog. You just gotta decide that you're done, like everyone does, and then it happens."
Kelly wrote two of the dozen tracks on I'll Tell You What's Gonna Happen, choosing instead to make sure each song on the project was the best it could be.
"I can write a song, but I made this record like the ones I grew up listening to, and made the best songs win," Kelly says. "We threw them all in a hat and whatever made it, made it. Being from Texas, it's kind of ingrained in you that you write your songs. That's what's important. And so I wrote everything on my first couple of records back home. And then you come to Nashville and learn how to co-write with people, but it's about good songs in the end. That's what makes great music for me. And so that's what we did with this album."
Included on I'll Tell You What's Gonna Happen is "Summers Like That," which Kelly recently released. The song, written by Karyn Rochelle and Bobby Tomberlin, references some of the biggest country hits of the '90s, including "Strawberry Wine," "Maybe It Was Memphis," "Walkaway Joe" and more.
"They wanted to pay homage to a lot of those songs from the '90s," she explains. "That's what drew us to it. It was the way that they did it, because even if you didn't know those songs, the song tells such a story. You could listen to it and you may not even recognize some of those songs, like if you're a younger listener and you don't know them from before, but they did it in a very tasteful way. They told a story instead of just listing all the songs. Bobby says they were having a nostalgic moment and wrote that song."
Find I'll Tell You What's Gonna Happen, and see a list of Kelly's upcoming shows, by visiting her website.