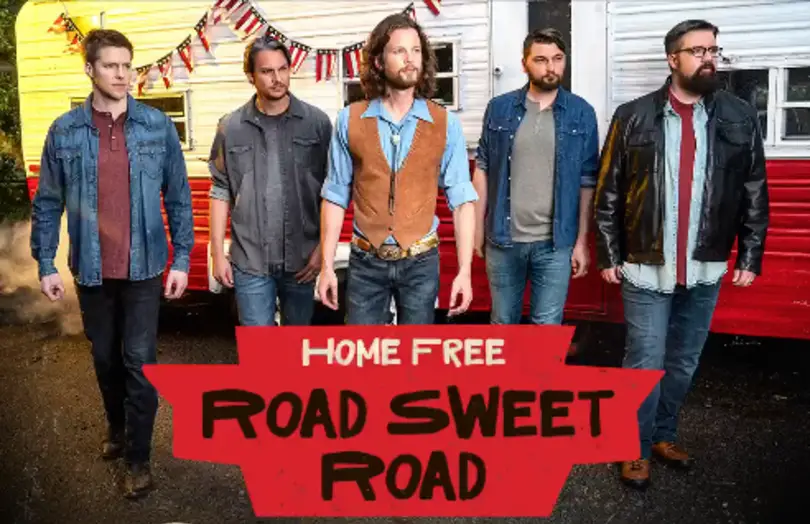 Home Free is adding some new dates to their upcoming road Sweet Road Tour, and two new opening acts! The five-man group, who previously announced Maggie Baugh would serve as the opening act for the first round of dates, recently announced more shows as part of the fall tour, with Casey Barnes joining Home Free for three dates, while Erin Kinsey will tour with the all-vocal group for 11 dates.
Home Free shared the exciting news on social media, along with a list of dates.
BIG news… We're adding some October shows here to our Road Sweet Road Tour – and we'll be joined on separate dates by @Casey_Barnes and @ErinKinseyTX! pic.twitter.com/iRgj8DbExo

— Home Free (@HomeFreeGuys) July 11, 2022
Home Free previously hinted that their Road Sweet Road Tour would also include new music, only a few months after their The Sounds of Lockdown record was released.
"For the past four months we've been hard at work in the studio preparing some new original music," Home Free said when announcing the tour. "This fall, we can't wait to share it with you on the road."
The Sounds of Lockdown includes some of the group's best covers, including "On The Road Again," "Crazy," "The Gambler," "Bless The Broken Road" and more. The record also includes their "One Voice" collaboration with Billy Gilman, as well as their" I Still Haven't Found What I'm Looking For" duet with Peter Hollens, plus many more.
"We're real country music fans," Austin Brown previously told Everything Nash, speaking of the diversity of songs the group records. "So we look up to everybody in this industry … We know that Dolly Parton has at least heard a pitch from us. She was interested last year, and she was like, 'Maybe next year,' 'cause she had a thing last year. So who knows. There's no validity to that. That's just a hope. Ideally, we'd love to work with Dolly. And one of my favorite artists in country music of all time is Travis Tritt. I'd really love a chance to get to work with him."
Pre-sale for most shows begins on Patreon on Tuesday, July 12. The general public sale will begin this Friday, July 15. See a list of the newly-added dates below. The Road Sweet Road Tour kicks off on September 13 in Anaheim, California. Find all of Home Free's upcoming shows at HomeFreeMusic.com.
Newly-added Road Sweet Road Tour Dates:
October 12 with Casey Barnes – Greensburg, PA at Palace Theatre
October 13 with Casey Barnes – Tyson's Creek, VA at Capital One Hall
October 15 with Casey Barnes – Reading, PA at Santander Performing Arts Center
October 16 with Erin Kinsey – Hagerstown, MD at Maryland Theatre
October 19 with Erin Kinsey – Red Bank, NJ at Count Basie Theatre
October 20 with Erin Kinsey – Binghampton, NY at Forum Theatre
October 21 with Erin Kinsey – Keene, NH at Colonial Theatre
October 22 with Erin Kinsey – Burlington, VT at Flynn Center
October 23 with Erin Kinsey – Northhampton, MA at Academy of Music
October 25 with Erin Kinsey – Albany, NY at The Egg
October 26 with Erin Kinsey – Rochester, NY at Kodak Center
October 27 with Erin Kinsey – Williamsport, PA at Williamsport Community Center
October 28 with Erin Kinsey – Akron, OH at Akron Civic Center
October 29 with Erin Kinsey – Lehigh, PA at Zoellner Arts Center