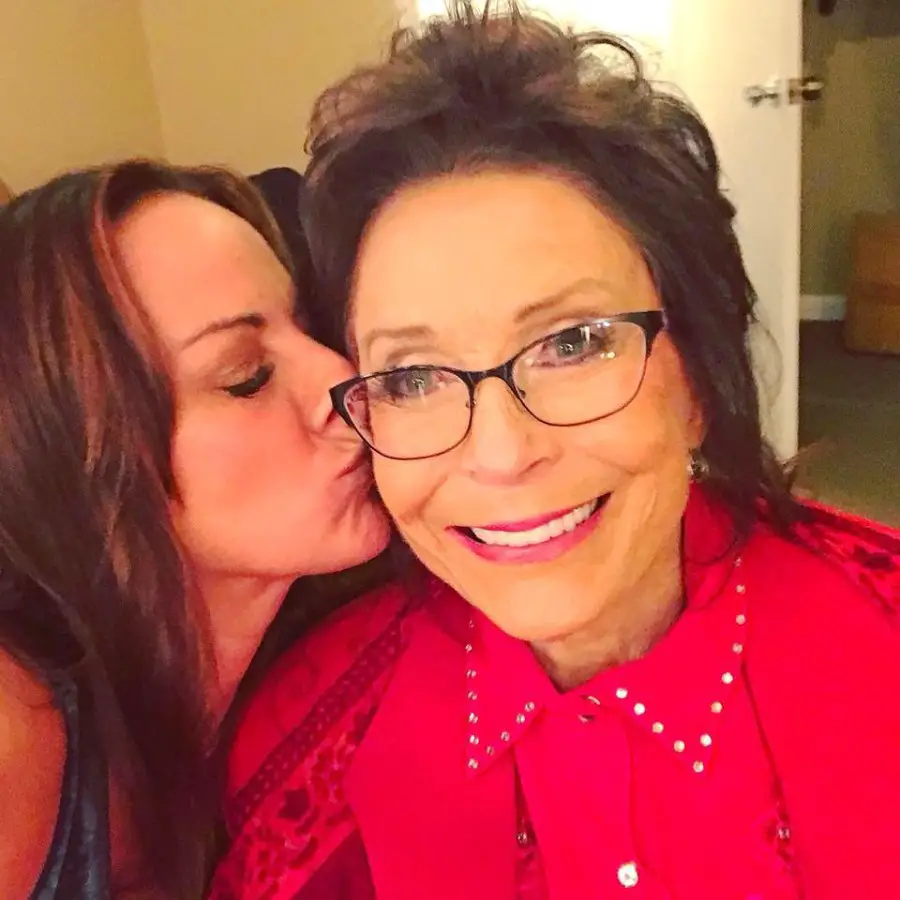 Tayla Lynn's life could have had a much different outcome, and for that she is grateful. The granddaughter of Loretta Lynn has battled plenty of demons in her past, including a lengthy struggle with addiction, fights she ultimately won thanks to her grandmother's never-ending love and tenacity. Now eight years sober, Lynn is moving full-speed ahead with her music career, including a just-released record honoring her grandmother, with Tayla Lynn Sings Loretta Lynn.
"To go from getting arrested in the projects and weighing 82 lbs. and selling my body for drugs to now making a record and having people respect me and to stand on the stage with my little boys in the wings watching me is just incredible," Lynn tells People. "If I wasn't sober, I wouldn't be here."
There was a time even Lynn wondered if she could ever find sobriety. After Loretta put Lynn in rehab in 1997, it was 2004 before Lynn says she got sober for the first time. But after getting married and becoming a mother, the pull to drugs was more than she could withstand on her own.
"You're sitting there in the middle of this fancy neighborhood in Seattle, not being faithful in your marriage and breastfeeding your baby while you're doing drugs and all of a sudden you wake up and say to yourself, 'What in the hell am I doing?'" Lynn reflects.
The daughter of Loretta's third child, Ernest Ray, Lynn went on the road with the Country Music Hall of Fame member — when Loretta allowed it. But if she let the drugs and alcohol win, Loretta made her stay home, and away from the life on the road that she loved.
"The way she handled it was, I wasn't allowed to go on the road," Lynn says. "Going on the road with her was like heaven to me, being able to be on her bus and eat dinner with her and sit with her in the back after the shows to debrief about the show. That was my favorite thing in the world. But she wouldn't allow it if I got myself in any trouble."
Lynn's grandmother also didn't approve of how open and honest Lynn was when she did take the stage, especially her blatant honesty in discussing her personal life.
"She said, 'I want you to know that there is a difference between being honest and telling people your story," Lynn recounts. "She would say, 'I want you to remember that at the end of the day, country music is about family and there are families in that audience and whatever you do is a reflection on me. I'm proud of you and what you're doing, but you've got to figure out a different way to tell your story.' That was an awakening for me, that's for sure."
After trying to make any kind of music but the traditional country music that permeated her family, Lynn finally embraced her heritage with her new album.
"Not only am I supposed to make this record, I felt like I was allowed to make this record," Lynn shares. "Memaw wanted me to make this record."
Lynn is now happy with the music she is making, and also incredibly happy with the life she has carved out for herself.
"Today I wake up before the sunrise so I can make breakfast for my babies and see the chickens on the farm and have some time with God," she shares. "It's the first thing I do. I get out of bed, and I thank God for the day."
Purchase Tayla Lynn Sings Loretta Lynn at TaylaLynn.com.
Photo Credit: Courtesy of Old Pine PR