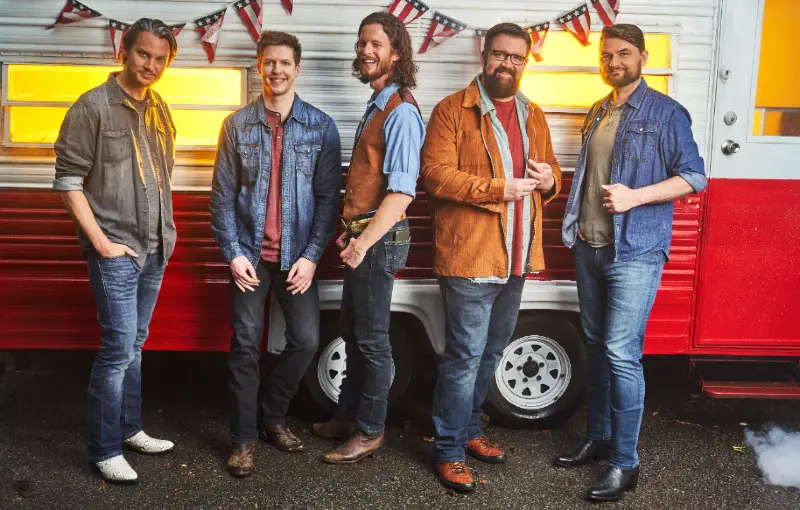 When Home Free began, in its earliest inception more than 20 years ago, it was simply a small group of men who enjoyed singing, sans instruments, and were able to travel locally around Minnesota to perform. In 2013, Home Free gained national recognition, after appearing on — and winning — Season 4 of The Sing-Off on NBC. Still no one could have predicted how much their fame and popularity would explode in the years since then.
"I wanted to be in a band," Austin Brown tells Everything Nash of deciding to join Home Free, which became official in early 2013. "My whole life I've wanted to be in a band. When I was in high school, and I was the singer, at my high school people were like, 'Oh, you want to grow up and be a country music star.' And I was [like], 'No, I really don't. I want to be in a band. I want to be in a band … I want to be with a bunch of other dudes traveling around the country, hanging out, doing things and making great music.' I always loved a capella music. And then this just happened so organically. It wasn't like I sought out the group or vice versa."
Brown was already working as a full-time musician on a cruise ship, when Home Free happened to be on the boat to perform, and the rest is history.
"They saw my show," Brown recalls. "I saw their show and that's kind of how everybody in the band fell into Home Free,  one way or the other. It just was something that was fun. And I took my initial job, where Home Free was just paying everybody peanuts, because I wanted to be in the band because it was fun. And then we just kept moving forward and did the next right thing for the band, and now here we are.  I'm in the house that Home Free allowed me to buy fortunately before the pandemic, because I couldn't have done that one afterwards, but it all worked out.
"Everything happens for a reason," he adds. "And our fans just continue to give because they want more music. Our success to any degree is their success in a really personal and tangible way, because they see the inside of my house on a daily basis through social media and in a HomeFree music video."
For Tim Foust, he already felt the band was successful long before they had such international appeal.
"What some people don't realize is that we were touring full-time and supporting families about 10 years ago, but it was very regional," Foust says. "It was like more around the Midwest, which is where Home Free started. So we had already made it. We were supporting families, and all we had to do was sing. So that is making it. Everything since then has just been icing on the cake. It's certainly exceeded my wildest expectations."
Even Foust's biggest dreams didn't include the massive level of success that Home Free has today.
"I hoped that we would get to a level where we could tour all over the world, but I never dreamed that we would be members of the Country Music Association," Foust acknowledges. "I never dreamed that we'd be regulars on the Grand Ole Opry, that we would be collaborating with absolute country music icons. All of that is just mind blowing. I'm just buckled up and holding on for the ride."
Home Free has plenty of shows on the calendar for the remainder of the year, and into 2022, including their rescheduled Dive Bar Saints Tour. See all of their upcoming shows, and purchase their new album, Land of the Free, at HomeFreeMusic.com.