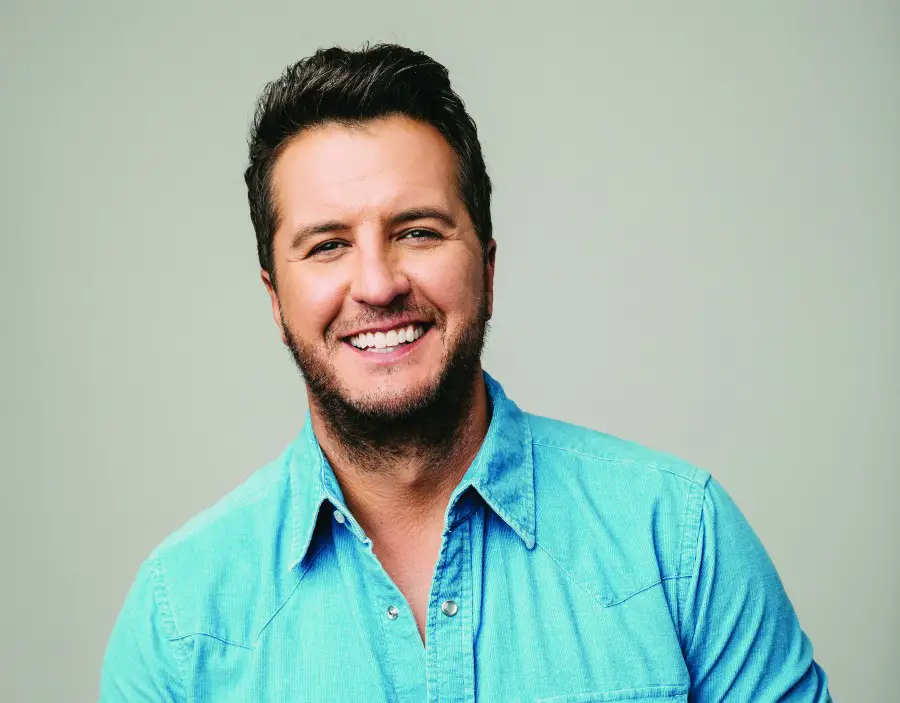 On the outside, Luke Bryan might seem to have a charmed life, but that's far from reality. The 45-year-old has endured unspeakable heartaches, including the loss of his brother, Chris, in a car accident in 1996, followed by the sudden death of his sister, Kelly, in 2007 and his brother-in-law, Ben, in 2014, leaving Bryan and his wife, Caroline, to raise their nephew, Til.
It's enough for anyone to become bitter about life, but Bryan has chosen to focus on the positive, even when the positive was hard to find.
"Luckily, thank God I've always been a pretty joyful person," Bryan tells People. "When you look at the tragedies in my life, and how I would approach moving through life with all of the tragedies, I try to use what's happened to me — it helps me remember we're not promised another day. Get the most out of life while you can."
Bryan was still a teenager when his older brother was killed, a tragedy that forever altered Bryan's family.
"My brother was the first time anything like that had dropped on the family," reflects the singer. "It was an earthquake to our family. It was the first time I had ever truly sobbed — I was 19 so I was kind of a man. It put me into a whole 'nother realm of reality and this is life. This is precious stuff we're dealing with. I never really got to spend and really be his friend and his brother. I was always his little brother."
Bryan may not have gotten to know Chris as an adult, but he had formed a close relationship with his sister Kelly, and her three children.
"My sister was an entirely different dynamic, because she was like a mother to me, somebody who was always checking on me, wanting to know this and that and how I was," Bryan shares. "Kelly had some children that she left behind, so we get to live through her, with her children. We see so many things in her children that remind us [of them] … The main thing is you truly never get over it. You never settle in your mind that it's happened. It's always there."
When Lee unexpectedly died of a heart attack, his death made a permanent impact on Bryan's family, including his two sons, Bo and Tate.
"Losing my brother-in-law, Lee, it was as tragic as losing Kelly and Chris," Bryan concedes. "Lee had been in my life since I was seven or eight years old. Losing him put us in a situation where we had to figure out what to do with he and Kelly's two daughters and son. We immediately rushed in and tried to do things to help the kids. Til, our nephew, decided he wanted to come live with us, and we were so honored that he wanted to do that. We were living in this guest house on our farm and we totally had to scramble to get him a bedroom made.
"It was a challenge," he adds. "It was a challenging time for him. We spent a lot of time really giving him what he needed … It was challenging, but it was just a part of life."
Bryan knows he and Caroline can never replace his sister and brother-in-law, but they can at least offer a safe place for them where they can be themselves.
"I hope I've helped them in feeling like there is somewhat of a place to call home," Bryan notes. "Those kids truly lost what they can call home. The main thing is, when they come to our house, they can walk around in a bathrobe, with their hair up in a towel and be at home."
Kris and Jordan, Bryan's two nieces, opted to remain in Georgia after their father passed away, but Bryan still works hard to make sure they know they are always welcome in his home as well.
"The main thing is when you wake up and you really feel a lot of responsibility for your sister's children and your brother-in-law's children," says the "Waves" singer. "It's an amazing toll, but it makes me lace up my boots every day even harder. The toll I would never say is negative. The toll is it makes me focus even harder to make everyone's life around me even better."