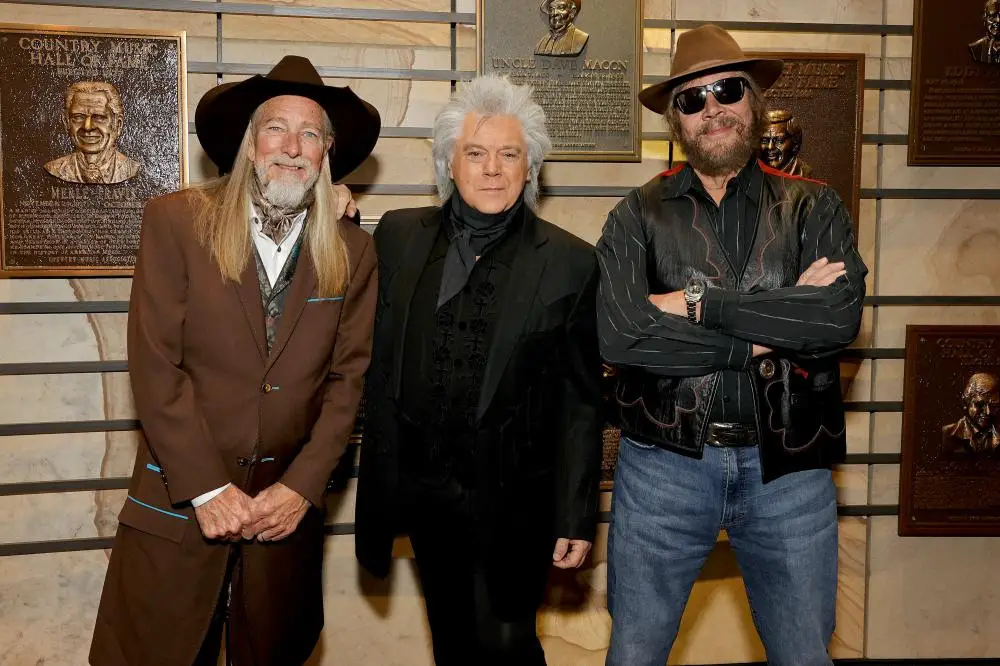 Marty Stuart, Dean Dillon and Hank Williams, Jr. are the newest members of the Country Music Hall of Fame. The three were inducted during the Medallion Ceremony, held on Sunday, November 21.
Stuart was honored with musical performances by Pastor Evelyn Hubbard performing "It's Time to Go Home," Emmylou Harris and Charlie Worsham singing "Tempted," and Ashley McBryde singing "The Observations of a Crow." Stuart's wife, Connie Smith, officially inducted him.
"I am so honored to share this night with Dean and Bocephus," Stuart said from stage. "What a deal. I was downtown one day after the announcement, and I saw the billboard, with all three of our pictures. I just started laughing. I said, 'That is three of the chief knuckleheads of all time. I'm so proud of them … I am indeed honored to be inducted with the two of them."
Stuart also spoke about his deep love of not only country music, but also the Country Music Hall of Fame and Museum.
"Anybody who knows me knows that I love this building," Stuart said. "I got to be a part of it coming up out of the ground, just a small part of it. But this is our living room. This is our spiritual home. This is our treasure chest. This is where we belong. God has had His hand on this place."
Dean Dillon was honored with performances from some of his biggest hits. Kenny Chesney sang "A Lot of Things Different," Brittney Spencer sang "Tennessee Whiskey," and the King of Country, George Strait, sang "The Chair." Strait also inducted Dillon.
"This is the pinnacle, really, of what we do, right?" Strait said. "It's hard to even dream about being in the Hall of Fame because you never think you're going to be here…I knew you'd be in the Hall of Fame. I couldn't be more proud of you and more proud to be the one to put this medallion around your neck, brother."
"I'm glad the CMA finally got around to the outlaw song division," Dillon said at the start of his speech following his induction. "When I hitchhiked here in 1973, I wanted to be a songwriter and a singer. I had some record deals. I'd put out a record, and it would go to 30 with an anchor.
"And lo and behold, this guy from Texas came along," he continued, referring to Strait. "He'd put out the same song, and it would go to No. 1 … He never forgot me."
Williams, Jr. was honored by Shooter Jennings, who sang "Feelin' Better," Eric Church singing "A Country Boy Can Survive," and Alan Jackson singing "The Blues Man." Brenda Lee inducted Williams, Jr.
"Well the good thing is, this didn't happen yesterday, which was opening day of deer season," Williams said from stage, as part of his brief acceptance speech, adding, "[I have] a lot of people to thank and I know who they are. They know who they are. That part about the family with the open arms, well, that might have been a little bit different in my case. But I went to Muscle Shoals, Alabama and all my rowdy friends are coming over tonight. I was born to boogie and this is a family tradition."
Photo Credit: Jason Kempin/Getty Images for the Country Music Hall of Fame and Museum