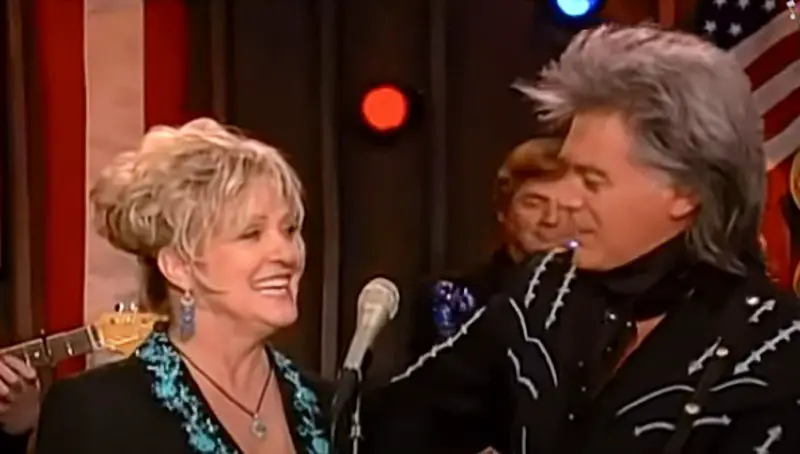 Marty Stuart and Connie Smith have been married 24 years, a perhaps unlikely pairing that has stood the test of time. The two singers first met when Stuart was just a child, but even then he left an impression on Smith, in spite of their 17-year age gap.
"I met him when he was 11," Smith recalls to Apple Music Country's Southern Accents Radio with Dave Cobb, adding that they met at a Choctaw Indian fair in Stuart's hometown of Philadelphia, Mississippi.
"I remember this kid coming up on stage talking … about his steel and different things," she continues. "I thought, 'He's talking like an adult, like he's been in the business for years.' That really surprised me. And that's what I remember in meeting him."
Stuart was a fan of Smith's long before he fell in love with her, predicting even back then that she would one day be his wife.
"Connie was the act of 1970, and she was my mom's favorite singer," Stuart shares. "I went tearing through the house, 'Connie Smith is coming to town.' At the end of the concert, my sister, Jennifer and I, we got our picture made with Connie. I got her autograph, I met some of the guys in the band and all the way home I told my mom I was going to marry Connie Smith some day."
Stuart and Smith did indeed ultimately meet years later, in a writing session, where they wrote with songwriting legend Harlan Howard, and sparks instantly flew.
"It didn't take long," Stuart concedes. "We started writing songs and here comes these love songs and hearing Connie Smith sing them was like, 'Oh my God.' My heart started flipping out and I couldn't believe it."
Stuart knew he was falling for Smith, but was intimidated by their significant age difference.
"I wrote down the pros and cons on a piece of paper," Stuart recounts. "It just looked ridiculous on paper. But I finally did what I ultimately have done many times in my life: gone to my greatest consultant who's my mama Hilda Stuart. And I said, Mama, what do I do?'"
It was Stuart's mom who, not surprisingly, gave him the advice he needed to pursue a relationship with Smith.
"She says, 'Well, five minutes of the right thing's a whole lot better than 50 years of the wrong thing,'" Stuart remembers.
Smith became a member of the Grand Ole Opry in 1965, 27 years before Stuart joined the Opry. Both Smith and Stuart will be part of the Grand Ole Opry's upcoming star-studded celebration, honoring its 5000th Saturday night broadcast. The show, which will also include Bill Anderson, Terri Clark, Carly Pearce, Vince Gill, Chris Janson, Jeannie Seely, The Gatlin Brothers and Chris Young, among others, will take place on October 30. Find more information at Opry.com.