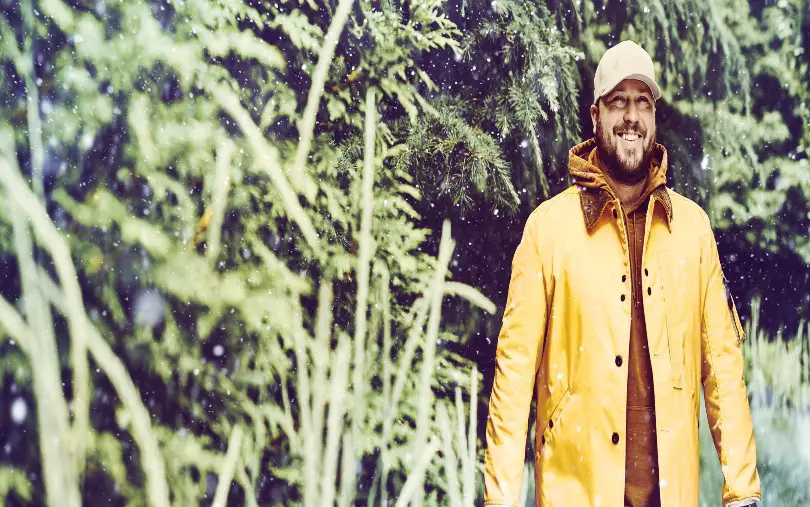 Mitchell Tenpenny is releasing his first-ever Christmas album! The Tennessee native announces Naughty List will be released on October 29, filled with both classics like "Have Yourself a Merry Little Christmas" and "O Holy Night," along with five original songs written by Tenpenny.
"I love all Christmas music," Tenpenny says of the record. "It always brings me back to my childhood and sharing the holidays with my family. 'Have Yourself a Merry Little Christmas' is probably my favorite of all time. Makes me think of sitting by the fire and watching Christmas movies. But I love I was able to write a few new songs that are included too!"
Tenpenny just released his personal Midtown Diaries EP, eight songs that capture who he is, as an artist and a person.
"It's a combination of about three years of songs," Tenpenny tells Everything Nash. "It's hard to pick eight songs on an EP when you've written 500, and a lot of great songs with awesome people like HARDY, and some of the best songwriters in Nashville. And so, I really had to go back and just look at these songs and find out, 'Am I still in that same place now, like I was when I wrote it ?'"
Tenpenny was brutally honest in the songs on Midtown Diaries, a calculated decision he made to get closer to his fans.
"It's a vulnerable thing to put some of the things you say on a record out to the world, because some people know it's about you," Tenpenny concedes. "You're not going to say their name, so how are people going to take it?  I'm the weird guy that immediately gets online and looks at the DMs and the comments, not for the bad ones. I love to see what songs people are relating to, which ones are hitting home. That's always special for me. It's really cool when people reach out and say stuff like, 'I think this song is written about me. I'm going through this right now.' It's amazing. I love it. I live for that. So there's that excitement, but a little bit of anxiousness of hoping people dig it."
See a track list for Naughty List below. Pre-order the album here.
Naughty List Track Listing:
1. Neon Christmas (Mitchell Tenpenny/Lindsay Rimes/Matt Rogers)
2. Snow Angels (Mitchell Tenpenny/Ernest Keith Smith/Rafe Tenpenny)
3. Have Yourself a Merry Little Christmas (Hugh Martin/Ralph Blane)
4. Naughty List (Mitchell Tenpenny/Andy Albert/Jordan Schmidt)
5. Let It Snow! Let It Snow! Let It Snow! (Sammy Cahn/Jule Styne)
6. Don't Hang The Mistletoe (Mitchell Tenpenny/Kyle Clark/Jordan Schmidt)
7. Joy To The World (Public Domain)
8. Jingle Bell Rock (Joe Beal/Jim Boothe)
9. Santa Claus Is Comin' to Town (J. Fred Coots/Haven Gillespie)
10. I Hope It Snows (feat. Meghan Patrick) (Mitchell Tenpenny/Jeff Cibulka/Meghan Patrick)
11. O Holy Night (Public Domain)
Photo Credit: Courtesy of Schmidt Relations / Matthew Berinato
Want to be the first to watch even more exclusive artist interviews? Click HERE to subscribe to our YouTube channel.