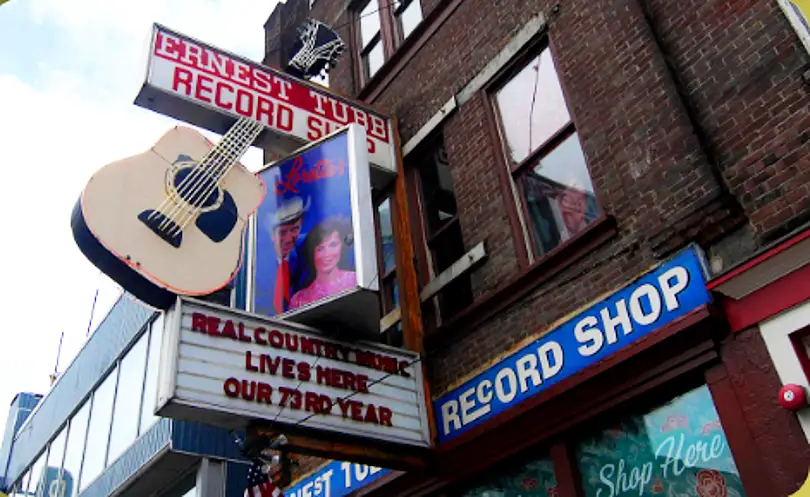 Nashville is losing yet another piece of history. The historic Ernest Tubb's Record Shop, opened since 1947, is closing. The news was announced on social media.
"It's with great sadness that we share the news that the Ernest Tubb Record Shop — building and business — will be sold," a statement reads, which says it is penned by Honky Tonk Circus, LLC, ETRS, LLC and David McCormick Company, Inc. "Our goal has always been to protect, promote and preserve the great history of the record shop and building. That desire remains as strong today as ever. However, due to changes in circumstances out of our control, it's now clear the best way forward is to sell the business and the real estate."
Although the owners did not announce a specific closing date, they did say it will happen in the near future.
"We are heartbroken that the store, which has existed in its current location in the heart of lower Broadway since 1951, will close this Spring," the owners share. "Preserving the history and tradition of country music remains at the forefront of everything we do. We remain committed to preservation work and look forward to new projects that will allow us to continue to protect and nurture the invaluable history and tradition of country music."
Ernest Tubb's Record Shop offered music, memorabilia and more, including historic items, as well as a place for artists to perform. Founded by Country Music Hall of Fame member Ernest Tubb, the store also became the home for the famed Midnite Jamboree shows, credited with helping not only get Loretta Lynn's career off the ground, but also with sparking her close friendship with Patsy Cline.
"In 1961 I sang 'I Fall to Pieces' for the first time at the Ernest Tubb Record Shop's Midnite Jamboree," Lynn previously told CMT (via Variety). "Patsy [Cline] was in a car wreck and was in really bad shape in the Madison Hospital. Patsy heard me dedicate the song to her on the radio and sent her husband Charlie to fetch me. I couldn't believe Patsy wanted to meet me. You know from that first meeting we just clicked and became friends … It was the beginning for us."
The Midnite Jamboree is WSM's second-longest radio show. The Ernest Tubb Record Shop is located at 417 Broadway in downtown Nashville.